ALL THE WORDS FOR ROCK NATURE AND CONFLICT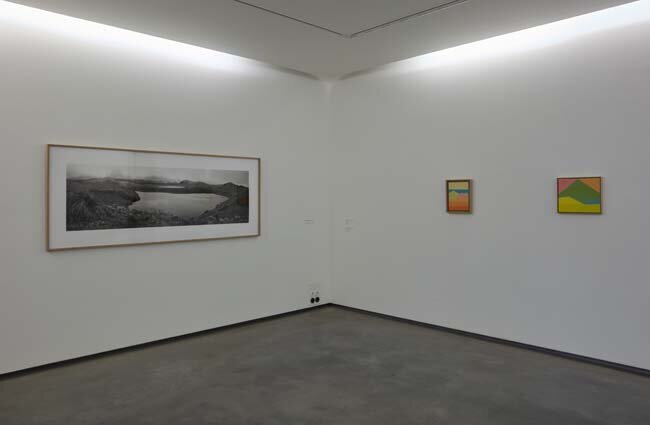 ALL THE WORDS FOR ROCK
NATURE AND CONFLICT
CENTRO DE ARTES VISUALES FUNDACIÓN HELGA DE ALVEAR
November 24 2017 - May 27 2018
ORGANIZED BY: Fundación Helga de Alvear, Cáceres
CURATOR: Julián Rodríguez

On November 24, the eleventh exhibition organized by Centro de Artes Visuales Fundación Helga de Alvear (Cáceres) will be opened with a selecction of works by the Helga de Alvear Collection. The exhibition is entitled All the Words for Rock. Nature and Conflict and is curated by Julián Rodríguez. As the curator indicates, one of the Helga de Alvear Collection's main "lines of force" consists of a large number of works that have nature as a focus or subject for argument. Many of these are included in this exhibition, under the shelter of a verse by the poet Gary Snyder (one of the great contemporary interpreters of this matter). From Thoreau to Macfarlane, this project also takes in, somewhat tangentially at times, some of the most important reflections on one of the great problems of our times; and this in a place, Extremadura, where something perceived formerly as backwardness (the absence of an industrial revolution) has brought about an enviable conservation of the natural environment throughout much of its territory. In a well-known essay, Snyder says "that when you walk a well-trodden path you come back with empty hands, and so you must dare to go to places that are unploughed and unexplored". This is what this exhibition will suggest, at least to some visitors: how to explore a wood, a mountain or a forest.
In All the Words for Rock, nature is reviewed from different points of view: from contemplation to action, from the formal to the symbolic. Reviewed in a strict sense, or reconstructed (as in certain paintings, videos or sculptures). From Robert Smithson, Richard Long, Peter Hutchinson, Hamish Fulton and Lothar Baumgarten to, in the Spanish case, Eva Lootz, Adolfo Schlosser, Mathias Goeritz of the Altamira, Millares' "gestural work" and the "natural geometry" of Elena Asins' dolmens. However, there is also space for pieces that, anchored in the exhibition's central theme, review different traditions within the Art History (from the portrait to the trompe- l'oeil, from the vanitas to the still life), as can be seen in certain works by Cildo Meireles, Rodney Graham and Karin Sander.
The catalog of the exhibition, in addition to a brief anthology of texts of the aforementioned Thoreau and Macfarlane, contains texts written for the occasion by Eva Lootz, Guillermo Altares, César Rendueles, Rubén Hernández, Jesús Aguado, Sergio Rubira, Alberto Santamaría, Luis Francisco Pérez and the curator of the exhibition, Julián Rodríguez.
Curator
Julián Rodríguez (Ceclavín, Cáceres, Spain, 1968)
Julián Rodríguez is the literary director of the independent publisher Periférica (winner of the Ministry of Culture's National Prize for Best Publishing Project in 2008) and artistic director of the gallery Casa sin fin (2013 GAC Prize). As a writer, he has published his books with different imprints of the Random House Mondadori Group. His bibliography consists of his first novel, Lo improbable, published in 2001; in 2002, a volume with three novellas, La sombra y la penumbra; and, in 2006, his second novel, Ninguna necesidad, chosen by El País critics as one of the ten best Spanish-language fiction works of the year, and winner of the Radio Nacional de España's Ojo Crítico Prize. In 2004, he was listed as New Talent by FNAC for his book Unas vacaciones baratas en la miseria de los demás, which opened a cycle of non-fiction work called Piezas de Resistencia that, with elements of both autobiography and essay, is closely linked to contemporary art. The second volume was released in 2008 with the title Cultivos (Mondadori). In 2010, a collection of early texts in prose and verse was published as Antecedentes. In the late 1980s and early 90s, Rodríguez published and edited the art and aesthetics magazine Sub rosa, a project involving contributions by figures such as José Luis Brea, Ángel González, Rogelio López Cuenca and Pedro G. Romero. In parallel with this activity, he curated exhibitions in Spain, Portugal and France. His recent work in the field of art has been with his gallery, although a recent curating project beyond the gallery was the exhibition La herencia inmaterial (in collaboration with Antonia M. Perelló and Valentín Roma) featuring, as is the case on this occasion, the collection of a museum, MACBA (Barcelona, 2014).
technical details:

works: 53 works of art
artists: Etel Adnan | Sergi Aguilar | Daniel G. Andújar | Elena Asins | Eugène Atget |
Lothar Baumgarten | Denise Bellon | Joseph Beuys | Richard Billingham | Oliver Boberg |
Lygia Clark | Hamish Fulton | Mathias Goeritz | Rodney Graham | Peter Hutchinson | Axel
Hütte | Mark Klett | Wolfgang Laib | Richard Long | Eva Lootz | Gordon Matta-Clark |
Cildo Meireles | Manolo Millares | Mitsuo Miura | Gabriel Orozco | Álvaro Perdices | Albert
Renger-Patzsch | Pedro G. Romero | Julian Rosefeldt | Karin Sander | Adolfo Schlosser |
Robert Smithson | René Zuber
+
-
Documents
ALL THE WORDS FOR ROCK NATURE AND CONFLICT
fundacionhelgadealvear.es, English, 2017
Press Release
Related Artists and Artworks