Convergence: New Art from Lebanon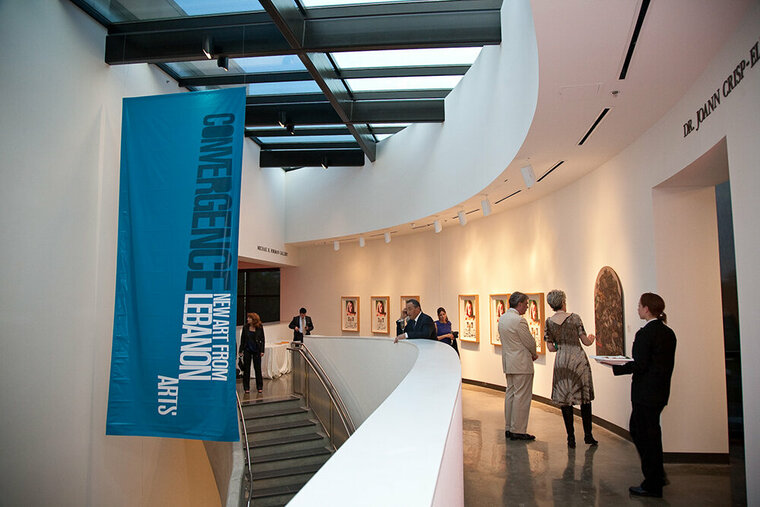 Exhibition: Convergence: New Art from Lebanon, Washington DC, April 2010
The first comprehensive North American exhibition curated in the aftermath of Lebanon's tumultuous civil war (1975-1990), Convergence brought together nearly 50 paintings, sculptures, installations, photographs and media-based art by 29 artists—more than a third of them women— based primarily in Beirut. Reflecting the memories, hopes, dreams and political and religious realities of a culture seeking to reclaim itself, the exhibition introduced Americans to the vitality and volatility of today's art from Lebanon.
Convergence was held in 2010 at the Katzen Arts Center in the College of Arts and Sciences at the American University in Washington D.C.
Participating Artists:
Ayman Baalbaki
Oussama Baalbaki
Lulu Baasiri
Mouna Bassili Sehnaoui
Huguette Caland
Joseph Chahfe
Chaouki Chamoun
Hala Dabaji
Amal Dagher
Mansour El Habre
Rim El Jundi
Mohamad El Rawas
Chawki Frenn
Bassam Geitani
Joseph Harb
Joumana Jamhouri
Nadim Karam
Nabil Nahas
Jean Pierre Watchi
Jocelyne Saab
Mario Saba
Marwan Sahmarani
Nada Sehnaoui
Kris Seraphin
Hanibal Srouji
Anita Toutikian
Katia Traboulsi
Paul Wakim
Film Series
A series of six feature-length works, three short films, and one documentary representing the best in contemporary Lebanese film.
After screening discussions were led by Jeffrey Middents, a professor and director of the Cinema Studies minor and world literature at the American University in Washington DC, and Alicia Sams, an Emmy-Award winning producer and director with extensive experience in both documentary and feature films.
NOT LIKE MY SISTER (2008) – Leyla Assaf Tengroth
THE NORTH ROAD (2008) – Carlos Chahine
BOSTA (2005) – Philippe Aractingi
UNDER THE BOMBS (2007) – Philippe Aractingi
ZOZO (2005) – Josef Fares
QUAND MARYAM S'EST DEVOILEE (2001) – Assad Fouladkar
AFTER SHAVE (2005) – Hany Tamba
BEIRUT OPEN CITY (2008) – Samir Habchi
ASHES (2003) – Joana Hadjithomas, Khalil Joreige
THE KITE (2003) – Randa Chahal Sabag
+
-
Press
Postwar Lebanese Art at the American University Museum
Maggie Barrett
American University, Washington DC, English, 2010