Etel Adnan: The Weight of the World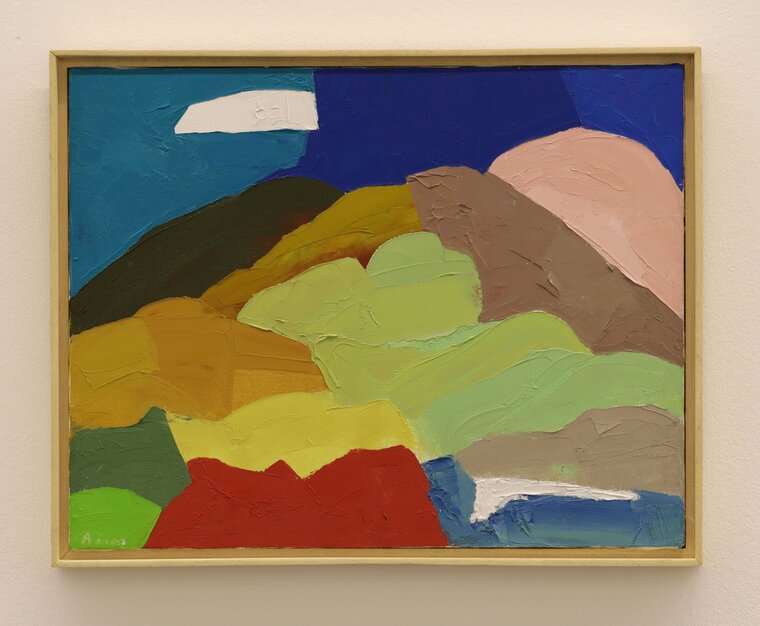 Etel Adnan:
The Weight of the World
June 2 2016 - September 11 2016
Serpentine Sackler Gallery
Serpentine Galleries presented the works of painter, essayist and poet Etel Adnan, who was born in 1925 in Beirut, Lebanon. In her first solo exhibition in a UK public institution, the Serpentine showed work from across her career and including paintings, drawings, poetry, film and tapestry.

After studying at the Sorbonne and then Harvard, in the late 1950s Adnan taught philosophy at the University of California and started to paint.
While these early works were largely abstract compositions – with squares of colour applied directly from the tube – she was interested in the immediate beauty of colour. Her earliest paintings were suggestive of landscapes and included forms that referenced specific places. In the 1970s she moved to the area near Mount Tamalpais in California, which became the central subject matter of numerous paintings and poems.
From the 1960s until the present day Adnan has also made tapestries, inspired by the feeling and colour of the Persian rugs of her childhood. Never translating existing paintings into tapestries, she uses specific designs for her textile works. Over the course of the 1960s, Adnan moved away from purely abstract forms and, in 1964, discovered 'leporellos', accordion-folded sketchbooks in which she could mix drawing with writing and poetry. Often working in series, her painting continued to move between recognisable and imagined forms, revealing her sensitivity to colour and shape extracted from the environments in which she found herself.
Her writing, too, contains multiple references and responses to the politics and violence in the world around her. From her earliest poem in English, which addressed the Vietnam War, to her award-winning 1978 novel Sitt Marie-Rose, she explores the political and personal dimensions of violence and articulates her experience of exile from familiar landscapes and languages.
Adnan's artworks feature in numerous collections, including Centre Pompidou, Paris; Mathaf, Doha, Qatar; Royal Jordanian Museum; Tunis Modern Art Museum; Sursock Museum, Beirut; Institut du Monde Arabe, Paris; British Museum, London; World Bank Collection, Washington D.C.; National Museum for Women in the Arts, Washington D.C. In 2014, Adnan was awarded France's highest cultural honour, the Ordre de Chevalier des Arts et des Lettres.
Adnan has participated in a number of Serpentine events during the past six years including the On Edgware Road group exhibition in 2012; the Map Marathon (2010); the Garden Marathon (2011); the Memory Marathon (2012), and the Extinction Marathon (2015).
Related Artists and Artworks