Etel Adnan et les modernes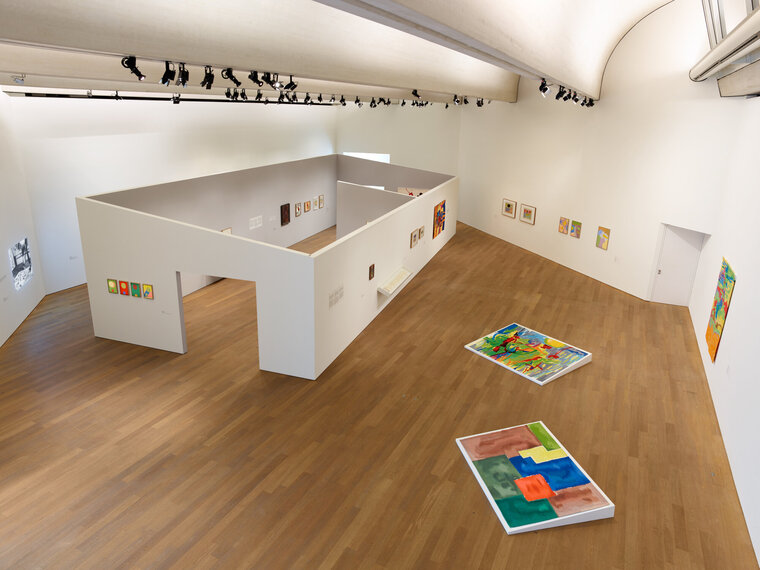 Etel Adnan et les modernes
June 6 – September 8 2019
Mudam, Luxembourg

Since the 1960s, the poet, writer and painter Etel Adnan (b. 1925, Beirut) has built up a body of work that makes significant links between the image and text; Eastern and Western cultures; Modernism and contemporary art. Her work reflects a sensitive, dynamic relationship with the world, exploring questions of landscape, abstraction, colour, writing, memory and history. Her exhibition at Mudam, which is hosted across two galleries on the upper floor of the museum, assembles a broad spectrum of her work, including paintings, works on paper and tapestries. These are shown together in dialogue with works by Modernists and contemporary artists, shedding fresh light on her multifaceted oeuvre.
Developed in partnership with the Zentrum Paul Klee in Bern, who presented a first version of the exhibition in 2018, Etel Adnan et les modernes provides an overview of Adnan's visual work from the early 1960s to the present day. At its heart lies the artist's relationship with the work and ideas of some of the key protagonists within modern art, first and foremost Paul Klee (b. 1879, Münchenbuchsee; d. 1940, Locarno) who she once described as 'the first painter I fell in love with'. Writing on his work in 2012, Adnan described an obsession with his work: 'By obsessed, I mean that his paintings put me in a state of ecstasy. They possessed me. In Kairouan [in Tunisia], he wrote, "Colour and I are one." And I understood that he was speaking of revelation.' is explored in the first gallery, through a series of works that have been selected in collaboration with Adnan. The selection includes a number of important works by Klee in addition to paintings by Wassily Kandinsky (b. 1866, Moscow; d. 1944, Neuilly-sur-Seine), Nicolas de Staël (b. 1913, Saint Petersburg; d. 1955, Antibes) and Georges Mathieu (b. 1921, Boulognesur-Mer; d. 2012, Boulogne-Billancourt). Two tapestries designed at the art centre created by the architect Ramses Wissa Wassef (b. 1911, Cairo; d. 1974, Egypt), in Harrania in Egypt, are also presented. These conversations highlight some of the key themes in Adnan's work, such as writing, gesture and weaving – this last offering a metaphor for life itself. The film Ismyrne (2016) by the artists Joana Hadjithomas (b. 1969, Beirut) and Khalil Joreige (b. 1969, Beirut) gives contextual insight to Adnan's life and work via an intimate portrait.
The second gallery features several groups of recent, abstract works by Adnan. The artist describes these paintings as 'inner landscapes', drawing on her recollections of places she has visited. Adnan's sensitivity to landscape is also visible in works depicting Mount Tamalpais in California and views of New York that are brought together in her film Motion (2012). These works are placed in dialogue with others by the painter and poet Eugénie Paultre (b. 1979, Paris) and sculptor Simone Fattal (b. 1942, Damascus) with whom she maintains a close connection.
Biographical note
Born in Beirut to a Greek mother and Syrian father in 1925, Adnan was raised in a multi-cultural and multi-lingual environment acquiring a knowledge of Greek, Arabic, Turkish, French and English language. Following her studies in Paris, New York and Berkeley, California, she travelled extensively in Northern and Central America, as well as in North Africa. She has lived in Sausalito, California, where she taught philosophy at the Dominican College of San Rafael (1958-1972); in Beirut, Lebanon, where she worked as cultural editor for the daily paper Al-Safa and in Paris, France. In addition to her artistic work, she has published several collections of poetry, a novel, short stories, plays and essays, and is regarded as one of the most important contemporary writers in the Arab world. Her work has been featured in several significant international surveys including Documenta 13 (2012). Her work has also been the subject of several major solo exhibitions at institutions including the Zentrum Paul Klee in Bern (2018), MASS MoCA in North Adams, Massachusetts (2018), the Institut du monde arabe in Paris (2017), the Serpentine Gallery in London (2017), the Irish Museum of Modern Art in Dublin (2015) and the Museum der Moderne in Salzburg (2014).
+
-
Documents
Etel Adnan et les modernes
Mudam Luxembourg, French, 2019
Press kit
Related Artists and Artworks