INTERVENTIONS
Published on Thu 30 December, 2010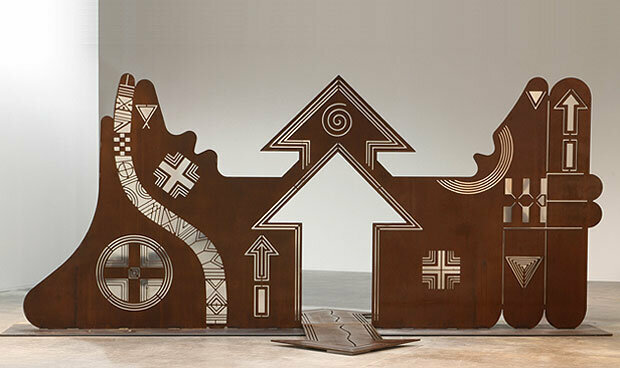 30 December 2010 - 28 May 2011
This exhibition honored and celebrated the lives and careers of five pivotal modernist Arab artists: Dia Azzawi, Farid Belkahia, Ahmed Nawar, Ibrahim el-Salahi, and Hassan Sharif.
As well as highlighting key moments in their experiments and oeuvres, Interventions introduced five new works commissioned by Mathaf from the artists for this exhibition. These new works were presented alongside pertinent pieces from Mathaf's permanent collection, providing a context which emphasized thematic and artistic progression. The new works asserted the continuing commitment of the five artists and the endurance of their discourse and cultural roles.
As part of Mathaf's educational program, Artist Encounters, Hassan Sharif paid the museum a visit in April 2011. As the foremost UAE contemporary artist, he engaged the public in a discussion about the evolution of his career, paying specific attention to works in Mathaf's collection. Hassan Sharif's works range from painting, printmaking, installation, and performance art, illustrating over 30 years of his artistic development in the Gulf and abroad.
Curated by Nada Shabout.
Related Artists and Artworks