SWITZERLAND IT AIN'T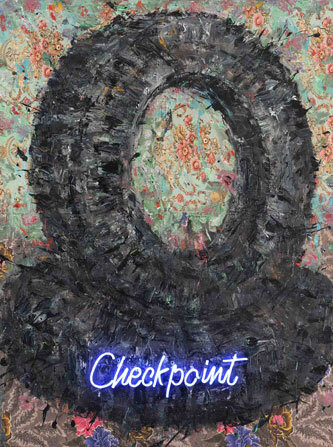 AYMAN BAALBAKI: "SWITZERLAND IT AIN'T" (CECI N'EST PAS LA SUISSE)
ROSE ISSA PROJECTS
269 KENSINGTON HIGH STREET, LONDON W8 6NA
16 OCTOBER – 12 NOVEMBER 2009
Painter and mixed-media and installation artist Ayman Baalbaki was born in Odeissé, South Lebanon, in 1975 - the year the Lebanese civil war began. His work is closely linked to the turmoil of his country, its destruction and his own personal odyssey: he was forced to flee his home and become a refugee in Beirut where he witnessed the city's bewildering social and physical change.
Baalbaki comes from a family of artists and writers, and wanted to be an artist from an early age. A great inspiration was the Syrian painter Marwan Kassab Bachi (b. 1939), who taught a 26-year-old Baalbaki at a workshop at Darat al Funun in Amman, and from whom he inherited his admiration of the Neo-Expressionist movement. Baalbaki went on to study Fine Arts at the Institut des Beaux-Arts de l'Université Libanaise in Beirut (1994-1998) and at the Ecole Nationale Superieure des Arts Decoratifs (ENSAD) in Paris. He received a Diploma of Advanced Studies from the University of Paris VIII in 2003.
This first UK solo show features a selection of his works on canvas that document the impact and iconography of Lebanon's long civil war, which was once considered the 'Switzerland of the Orient". In this apocalyptic world of destroyed buildings, snipers and checkpoints, Baalbaki scatters flowers amongst the ruins – a sign that life and hope can take root in the most hostile circumstances.
Related Artists and Artworks