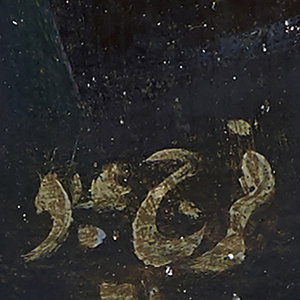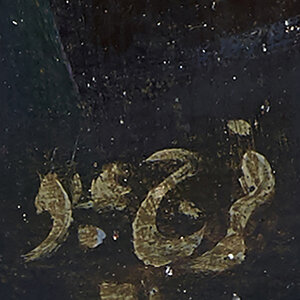 FARAJ ABBO, Iraq (1921 - 1984)
+
-
Bio
Written by Wafa Roz
Faraj Abbo (Al Numan) was born in 1921 in Mosul, Iraq. Abbo's artistic talents were revealed at an early age, expressed in theatre design, directing, literature, and fine arts.
In fact, he was commissioned to execute artwork for local churches in Mosul at the age of thirteen; examples of this painting can be seen today at the Mar Eshai Church.

Abbo's career as an artist grew through education in both the East and the West, which would later be reflected in his signature style. In 1950, he acquired a bachelor's degree at the College of Fine Arts in Cairo, later relocating to Rome, where he completed his postgraduate studies with honors at the Academy of Fine Arts in 1954. Abbo, who worked as a teacher at high schools such as Al Hilah and Baquba until 1945, was active in many different arts groups in Iraq throughout the 1940s and 1950s. In 1941, he joined the Friends of Art, and in 1944 the Art Friends Society; he would go on to join the Baghdad Contemporary Art Group in 1954 and co-found the Iraqi Artists Committee in 1956.

During the 1940s and 1950s, the artist was highly influenced by contemporary painters in the USSR. Through his experiences in Russia – to which the artist traveled on a motorbike – he was exposed to the state-sponsored arts program in the nascent Soviet Union. He found himself drawn to the socialist realism practiced by Russian painters, manifesting this inspiration in paintings that valorize the popular culture and daily social life of Iraq. The artist's style witnessed a remarkable shift in the early 1970s when he began to take an interest in more abstract stylistic choices in compositions evocative of painters such as Mondrian and Kandinsky. His work did not merely draw inspiration from these Western masters; however; instead, it helped to give form to a kind of pan-Arab artistic practice known as Hurufiyya. Less of a defined movement than a series of shared aesthetic principles, Hurufiyya refers to the use of Arabic calligraphy in modern art, frequently in conjunction with – or as part of – abstract compositions. Along with his contemporaries in the Baghdad Art Group, Abbo advocated for modern art that looked toward the future and embraced internationalism while maintaining and reflecting upon ties to Iraqi cultural heritage.
In addition to his active participation in the art circles of Baghdad, Faraj Abbo was a significant contributor to arts education in Iraq: he taught drawing at the Institute of Fine Arts as well as at the Architectural Department of the College of Engineering in Baghdad. Furthermore, he played a major role in establishing the curriculum for the Academy of Fine Arts at Baghdad University, where he was appointed the head of the plastic art department as well as Deputy Dean for many terms.
Faraj Abbo passed away in 1984, leaving behind a substantial collection of artworks and a history of participation in more than 60 exhibitions.
Sources
Zayni, Ali. :: Faraj Abbo ::. Accessed July 27, 2017. http://farajabbo.com/about.htm.
Isqineeha. "FEATURE: Iraqi Artist FARAJ ABBO." أسقنيها. September 25, 2013. Accessed August 24, 2017. http://isqineeha.tumblr.com/post/62206099710/feature-iraqi-artist-faraj-abbo.
Habash, Najat. "فنان من بلادي." فرج عبّو النعمان. 2003. Accessed August 08, 2017. http://bakhdida.ca/BassimHannaPetros/farajabbo.htm.

+
-
CV
Selected Solo Exhibitions
2009
Retrospective Exhibition works of Faraj Abbo Al Numan , Wakif Art Center, Doha, Qatar
1983
An Honoring event patronized by the Ministry of Culture and Communication (Department of Contemporary Art), Baghdad Gallery for Contemporary Art, Baghdad, Iraq
1971
Fifth Solo Exhibition – Faraj Abbo, Gulbenkian Hall, National Museum of Contemporary Art, Baghdad, Iraq
1965
Baghdad, Iraq
1963
Baghdad, Iraq
1950
Cairo, Egypt
1941
Mosul, Iraq
Selected Group Exhibitions
2017
Features of Self-Esteem: Portraits and Landscape Paintings, Jordanian National Museum of Fine Arts, Amman, Jordan
2013
Modern Iraqi Art: A Collection , Meem Gallery, Dubai
2010
Exhibition of pioneers of Iraqi Art 2010, Qatar Fine Arts Society, Doha, Qatar
2003
Bissan Gallery, Doha, Qatar
2002
Aya Gallery, London, UK
1957
معرض بغداد للرسم و النحت,نادي المنصور,Baghdad
1950
Ibn Sena joint Exhibition , Institute of Fine Arts, Baghdad, Iraq
-He participated in Baghdad first Biennale
-His artworks exist in Baghdad University, Iraqi Ministries, Baghdad Airport & Museums.
Publications
By the artist:
Kāmil ʻĀdil, and ʻAbbū Faraj. Faraj ʻAbbū. Baghdād: al-Jumhūrīyah al-ʻIrāqīyah, Wizārat al-Thaqāfah wa-al-Iʻlām, Dā'irat al-Funūn al-Tashkīlīyah, 1982.
ʻAbū Faraj. ʻIlm ʻanāṣir Al-Fann. Mīlānū: Dār Dalfīn, 1982.
Public collections
Baghdad University, Iraq
Iraqi ministries, Iraq
Baghdad Airport, Iraq
Barjeel Art Foundation, U.A.E.
Ramzi and Saeda Dalloul Art Foundation, Lebanon
Ibrahimi collection, Amman