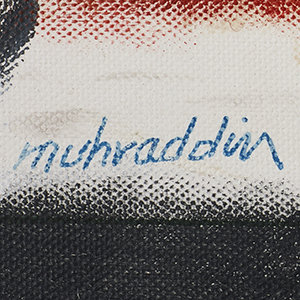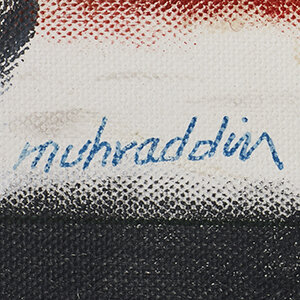 MUHAMMAD MUHRADDIN, Iraq (1938 - 2015)
+
-
Bio
Written by Mysa Kafil-Hussain

Considered a trailblazer in Iraqi art during the 1960s and 1970s, Muhammad Muhraddin and his contemporaries sought to rebel against the artistic trends of previous decades and push creative boundaries. Born in 1938 in Basra, Muhraddin developed a love for painting during his childhood, and his one of his teachers, who encouraged him to study art, noticed his talent.[1] In 1956 Muhraddin left Basra for Baghdad and enrolled into the Institute of Fine Arts, graduating in 1959.
Muhraddin then received a scholarship to study in Poland, completing a Masters degree at the Academy of Fine Arts in Warsaw,[2] and although he reportedly struggled with some of the new concepts he encountered, Warsaw had a great impact on his artistic style. It was there that he was exposed to and inspired by abstract movements led by experimental Polish artists,[3] as well as radical Eastern European street art, constructivism, and the art of political posters. Returning to Iraq in the mid-1960s, Muhraddin began teaching at the Institute of Fine Art whilst also producing his own work. He returned to an Iraq rife with rebellion, still reeling from various military coups and the rise of Arab nationalism, all of which influenced cultural production. Muhraddin's work, along with many others, began to follow a distinct theme: protest. He had his first solo exhibition in Baghdad in 1966, cementing his status as a serious, promising artist, but then in 1967, war broke out between the Arab nations and Israel, resulting in a disheartening defeat. However, this only served to push creatives further into the cause, giving them a new challenge with artists wondering how artistic activism could become a movement. In 1969, The New Vision group was founded by Muhraddin, Dia al-Azzawi, Ismail Fattah, Saleh al-Jumaie, Rafa Nasiri and Hashem Samarchi, seeking to fuse art and politics to create a revolutionary creative movement, focusing on experimental graphic art and artistic and innovative posters.
"The artist is a fighter who refuses to put his weapon down as he speaks in the name of the world, and in the name of the human…..the unity of artistic production throughout history places the artist at the center of the world and at the focal point of the revolution" [4] Manifesto: Towards a New Vision, 1969
Inspired, Muhraddin produced a great deal of work and participated in many exhibitions in the early-mid 1970s, and began to tackle political topics in his work in a way that many artists shied away from.[5] Deep into his artistic rebellion, Muhraddin was using indecipherable abstract symbols and harsh graphic techniques, and began tackling politicised topics such as Palestine and black liberation. He held a large solo exhibition in Baghdad entitled 'Strange is this World' in 1978,[6] in which he dealt with powerful themes such as poverty, anxiety and destruction, captivating audiences with what critics labelled "critical realism".[7]
In the 1980s, Muhraddin continued exploring the same themes, switching between phases of intense colour and subtle minimalism using a range of mixed media. Exhibiting regularly in solo and group shows, Muhraddin was by now an established artist, but continued to stimulate audiences with innovative compositions. The late 1980s and early 1990s were full of tension due to war and economic sanctions on Iraq, a period in which he painted his 1990 untitled artwork in the DAF Collection, awash with rhythmic, enigmatic symbols and shapes, trying to send a desperate message to the viewer. He continued to challenge the political status quo in the new millennium, with an exhibition entitled 'Globalisation Trap' in both Amman and Baghdad in 2001, where audiences were moved by the underlying tones of rejection, rebellion and anger.[8]
In 2006, Muhraddin, like many other Iraqis, left Iraq for Jordan due to ongoing instability following the US invasion and the deterioration of the local cultural scene. Although he settled well in Amman, and especially loved the bustling downtown area of the city, Baghdad was never far from his mind, remarking that the reason he chose Amman over other cities was because "Jordan is the closest to Iraq".[9] He continued to be very active, painting many canvases every year, and it is in this period that he painted three artworks in the DAF Collection, all untitled and from 2009, 2010-11, and 2014 respectively. Incredibly expressive, they each have their own unique qualities – one exudes emotion and nostalgia (2009), the other evokes a cold solitude (2010-11), whilst the latest artwork (2014) is intensely political, with 'al-qatla' (the killing) written in Arabic above the word 'Blair' (the British Prime Minister at the time of Iraq's invasion). Muhraddin sadly passed away in 2015 at the age of 77, but he did one final exhibition in Amman the year before he died. Entitled 'Dirty War',[10] the exhibition was Muhraddin's final public artistic statement against war and colonialism, unconsciously ensuring that his lasting legacy was to be synonymous with expressive sociopolitical and artistic defiance.

[1] "وفاة الفنان التشكيلي العراقي محمد محر الدين". In Al-sharq.com, 2015: www.al-sharq.com/article/25/04/2015/وفاة-الفنان-التشكيلي-العراقي-محمد-مهر-الدينv
[2] Tariq Hamdan, 2015. "محمد مهر الدين..رسائل عراقية أخيرة". In Alaraby.co.uk: www.alaraby.co.uk/culture/2015/4/25/محمد-مهر-الدين-رسائل-عراقية-أخيرة
[3] Farouq Yousif, 2015. "محمد مهر الدين فنان من العراق رسم خرائط اختلافه". In Alarab.co.uk: www.alarab.co.uk/محمد-مهر-الدين-فنان-من-العراق-رسم-خرائط-اختلافه
[4] Dia al-Azzawi, Ismail Fattah, Salih al-Jumaie, Muhammed Muhraddin, Rafa al-Nasiri, Hashem Samarji, 1969. "Manifesto: Towards a New Vision", In Modern Art in the Arab World - Primary Documents, 2018: Pages 306-309
[5] Yousif, 2015
[6] "محمد مهر الدين..فنان التحولات". In Almadasupplements.com, 2014: http://www.almadasupplements.com/news.php?action=view&id=9533#sthash.mEjKpBLo.dpbs
[7] Muhammed Muhraddin Artist Website – "Gallery 3": http://www.muhraddin.com/gallery3.htm
[8] Hassan Abdul Hameed, 2001."Artist of Revolting Moments", In Iraq Daily Newspaper No. 9666, October 27 2001
[9] Hamdan, 2015.
[10] Yousif, 2015.
Sources
Abdul Hameed, Hassan. "Artist of Revolting Moments". Iraq Daily Newspaper, No. 9666, October 27 2001
Al-Azzawi, Dia; Fattah, Ismail; al-Jumaie, Saleh; Muhraddin, Muhammad; al-Nasiri, Rafa; Samarji, Hashem. "Manifesto: Towards a New Vision". In Lenssen,Anneka; Rogers, Sarah; Shabout, Nada, Modern Art in the Arab World - Primary Documents. North Carolina: Duke University Press, 2018: Pages 306-309
Hamdan, Tariq. "محمد مهر الدين.. رسائل عراقيّة أخيرة". Alaraby.co.uk. April 25, 2015. Accessed May 2020. www.alaraby.co.uk/culture/2015/4/25/محمد-مهر-الدين-رسائل-عراقية-أخيرة
Kamel, Adil. "Notes on some Characteristics of Iraqi Art". UR Magazine, Special Issue. Iraqi Cultural Centre, 1981: Page 115
Yousif, Farouq. "محمد مهر الدين فنان من العراق رسم خرائط اختلافه". July 26, 2015. Accessed May 2020. www.alarab.co.uk/محمد-مهر-الدين-فنان-من-العراق-رسم-خرائط-اختلافه
Contemporary Arab Artists: Part One, Iraqi Cultural Centre, London, 8 November – 7 December 1978 (exhibition catalogue). 1978. "Modern Art Iraq Archive", Iraqart.org. Accessed April 2020.
https://artiraq.org/maia/items/show/54
M. Moheradin: Al-Riwaq Gallery, Baghdad, 18 September 1980 (exhibition catalogue)
محمد مهر الدين..فنان التحولات"". Almadasupplements.com. January 29, 2014. Accessed May 2020. http://www.almadasupplements.com/news.php?action=view&id=9533#sthash.mEjKpBLo.dpbs
"وفاة الفنان التشكيلي العراقي محمد محر الدين". Al-sharq.com, April 25, 2015. Accessed May 2020. www.al-sharq.com/article/25/04/2015/وفاة-الفنان-التشكيلي-العراقي-محمد-مهر-الدين
Muhammed Muhraddin Artist Website, Accessed May 2020: http://www.muhraddin.com/gallery3.htm
Ibrahimi Collection: "Mohammed Muhradin". Ibrahimcollection.com. Accessed May 2020. http://ibrahimicollection.com/node/92
+
-
CV
Selected Solo Exhibitions
2014
Dirty War, Orfali Art Gallery, Amman, Jordan
2008
Sultan Gallery, Kuwait
2006
Muhraddin, Dar al-Anda, Amman, Jordan
2004
Athar Gallery, Baghdad, Iraq
2003
French Cultural Center, Baghdad, Iraq
2001
Globalisation Trap, Hewar Art Gallery, Baghdad, Iraq; Amman, Jordan
Painting Exhibition, Baghdad, Iraq; Amman, Jordan
1999
French Cultural Center, Baghdad, Iraq
1998
Muhraddin: Painting Exhibition, Athar Gallery, Baghdad, Iraq; Amman, Jordan
1997
Painting Exhibition, Baghdad, Iraq
1995
Painting Exhibition, Baghdad Gallery, Baghdad, Iraq; Amman, Jordan
1994
Aba'ad Art Gallery, Amman, Jordan
1992
Painting Exhibition, Baghdad, Iraq
1989
Orfali Gallery, Baghdad, Iraq
1985
Painting Exhibition, Baghdad, Iraq
1983
Painting and Drawing Exhibition, Baghdad, Iraq
1981
Painting Exhibition, Baghdad, Iraq
1980
M. Moheradin: Fourth One-Man Show, Al-Riwaq Gallery, Baghdad, Iraq
1978
Painting Exhibition, Baghdad, Iraq
1967
Graphic Art Exhibition, Baghdad, Iraq
1966
First One-Man Show, Academy of Fine Arts, Baghdad, Iraq
Selected Group Exhibitions

2019
Theater of Operations: The Gulf Wars 1991-2011, MoMA PS1, New York, USA
2014
A Tribute to Rafa Nasiri, Nabad Art Gallery, Amman, Jordan
2005
Joint exhibition with Shaddad Abdulkhahar, Athar Gallery, Baghdad, Iraq
Dialogue of Generations (Joint exhibition with Delair Shaker), Orfali Gallery, Amman, Jordan
2002
Intact, Iraqi Art, Iraqi Spirit, Aya Gallery, London, UK
2000
Journey through the Contemporary Arts of the Arab World: Mesopotamia/Iraq, Darat al Funoon, Amman, Jordan
1995
Joint exhibition with Fahmi Al-Qaysi, Location unknown
1994
Four Iraqi Artists (Group exhibition with Rafa al-Nasiri, Ali Talib & Dia Azzawi), Alif Gallery, Washington DC, USA
1993
Figures de la Peinture Irakienne Contemporaine: Azzaoui & Muhraddine & Nasiri & Talib, L'Espace Al Wacetey, Casablanca, Morocco
Sixth Asian Art Biennale, Bangladesh
1992
Three Iraqi Artists (Group exhibition with Ismail Fattah and Lisa Fattah), Abdul Hameed Shoman Foundation, Amman, Jordan
Rafaa Ennasiri – Ridha Bettaieb – Mohamad Mahruddine, Galerie des Arts, Tunis, Tunisia
1990
Seven Iraqi Artists (Group exhibition with Shakir Hassan al Said, Salem al-Dabbagh, Saadi al-Kaabi, Ali Talib and Rafa al-Nasiri, Abdul Hameed Shoman Foundation, Amman, Jordan
1988
Art for Humanity - Baghdad International Festival of Art, Saddam Arts Centre, Baghdad, Iraq
1986
First International Euro-Asian Arts Biennial, Ankara, Turkey
1984
First Cairo International Biennale, Cairo, Egypt
1982
Second International Poster Exhibition, Baghdad, Iraq
Iraqi Contemporary Art, Jordan National Gallery of Fine Arts, Amman, Jordan
1981
Joint exhibition with Ala Bashir, Al-Riwaq Gallery, Baghdad, Iraq
1979
An Exhibit of Contemporary Iraqi Paintings, USA
Exhibition of Iraqi Posters, National Museum of Modern Art, Baghdad
1978
Contemporary Iraqi Art, Iraqi Cultural Centre, London, United Kingdom
PLO Exhibition of Art for the Sake of Palestine, Beirut, Lebanon
1977
Contemporary Iraqi Art, Tunis, Tunisia
1976
World League of Visual Arts, Baghdad, Iraq
Eighth Cagne-sur-Mer International Festival, Cagne-sur-Mer, France
Second Arab Biennale, Rabat, Morocco
1975
The Third Triennale – India, Lalit Kala Akademi, New Delhi, India
1974
First Arab Biennale, Baghdad, Iraq
1972
Al-Wasiti Festival, Baghdad, Iraq
1971
Exhibition of Plastic Arts: Al-Marbad Poetry Festival, Basra, Iraq
Iraqi Art Exhibition, Kuwait
1970
The Iraqi Poster Exhibition, Baghdad, Iraq
1968
The Battle Exhibition, National Museum of Modern Art, Baghdad, Iraq
1965
Iraqi Artists Society – Eighth Annual Exhibition, National Museum of Modern Art, Baghdad, Iraq
1959
Iraqi Artists Society Gallery, Baghdad, Iraq
Publications
الأعمال الفنية من 1956-2010, Muhammad Muhraddin. مركز الدستور الفني, 2011
اراء حول تجربة الفنان محمد مهر الدين التشكيلية 1967-2010, Muhammad Muhraddin. Arabic Line P.P. /مطبعة الخط العربي, 2011
Awards and Honors
1998
Innovation Award, Iraqi Ministry of Culture, Baghdad, Iraq
1993
Honorary Prize, Sixth Asian Art Biennale, Bangladesh
1988
First Prize, Art for Humanity - Baghdad International Festival of Art, Saddam Arts Centre,Baghdad, Iraq
1986
2nd Prize – Best Poster, First International Euro-Asian Arts Biennial, Ankara, Turkey
1982
Appreciation Award, Second International Poster Exhibition, Baghdad, Iraq

Affiliations & Memberships
1969
Co-founding Member, New Vision Group
Collections
Azzawi Collection, London, United Kingdom
British Museum, London, United Kingdom
Dijla Art Gallery, Baghdad, Iraq / Amman, Jordan (Public Collection)
Ibrahimi Collection, Amman, Jordan
Jordan National Gallery of Fine Arts, Amman, Jordan
Ramzi & Saeda Dalloul Art Foundation (DAF), Beirut, Lebanon
Orfali Art Gallery, Amman, Jordan