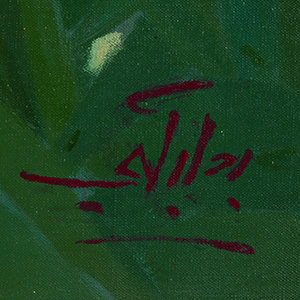 ABDEL HAMID BAALBAKI, Lebanon (1940 - 2013)
+
-
Bio
Written by Wafa Roz & Alessandra Amin

Born in 1940 in the village of Odeisseh, Jabal Amel, South Lebanon, Abdel-Hamid Baalbaki was a thinker, poet, and art critic, as well as a figurative painter. His work developed under the supervision of pioneering artist Rachid Wehbi at the Lebanese University – Institute of Fine Arts, from which he graduated in 1971. While studying at the Institute, Baalbaki befriended the renowned artist Aref El Rayess, with whom he shared a commitment to art as a mode of political engagement. Following his graduation, he studied mural painting at the École Nationale des Arts Décoratifs (ENSAD) in Paris, where he earned a Diploma of Higher Studies in 1974. Upon his return to Beirut later that year, he began teaching at the Lebanese University, a position he held until 2004. From 1992 to 1994, he served as the president of the Lebanese Association for Painters and Sculptors (LAAPS).
As a painter, Baalbaki is known for pictorial scenes that engage with historical and contemporary sociopolitical crises. Given his background, this comes as little surprise; growing up in a village with a politically charged history, Baalbaki developed a firm political consciousness at an early age. He joined the Baath party in 1955 but did not remain a member for long, ultimately refusing to affiliate with a single political party, though he endorsed Arab Nationalism and was intellectually associated with leftist movements. As is exemplified in his major works, he firmly believed that art should celebrate and bolster pan-Arab heritage and that it could be a powerful tool in defense of the Palestinian cause.
The limited oeuvre of Abdel Hamid Baalbaki is not stylistically coherent, but instead reflects the artist's willingness to experiment with line, color, and form. Even in the early stages of his career, Baalbaki produced complex, politically-oriented works that showcased his remarkable talent; three such masterpieces are Ashura, Fall of Al Nassar, and The War Mural. Ashura is a large-scale oil painting that Baalbaki completed in 1971, as his final projectin college, and brought the artist significant academic recognition. The canvas depicts the tragic death of Hussein Bin Ali in the historic Battle of Karbala; an event commemorated annually by Shi'a Muslims with a day of mourning and grief. In a linear horizontal composition, hundreds of lamenting men and women walk along a blood-red background, their faces vacant, and their bodies cloaked in black and white. With minimal ornamentation, balanced tones and, reduced linear perspective, Baalbaki's work achieves a fresh oriental style inspired equally by the modern Iraqi School and medieval Abbasid artists such as Al-Wasiti and Rida Abbas.
Baalbaki did not develop the style we see in Ashura. Shortly after completing the work, however, the artist was granted a scholarship to study art in Paris, where he turned to paint to express his state of solitude and nostalgia. During this time, he created a series of paintings that deploy dreamy symbolism and calm colors to evoke a feeling of desolation: in Al-Ghurba (1972), the artist is seen walking melancholically in a gloomy snow-scape.
While in Paris, Baalbaki produced his largest painting ever, a 2mx4m composition entitled The Fall of Al-Nassar. Like Ashura, the painting depicted a tragic historical scene of importance to Shi'a communities: the defeat of Shi'a leader Nasif Al-Nassar in Baalbaki's native Jabal Amel. Wishing to move the painting back to Beirut, the artist had to cut it into smaller pieces. Unfortunately, the parts never made it back to Lebanon, and The Fall of Al-Nassarwas lost forever.
Baalbaki was one of few artists who adopted figuration in the 1970s when abstraction was in vogue among his contemporaries. In keeping with his belief in the political potential of art, he provocatively critiqued styles that emphasized aesthetics over content, including and especially abstraction. Additionally, he openly rejected the commodification of art by refusing to sell his works or to participate in the Salons, choosing instead to exhibit in more accessible spaces, including the Ministry of Tourism in Beirut, where The War Mural (1977) was showcased in 1979. Hismost critically acclaimed work, The War Mural, is not painted onto a wall but onto canvas, yet the artist, inspired by Mexican Muralism, dubbed it a "mural" because of the word's populist connotations, insisting it to be displayed where anybody could see it. The War Mural may be considered Lebanon's Guernica, illustrating the horrors of the Lebanese civil war in a dramatic, flaming color palette. Howling men, women, and children cower from falling buildings and monstrous symbolic characters, including battling knights, a crowing rooster, and the figure of death. Looming large in the left half of the composition is an owl, intentionally evoking Hegel's observation that "the owl of Minerva spreads its wings only at the fall of dusk" – in other words, that a historical circumstance can only be fully understood as it ends. Seen from today, the owl gives the work a tragic sense of irony; it symbolizes a moment in history when the artist, like many others, believed the Lebanese Civil War to have ended, when in fact, it would rage on for over a decade more.
Baalbaki's political work was not limited to large-scale indictments of war, but also touched on the more mundane experiences of ordinary people. Being inspired by his adolescence in Chiyah, a hazardous, congested urban area in the suburbs of Beirut, Baalbaki engaged with the daily plight of migrants, workers, and the poor through populist, figurative images that deployed elements of social realism.In bold colors and distorted proportions, The Watermelon Seller (1981) illustrates the struggling worker; The Abadaye (1981) shows an outlaw figure during the war, Guevara II (1982) pays homage to the leftist, and The Café (1981) casts a skeptical gaze towards prominent society men at leisure. Other works reflect on old age and urban chaos or mirror the superficiality of fame, such as in the vibrant, satirical portrait The Dandy (2006).
In his later years, Baalbaki found refuge in nature. He started painting landscapes; he produced a series ofdrawings and paintings illustrating dead trees and trunks, including Al Hattab, or The Woodcutter (1990),a melancholy composition inspired by the poetry of Pablo Nerudaand Adonis. The large-scale canvas, employing vigorous, expressionist brushstrokes, depicts a fatigued woodcutter meditating on a rock in a forest of leafless trees.
Baalbaki remained in his home village of Odeisseh until he passed away in 2013. When he passed, he left a rich artistic legacy behind him: his younger brother Fawzi, son Ousama, and nephews, Ayman and Saiid, all became painters in his wake.

Sources
Buchakjian, Gregory, Abdel – Hamid Baalbaki 1940-2013, 2018, Beirut, Lebanon, 53 dots.
Stoughton, India. "Abdel Hamid Baalbaki (1940-2013) | Saleh Barakat Gallery." Selections Arts. December 20, 2017. Accessed March 12, 2018. http://selectionsarts.com/2017...
""The Road to Peace: Paintings in Times of War, 1975–1991" at Beirut Art Center." "The Road to Peace: Paintings in Times of War, 1975–1991" at Beirut Art Center - Artforum International. Accessed March 12, 2018. https://www.artforum.com/picks/the-road-to-peace-paintings-in-times-of-war-1975-1991-23202.
ZALZAL, Zéna. "Ce Baalbaki qui n'était pas à la mode... - Zéna ZALZAL." L'Orient-Le Jour. November 26, 2017. Accessed March 12, 2018. https://www.lorientlejour.com/article/1086177/ce-baalbaki-qui-netait-pas-a-la-mode.html.
ثقافة, المدن -. ""حديث الشيخوخة": الرسام عبد الحميد بعلبكي يروي.." Almodon. Accessed March 12, 2018. http://www.almodon.com/culture/2017/2/1/%D8%AD%D8%AF%D9%8A%D8%AB-
"عبد الحميد بعلبكي ذاكرة جبل عامل." الأخبار. Accessed March 12, 2018. http://www.al-akhbar.com/node/272010.
Matar, William. One Fine Art | Events - Abdel Hamid Baalbaki Exhibition. Accessed March 12, 2018. https://www.onefineart.com/events/abdel-hamid-baalbaki-exhibition.
Joumaa, Jamal. "Identity and Hope, Australian Artists of Arabic Origin (A Thesis Submitted for the fulfilment of Doctor of Creative Arts – 2009. Pp 48-52. The University of Western SydneyCollegeofArts"
+
-
CV
Selected Solo Exhibitions
2017

Retrospective, Abdel Hamid Baalbaki, Saleh Barakat Gallery, Beirut, Lebanon
Selected Group Exhibitions
2014
Group Show, UNESCO Palace, Lebanon
2009
The Road to Peace: Paintings in Times of War, 1975–1991, Beirut Art Center, Beirut, Lebanon
1998
Warm Injury, Glass hall of The Ministry of Tourism in Beirut, Lebanon
1983
Group Show, Gallery One, Beirut, Lebanon
Collections
Saradar Collection, Lebanon
Ramzi and Saeda Dalloul Art Foundation, Lebanon