Face Value: Portraiture
Published on Fri 19 January, 2018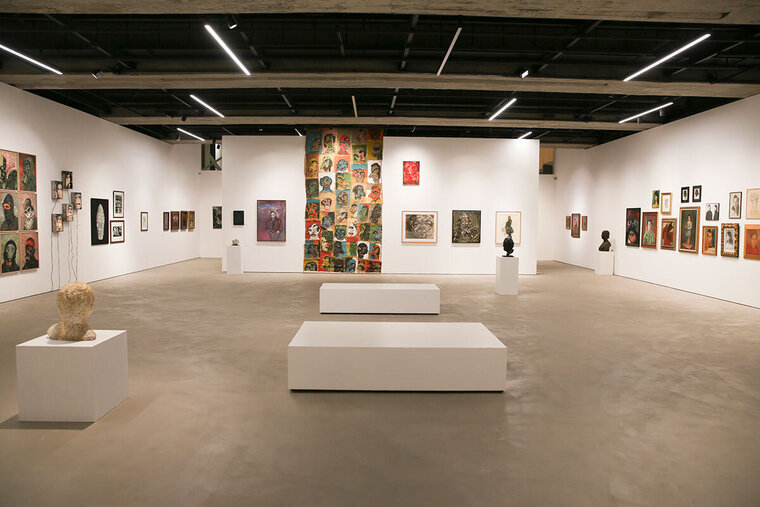 Face Value: Portraiture (A Gallerist's Personal Collection)
Location: (Beirut, Lebanon)
January 19 - March 3 2018
Opening: Friday 19 January, 2018, 7-9pm
Venue: Saleh Barakat Gallery- Clemenceau, Justinian Street, Beirut, Lebanon
Title of Exhibition: Face Value: Portraiture (A Gallerist's Personal Collection)
This exhibition brings together around 100 portraits from the Saleh Barakat Gallery collection, and covers artworks from the early twentieth century to the present day. It takes as its starting point portraits of the early twentieth century from the Middle East, which functioned as idealized representations of the bourgeois subject. Organized thematically, the exhibition then turns to portraiture's later reappropriation by an array of modern and contemporary artists. The broad categories under which these portraits are organized are portrait de genres, or portraits of social types, such as the Bedouin; self-portraits, portraits of other artists, friends, and lovers; portraits of politicians; political portraits; and portraits of the disenfranchised. Placing emphasis on the treatment of the subject in the work, this exhibition juxtaposes a large selection of artworks which together raise questions on the politics of representation, as well as ask what kind of subjectivity can we speak of in our postmodern condition.
Including the work of Assadour, Toufic Abdul-Al, Clara Abi Nader, Yvette Achkar, Sabhan
Adam, Farid Aouad, Rima Amyuni, Abdelhamid Baalbaki, Ayman Baalbaki, Oussama
Baalbaki, Said Baalbaki, Ginane Makki Bacho, Serwan Baran, Alfred Basbous, Michel
Basbous, Huguette Caland, Radwan Chahal, Charles Chahwan, Rafic Charaf, Chaza
Charafeddine, Saloua Raouda Choucair, Tagreed Dargouth, Saliba Douaihy, Hala
Ezzeddine, Omar Fakhoury, Waddah Faris, Mustafa Farroukh, Cesar Gemayel, Khalil
Ghorayeb, Paul Guiragossian, Farid Haddad, Marie Haddad, Mustafa AL-Hallaj, Halim El-
Hajj, Nazir Ismail, Nazem al-Jaafari, Aram Jughian, Burhan Karkoutly, Abdulrahman
Katanani, Helen Khal, Sacha Abou Khalil, Omar Khouri, Azouaoui Mammeri, Seta
Manoukian, Marwan, Samar Mogharbel, Fateh Moudarres, Philippe Mourani, Nabil Nahas,
Mohammad El Rawas, Aref Rayess, Nadia Safieddine, Khalil Saleeby, Salah Saouli,
Marwan Sahmarani, Mona Saudi, Houmam Sayed, Habib Srour, Hady Sy, Mustapha Tannir,
Katya Traboulsi, Rachid Wehbe, Vera Yeramian, Khalil Zgheib.
• Telephone: +961 1 365615
• Website : www.salehbarakatgallery.com
• Email : [email protected]
• Gallery Hours: From Monday-Saturday 12:00pm to 7:00pm
• Twitter: @SBgallery2016
• Instagram: #salehbarakatgallery
• Facebook: https://www.facebook.com/Saleh...
Related Artists and Artworks