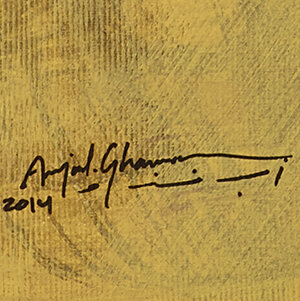 AMJAD GHANNAM, Palestine (1981)
+
-
Bio
Born in 1981 in Jerusalem, Amjad Ghannam is a self-taught artist. His early debut took off when he started designing posters at the age of twenty during his college years in Cyprus. He created drawings that raise awareness about the Palestinian struggle. Later Ghannam developed his technical skills to produce paintings that voice the daily Palestinian strife against ethnic cleansing, illegal military occupation, and apartheid system inflicted on them.

A formal political prisoner himself, Ghannam addresses torture and confinement and interrogates the notion of time. Ghannam considers time as an element that is often measured by the significant events in one's personal life and sees it spanning in space. In prison, Ghannam felt that space was always fixed, and the relative time was still. It was only through his body that he could indicate the passage of time. This view translated in Ghannam's self-portraits sitting on a solo chair with his head covered, and others while handcuffed. Part of Ghannam's paintings are dramatic and washed with somber grey tones. However, his signature style fits a series of colorful, cartoonish paintings that feature elongated facial figure with two big eyes – known as Portraits of Absence. Usually, his pictures are cynical in context and minimal in figuration.

Ghannam's breakthrough came in 2010, while he was still in prison. He sent a greeting card to artist Khaled Hourani as a response to his project Picasso in Palestine, which showed Picasso's Buste de Femme,1943, at the International Art Academy in Ramallah in collaboration with the Van Abbe Museum in Eindhoven. When he read the news in one of the magazines, Ghannam took a blank postcard and recreated the Picasso painting with ink and coffee, and sent it as a personal gift to Khaled. Indeed much of Ghannam's dramatic pictures are inspired by the tormented and deconstructed figures found in the famed Picasso's Guernica.

Amjad Ghannam works and resides in Ramallah, Palestine.
This is a short biography. The full version , along with research, CV and sources will be posted soon. Stay tuned and visit us often or become a member to be notified of our updates.