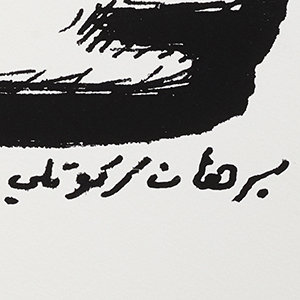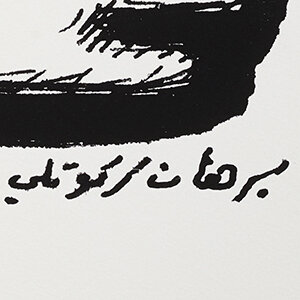 BURHAN KARKUTLI, Syria (1932 - 2003)
+
-
Bio
Burhan Karkutli was born in Damascus, Syria, in 1932. He studied painting at the Faculty of Fine Arts in Cairo in 1957 and attended classes at the San Fernando University in Madrid a year later. In 1960 he moved to Casablanca, where he worked as a journalist and caricaturist before leaving for Berlin to study painting through a scholarship. In 1970 he temporarily settled in Frankfurt, where he worked as a graphic designer and schoolteacher. In 1982 he moved to Bonn, Germany, and became a full-time artist while closely working with the Palestinian Liberation Organization.
As a founding member of the Palestinian Artist Federation in Beirut, Karkutli dedicated most of his artworks to the Palestinian cause. The artist figuratively portrays the Arab people, be they workers, freedom fighters or women, politically supporting Palestine and criticizing Zionism. He spent the remaining years of his life working as a hakawati (storyteller) in Bonn, Germany, where he died in 2003.
This is a short biography. The full version , along with research, CV and sources will be posted soon. Stay tuned and visit us often or become a member to be notified of our updates.