A sun yellow with anger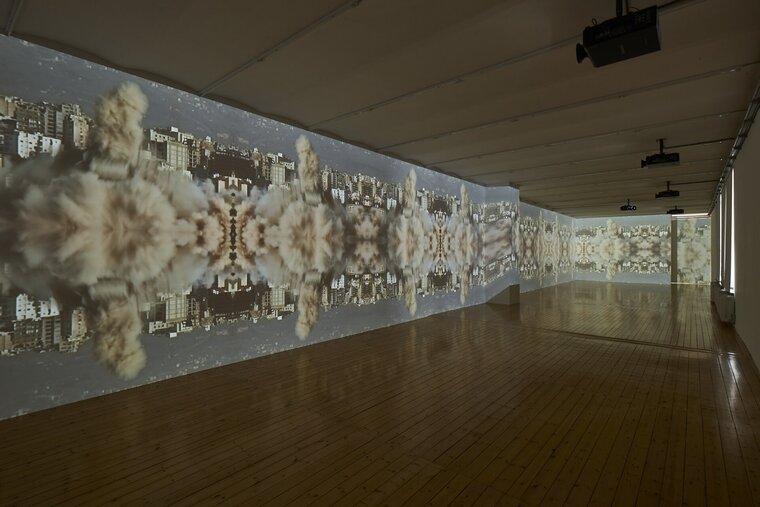 WALID RAAD
ETEL ADNAN, RAYYANE TABET
September, 3rd - October, 24th 2020
Beirut has witnessed a devastating explosion on August 4, 2020. Our gallery is located a mere kilometer away from the blast: our team was miraculously unharmed, and we did not have any exhibition on view at the time, but the space was completely destroyed.
We're looking around us and, three weeks later, Beirut has disappeared from the headlines, but its people are still dealing with losses, death, missing persons, destroyed houses, lifelong injuries, amidst the worst economic and sanitary crisis the country has ever known. Courtesy of a collapsed political system, Lebanon is witnessing its third mass-immigration wave, an inflation of 336% in a single year and more than half the population now living below the poverty line.
In HAMBURG, in light of what we're going through, we've decided to change our planned program, and are now presenting an exhibition entitled A sun yellow with anger, with the hope to express our deep reverence for Beirut. Works by ETEL ADNAN, WALID RAAD and RAYYANE TABET, come together to speak about a quotidian that has been on constant repeat throughout the second half of the twentieth century.

On the first floor of the gallery, Walid Raad's Sweet Talk Commissions (Solidere: 1994–1997) from 2019 takes over the whole space. The film endlessly shows downtown Beirut being destroyed and rebuilt in a mirrored kaleidoscopic loop. Reflecting on symptoms of how violence affects the world, the images reveal an alternative space-time in which the depicted buildings exist. This is the first part of an exhibition by Raad, that will continue with a solo presentation opening in November in Hamburg.
The exhibition's title, A sun yellow with anger, is borrowed from Etel Adnan's manuscript of The Arab Apocalypse shown in our ground floor space. Published in 1980 amidst the Lebanese civil war, the collection of poems reflects on the dislocation of the Arab world. The journey through the 51 chapters is accompanied by a sound piece, with Corinna Harfouch's reading in German and Milia Ayache in English.
+
-
Press
The "Sfeir-Smeller" sun is angry in Hamburg
Saudi 24 News, English, 2020