ATLAS How to carry the world on ones back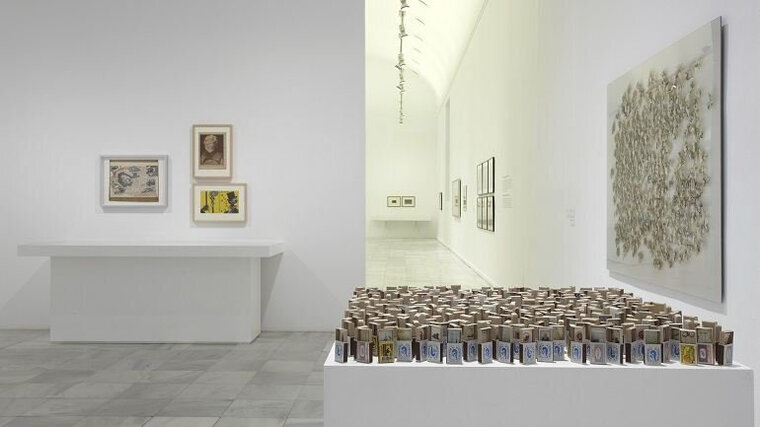 How to carry the world on one's back?
November 26 - March 28, 2011 / Sabatini Building, Floor 1
Atlas is a proposal to put the frame of thought introduced by German art historian Aby Warburg (1866-1929) into the context of historical knowledge and images. This is not a monographic exhibition on Warburg, but a journey through the history of images from 1914 until the present day, where warburgism constitutes the genius loci.
Warburg is for Art History the equivalent to what Freud, his contemporary, was for psychology: he introduced radically new questions for the understanding of art. Through his Bilderatlas or atlas of images, composed between 1924 and 1929, which remained unfinished, Warburg managed to transform the way in which images are understood. He called it Mnemosyne, as a way of expressing that his questioning was referring to the memory of the images, including the unconscious memory, theorised during the same period by Freud on a psychological level.
The Mnemosyne Atlas has 60 sheets with images that trace the survival of symbols and archetypes that migrate from antiquity. This open device establishes for Warburg the response to a psychological situation that kept him confined to a sanatorium in Kreuzlingen from 1921 to 1924. In it he gathers all the objects of his research into a "mobile panel" device which is constantly mounted, dismounted, remounted. Mnemosyne was his masterpiece and methodological testament, an atlas of images that constitutes a work of reference for art historians and artists as it implies a worldview susceptible to putting itself back together again and again through the play of associations. With it he changes the way we conceive the relationships of art-works between themselves and of all of them together facing historical development. It is the labourer of endless thought on images and their destinations, a visual essay far from museological performances.
The exhibition has been designed to foster an understanding of some of the artists' work and how their pieces can be considered from the point of view of an authentic method and even from a transverse but not standardised knowledge of the world. In this exhibition Paul Klee's gorgeous watercolours are not exhibited, but his modest herbarium and the graphic or theoretical ideas that spring from it are, Sol LeWitt's minimalist cubes are not exhibited, but his photo collages on the walls of New York are. Before the pieces, as a result of work, the operating spaces are shown, the production surfaces of the work itself, it constitutes a new way to tell the story of the visual arts, far from the historical and stylistic patterns of academicism.
Organized by: Museo Nacional Centro de Arte Reina Sofía in collaboration with Sammlung Falckenberg, Hamburgo y ZKM ǀ Museum für Neue Kunst, KarlsruheCuratorship: Georges Didi-HubermanExhibition Tour:
ZKM Zentrum für Kunst und Medientechnologie, Karlsruhe (May 7 - August 28, 2010); Stiftung Falckenberg, Hamburg (September 24 - November 27, 2011)
Artists:Francesc Abad, Ignasi Aballí, James Agee, Vyacheslav Akhunov, Josef Albers, Louis Aragon, Jean Arp, Georges Bataille, Bernd Becher, Hilla Becher, Samuel Beckett, Walter Benjamin, Ernst Benkard, Barbara Bloom, Karl Blossfeldt, Erwin Blumenfeld, Alighiero Boetti, Christian Boltanski, Jorge Luis Borges, Brassaï (Gyula Halász), Bertolt Brecht, George Brecht, André Breton, Marcel Broodthaers, Stanley Brouwn, Jacob Burckhardt, Victor Burgin, Lewis Carroll, Fanny Clar, Codex Coburgensis, James Coleman, Pascal Convert, DADACO, Salvador Dalí, Hanne Darboven, Moyra Davey, Tacita Dean, Guy Debord, Fernand Deligny, Alberto Durero, Carl Eistein, El Lissitzky (Lazar Markovich Lissitzky), Max Ernst, Walker Evans, Öyvind Fahlström, Harun Farocki, Hans-Peter Feldmann, Robert Filliou, Peter Fischli, Alain Fleischer, Benjamin Fondane, Fotos Triplex, Thomas Geve, Alberto Giacometti, Jean-Luc Godard, Francisco de Goya, George Grosz (Georg Ehrenfried), Hans Haacke, Ernst Haeckel, Raymond Hains, John Heartfield, Susan Hiller, Hannah Höch, Roni Horn, Douglas Huebler, Mike Kelley, Paul Klee, Germaine Krull, John Latham, Le Corbusier (Charles-Edouard Jeanneret), Michel Leiris, Zoe Leonard, Sol LeWitt, Eli Lotar, Ghërasim Luca, Man Ray (Emmanuel Radnitzky), Henri Manuel, Piero Manzoni, Étienne-Jules Marey, Ernesto de Martino, Gordon Matta-Clark, Henri Michaux, Laszlo Moholy-Nagy, Matt Mullican, Bruce Nauman, On Kawara, Dennis Oppenheim, Ulrike Ottinger, Amédée Ozenfant, Jean Painlevé, Giuseppe Penone, Sigmar Polke, Walid Raad (The Atlas Group), Robert Rauschenberg, Gerhard Richter, Arthur y Vitale Rimbaud, Pedro G. Romero, Charles Ross, Thomas Ruff, Naomi Tereza Salmon, Agust Sander, Meyer Schapiro, Franz Schubert, Kurt Schwitters, Claude Simon, Robert Smithson, Alfred Stieglitz, Wladyslaw Strzeminski, Antoni Tàpies, Stefan Themerson, Rosemarie Trockel, Kurt Tucholsky, Isidoro Valcárcel Medina, Karl Valentin, Marc Vaux, Jacques Villeglé, Lucien Vogel, Simon Wachsmuth, Franz Erhard Walther, Aby Warburg, David Weiss, Christopher Williams View less
+
-
Documents
ATLAS - How to carry the world on one's back?
Museo Reina Sofia, English, 2010
Brochure
+
-
Press
Atlas: How to Carry the World on One's Back?
Pedro de Llano
Afterall, 2011
Related Artists and Artworks