Amman Journal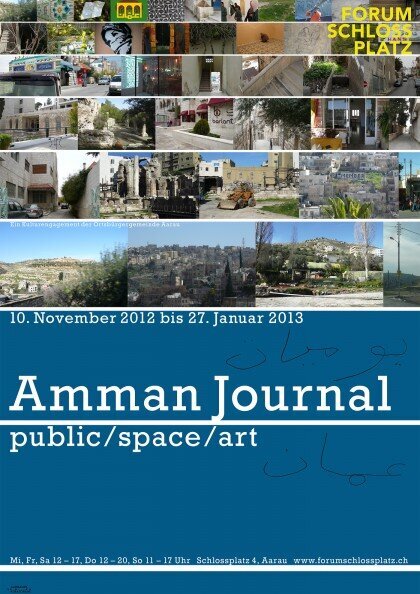 Nov 10, 2012 Jan 27, 2013

public / space / art
The exhibition is dedicated to the capital of Jordan and takes the metropolis as the starting point for a cultural journey to the Middle East. The region has been on the move since the Arab Spring and has attracted global attention, particularly with the Syrian civil war and its influx of refugees. The curator Sibylle Omlin could not have foreseen this development during her visit in winter 2009/10. But in the course of her two-month research stay at the Darat-al-Funun cultural center in Amman, she became aware that the city is more shaped by the history of the surrounding countries than by a genuinely Jordanian identity. A fact that is also noticeable in the urban development of Jordan and has an impact on art projects in public space and on the region's art in general.
The curator dealt with history, the heterogeneous population, with contemporary art and with questions of traditional and current urban development. Confronted with her occidental perspective, she began to question and reread. The result is an exhibition essay with contemporary art from Jordan, Palestine, Lebanon and Syria.
In addition to Arab artists, there are also Swiss artists who have worked in Jordan. "Amman Journal" presents works by Barbara Caveng, Samah Hijawi, Raed Ibrahim, Saba Innab, Helen Keizer, Faouzi Laatiris, Walid Raad, Christoph Rütimann, Oraib Toukan, Ala Younis, René Zäch and Sima Zureikat, among others.
+
-
Documents
Amman Journal - public / space / art
forumschlossplatz.ch, German, 2012
Related Artists and Artworks