EDGE OF ARABIA EAST LONDON: COMETOGETHER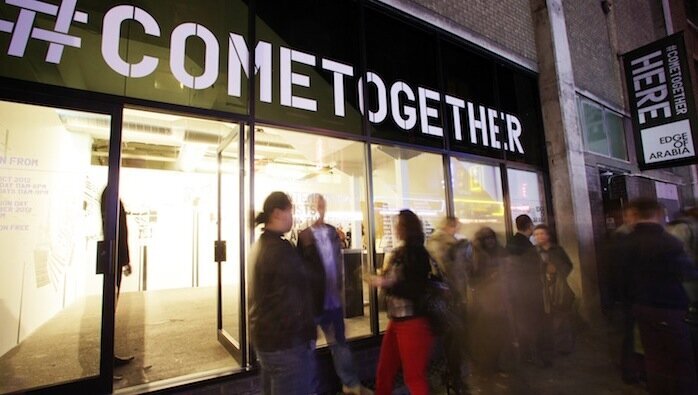 EDGE OF ARABIA EAST LONDON: #COMETOGETHER
Ocotber 7 2012 - October 28 2012
OLD TRUMAN BREWERY 81 BRICK LANE LONDON E1 6QL

#COMETOGETHER represented Edge of Arabia's return to London, showcasing large-scale, multi-media work by leading Arab and Islamic world artists in the heart of creative, multicultural East London. The exhibition was held in a 2000 square metre warehouse situated on Brick Lane from 7 – 28 October 2012.
#COMETOGETHER featured over 30 established and emerging artists that go beyond the periphery of the Gulf to Algeria, Iraq, Iran, Kuwait, Lebanon, Morocco, Pakistan, Palestine, Saudi Arabia, Tunisia, United Arab Emirates, and Yemen.
The title of the exhibition, #COMETOGETHER, was a deliberate reference to social networking channels, which have transformed the nature and power of individual voices and expression in the Arab World in recent years.

To accompany the exhibition, Edge of Arabia partnered with The Crossway Foundation, Morocco-based Dar Al Mamûn, Mile End Community Project and Future Shorts to deliver an education programme including workshops, topical discussions, film screenings and guided exhibition tours aimed at engaging the local community.
FEATURED ARTISTS
FARHAD AHRARNIA
SARAH AL ABDALI
KHALID AL GHARABALLI
FATIMA AL QADIRI
MANAL ALDOWAYAN
SALWA ALERYANI
MUSAED ALHULIS
HALA ALI
SAMA ALSHAIBI
SHAWEESH
AHMAD ANGAWI
KADER ATTIA
FAYÇAL BAGHRICHE
MUZAMIL CHOUDHURY
AYMAN YOSSRI DAYDBAN
MOHAMED EL MAHDAOUI
MOUNIR FATMI
SIRINE FATTOUH
SIMOHAMMED FETTAKA
ABDULNASSER GHAREM
BABAK GOLKAR
HASSAN HAJJAJ
CHOUROUK HRIECH
MOUNA KARRAY
YAZAN KHALILI
MAHA MALLUH
AHMED MATER
FAISAL SAMRA
LARISSA SANSOUR
LANTIAN XIE
PARTNERS
ABDUL LATIF JAMEEL COMMUNITY INITIATIVES
TOWER HAMLETS
ETIHAD
MILE END COMMUNITY PROJECT
FUTURE SHORTS
CROSSWAY FOUNDATION
NADOUR
DAR AL'MAMUN
BROWNBOOK
BIDOUN
SOLE WATER

CURATOR'S STATEMENT
"#COMETOGETHER presented glimpses of a worldview that is incredibly connected, with artists drawing from a myriad of influences across religion, history and geographies. By hosting the exhibition in the Olympic borough of Tower Hamlets, we aimed to inspire a conversation between the diverse communities of East London and these extraordinary and inspiring artistic voices from the Middle East."
STEPHEN STAPLETON



CURATORIAL ADVISORS:

IBRAHIM BADAWOOD, CEO, ABDUL LATIF JAMEEL COMMUNITY INITIATIVES
NURULL ISLAM, CO-FOUNDER, MILE END COMMUNITY PROJECT
RABINA KHAN, CITY HALL COUNCILLOR, OLYMPIC BOROUGH OF TOWER HAMLETS
REDHA MOALI, FOUNDER, DAR AL MA'MUN FOUNDATION, MARRAKECH
JACK PERSEKIAN, HEAD CURATOR, NATIONAL MUSEUM OF PALESTINE
VENETIA PORTER, CURATOR OF THE ISLAMIC COLLECTIONS, BRITISH MUSEUM
SARA RAZA, EDITOR, ARTASIA PACIFIC MAGAZINE
FABIEN RIGGAL, FOUNDER, FUTURE SHORTS/SECRET CINEMA
AHMED & RASHID BIN SHABIB, FOUNDERS, BROWNBOOK MAGAZINE
DIANA WIEGERSMA, CURATOR, NADOUR COLLECTION
+
-
Documents
#Cometogether
Edge of Arabia/EOA Projects/Crossway Foundation
English, 2012
Exhibition Guidern
+
-
Press
Next-generation dialogue for regional art
Jessica Holland
thenational.ae, English, 2012
Contemporary Saudi artists break down old 'safety' barriers
David Batty
theguardian.com, English, 2012