MoMA Media Lounge
Published on Wed 29 February, 2012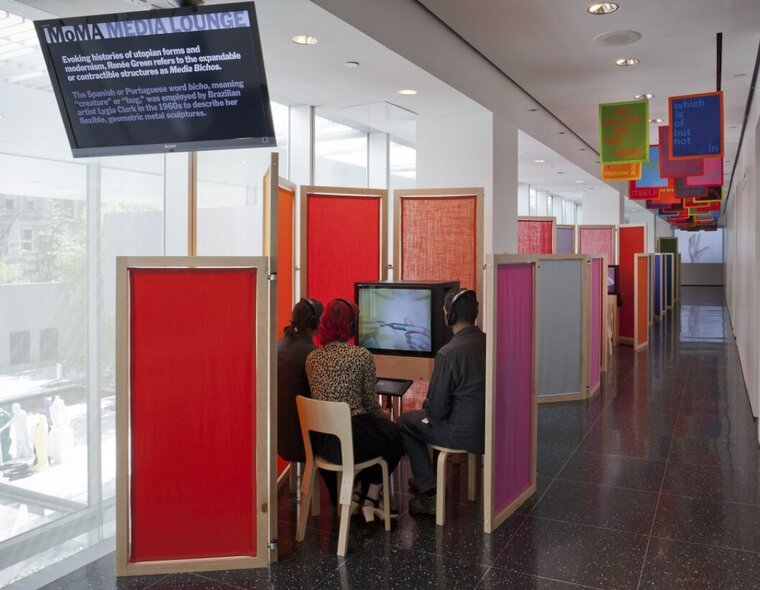 Feb 29, 2012–Jul 8, 2013
MoMA
The Department of Media and Performance Art introduces the MoMA Media Lounge, a modular, flexible display presenting the Museum's extensive collection of video- and audio-based works. The first public platform of its kind in a New York museum, the Media Lounge invites viewers to select artworks through an iPad interface and experience them with historically accurate display technology. Designed by artist Renée Green, the installation consists of expandable or contractible environments for individual or shared viewing experiences. Evoking histories of utopian forms, Green's geometric design partners a bold color palette with a range of textiles to create immersive structures that take on new meaning in concert with the videos on display. Green's Media Bichos, as she refers to this work, can be related to Lygia Clark's Bichos of the 1960s—geometric "creatures" with which visitors can interact to create multiple forms. Banners suspended overhead, referring to radical aspirations of the avant-garde and beyond, form Green's Space Poem #3 (Media Bicho), adding another layer to her ongoing investigation of the ways in which viewers read and extract meaning from combined systems while moving through space.
Launched in conjunction with a collection-digitization initiative, the Media Lounge unfolds in three phases: Phase 1 presented three viewing stations in the second-floor corridor connecting the Dorothy and Lewis B. Cullman Education and Research Building and the main Museum galleries. Phase 2 (currently on view) presents a total of seven viewing stations, including six cube monitors (for videos in 4:3 standard definition format) and one widescreen monitor (for videos in 16:9 high definition format). Phase 2 also includes a projection highlighting performance-based works at the end of the corridor. Phase 3 (forthcoming) will expand to the vicinity of the second-floor Bauhaus Staircase. As more collection works are preserved and new videos are added to the collection, the Media Lounge will expand to include them.
Organized by Sabine Breitwieser, Chief Curator, and Erica Papernik, Assistant Curator, Department of Media and Performance Art, in collaboration with the Department of Media and Performance Art staff.
Major support for the MoMA Media Lounge is provided by MoMA's Wallis Annenberg Fund for Innovation in Contemporary Art through the Annenberg Foundation.
Special thanks to KnollTextiles.
+
-
Press
What Is the MoMA Media Lounge?
Sabine Breitwieser
Moma, English, 2012
Related Artists and Artworks