THE TRUTH OF UNCERTAINTY
Published on Sat 1 July, 2017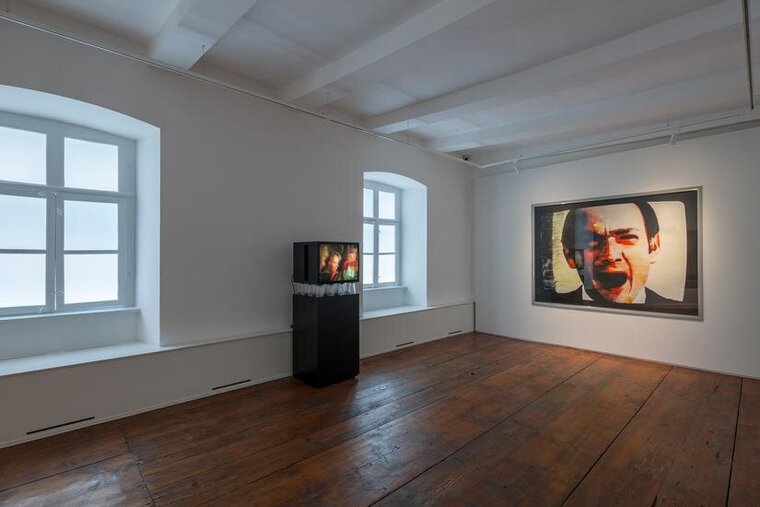 THE TRUTH OF UNCERTAINTY: MOVING IMAGE WORKS FROM THE HALL COLLECTION
Curated by Chrissie Iles
July 2017 - October 2018
The Hall Art Foundation is pleased to announce a group exhibition, The Truth of Uncertainty: Moving Image Works from the Hall Collection, curated by Chrissie Iles, to be held at its Schloss Derneburg location. This exhibition brings together approximately thirty moving image works by twenty artists drawn from the Hall and Hall Art Foundation collections that call into question the relationship between truth and fiction at a moment in which doubt has come to determine the contours of what constitutes the real.
Comprised of video, painting, works on paper, photography and installation, the works on view articulate this uncertainty in different ways: fictionalizing the language of the documentary; questioning the efficacy of surface and material; expressing ways in which trauma is processed by the unconscious, through dream or trancelike states; challenging the limits of borders and national identity; and exploring the ways in which cinema constructs fiction and subjectivity through a suspension of disbelief.
Naoyuki Tsuji, Jeff Keen, Tony Oursler, Zilla Leutenegger, Barnaby Hosking and Charles Sandison engage the unknown symbolically, in animation, video, and drawings, where surreal, dreamlike imagery mirrors the distortion of reality experienced through war and personal trauma. In Tsuji's semi-autobiographical 'Children of Shadows' (2006), a boy and his sister are nearly eaten by their raging father and escape in his car, only to encounter a witch and a giant. Tsuji's images, drawn in pastel and charcoal, are photographed then erased, creating a stop-motion animation in which images are overlaid with after-images, like memories at different stages of forgetting and remembering.
Alternatively, works by Anthony McCall and Owen Land set up an interaction with the viewer by focusing on our perception of the works, rather than on an emotional identification with them. The title of Owen Land's 'Film in Which There Appear Edge Lettering, Sprocket Holes, Dirt Particles, Etc.' (1965-66) describes exactly what we see – technical details of the film's materiality that are normally invisible to the viewer. Land presents us with the equivalent of the back of a canvas, denying us the cinematic absorption we seek, and replacing it with an awareness of the process of our own looking.
Finally, in works by Hito Steyerl, Marcel Odenbach, Omer Fast, Javier Tellez, Lida Abdul, Martha Colburn, Judith Eisler, Bettina Pousttchi and Anthony McCall, the uncertain relationship between reality and illusion is articulated in more narrative cinematic terms, in works that collapse the languages of documentary and fiction into each other. The interwoven stories in Omer Fast's video 'De Grote Boodschap' ('The Big Message') (2007), where six different characters in a Belgian apartment building are all trying to make sense of the same event, have been formed by the social changes that followed the fall of the Berlin wall and the re-mapping of European politics, borders, and immigration.
The Truth of Uncertainty: Moving Image Works from the Hall Collection includes works by Lida Abdul, Martha Colburn, Judith Eisler, Omer Fast, Barnaby Hosking, Johannes Kahrs, Jeff Keen, Owen Land, Zilla Leutenegger, Anthony McCall, Duane Michals, Marcel Odenbach, Tony Oursler, Bettina Pousttchi, The Atlas Group/Walid Raad, Charles Sandison, Hito Steyerl, Javier Téllez and Naoyuki Tsuji.
Chrissie Iles is the Anne and Joel Ehrenkranz Curator at the Whitney Museum of American Art in New York City.

The Hall Art Foundation | Schloss Derneburg Museum is accessible to the general public by appointment.

Hall Art Foundation | Schloss Derneburg Museum
Derneburg, Germany
T: +49 5062 96 40 294 (Monday through Friday, 10 AM - 4 PM)
F: +49 5062 96 41 927
[email protected]
www.hallartfoundation.org
To book a tour, please call +49 5062 96 40 294 or email [email protected].

For more information and images, please contact the Foundation's administrative office in New York at + 1 212 256 0057 or [email protected].
Related Artists and Artworks