The Fabric of Felicity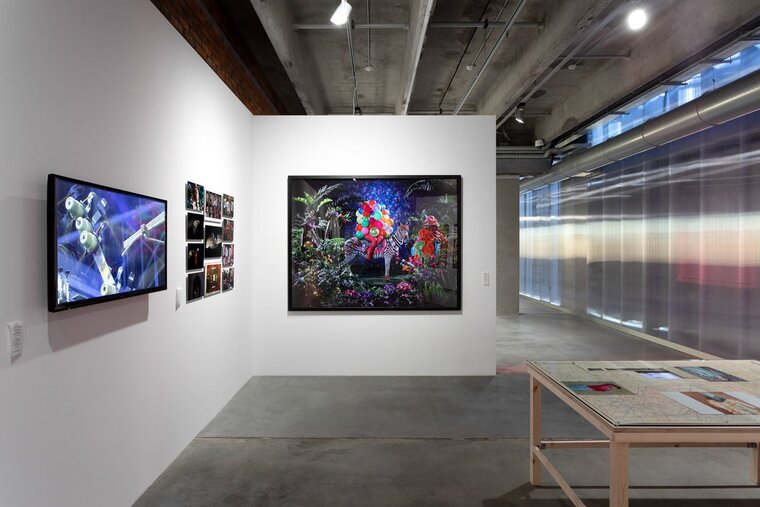 12 SEP­ 2018 27 JAN­ 2019
Garage Museum of Contemporary Art presents The Fabric of Felicity, an international project showcasing clothes in art outside the context of the fashion industry. The exhibition spans five continents and features over forty artists, including representatives of historical avant-gardes, members of the Soviet and Brazilian underground art scenes, and new generation artists from Russia, Japan, USA, Zimbabwe, and other countries.
The geography of the show is built around twenty-first-century "silk roads:" the intercontinental transport routes and production cycles of raw materials, textiles, and ready-to-wear garments from democratic global brands. Based on a series of research trips stretching from Sweden to Bangladesh by way of Ivanovo (Russia) and Biella (Italy), The Fabric of Felicity undermines stereotypical notions of East and West, Global South and Global North, and suggests an equality of artistic media, methods, and traditions. The juxtaposition of an Indian folk painting based on India's main epic poem, the Mahabharata, and a massive textile sculpture by American artist Beverly Semmes is just one example of this crossing of cultural borders. Such cross-cultural outreach is necessary work in the context of Russia, where identity politics tends to be based on uncritical Occidentalism or sentimental Orientalism.
ARTISTS
Narda Alvarado (Bolivia), Taslima Akhter (Bangladesh), Kader Attia (France), Firelei Baez (Dominican Republic/USA), Zarina Bhimji (Uganda/Great Britain), Anastasia Bogomolova (Russia), Huguette Caland (Lebanon/USA), Olga Chernysheva (Russia), Alice Creischer & Andreas Siekmann (Germany), Jimmy De Sana (USA), Sonia Delaunay (France), Hans Ejkelboom (Netherlands), Marie Louise Ekman (Sweden), Hamid El-Kanbouhi (Morocco/Netherlands), Carlos Noronha Feio (Portugal), Alexandra Galkina (Russia), Rimma and Valeriy Gerlovin (Russia/USA), Goldin + Senneby (Sweden), Candida Höfer (Germany), Zhanna Kadyrova (Ukraine), Hayv Kahraman (Iraq/USA), Farrah Karapetian (USA), Shifra Kazhdan & Ksenia Peretrukhina (Russia), Ali Kazma (Turkey), Sharon Kivland (Great Britain), Katalin Ladik (Serbia/Hungary), Lydia Masterkova (Russia), Moataz Nasr (Egypt), Yoko Ono (Japan/USA), Lygia Pape (Brazil), Liubov Popova (Russia), Athi-Patra Ruga (South Africa), Bella Rune (Sweden), Sergey Sapozhnikov (Russia), Beverly Semmes (USA), Kamruzzaman Shadhin (Bangladesh), Vladislav Shapovalov (Russia/Italy), Varvara Stepanova (Russia), Günta Stölzl (Germany), Yuichiro Tamura (Japan), Pedro Valtierra (Mexico), Portia Zvavahera (Zimbabwe), and others.