We Decided To Let Them Say "We Are Convinced" Twice. It Was More Convincing This Way
Published on Sat 21 October, 2006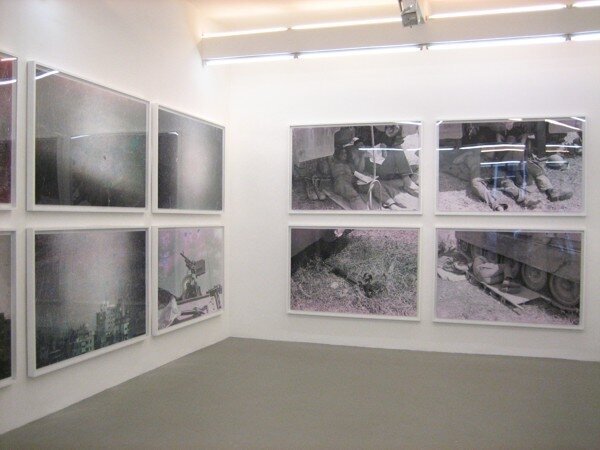 We Decided To Let Them Say "We Are Convinced" Twice. It Was More Convincing This Way
October 21, 2006 - September 09, 2006
Set of 15 plates, framed digital prints, 110 cm x 171 cm each, edition 5.
In the summer of 1982, I stood along with others in a parking lot across from my mother's apartment in East Beirut, and watched the Israeli land, air, and sea assault on West Beirut. The PLO along with their Lebanese and Syrian allies retaliated, as best they could.

East Beirut welcomed the invasion, or so it seemed. West Beirut resisted it, or so it seemed.

One day, my mother even accompanied me to the hills around Beirut to photograph the invading Israeli army stationed there. Soldiers rested their bodies and their weapons as they waited for their next orders to attack or retreat.

I was 15 in 1982, and wanted to get as close as possible to the events, or as close as my newly acquired camera and lens permitted me. Clearly not close enough.

This past year, I came upon the negatives from that time, all scratched up and deteriorating. I decided to look again.
+
-
Press
We Decided to Let Them Say "We are Convinced" Twice (It was More Convincing this Way)
e-flux, English, 2006
Related Artists and Artworks