What We Know that We Don't Know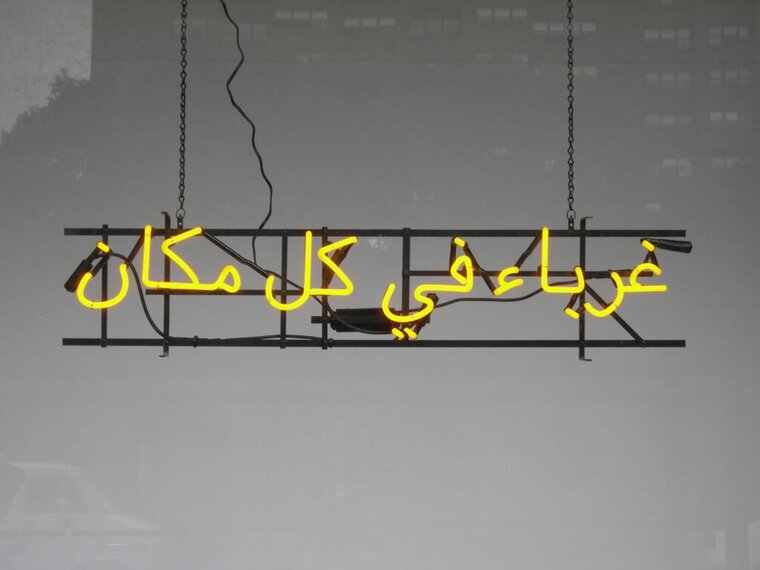 Exhibitions , San Francisco
What We Know that We Don't Know
21 JUN 2017–19 AUG 2017
Claire Fontaine, Foreigners Everywhere (Arabic), 2005. Photo by James Thornhill.1 OF 4
What We Know that We Don't Know, organized by KADIST San Francisco and curated by Arash Fayez, presents works by eight contemporary artists: Nazgol Ansarinia, A.K. Burns, Nicolás Consuegra, Trisha Donnelly, Claire Fontaine, Ha Tae-Bum, Walid Raad, and Miljohn Ruperto. The exhibition explores the poetic space of paradox, where works intentionally provide multiple angles of interpretation and opposing meanings collide.
What We Know that We Don't Know draws inspiration from poetic tendencies in Persian literature, where metaphor, irony, and paradox are understood as devices that allow artists to encode their opinions in complex cultural and political circumstances. In a cultural context, this is best illustrated through the concept of ta'arof, which designates a set of social behaviors defining how people should live in society and treat each other. A host is obliged, for example, to offer anything a guest might desire, while the visitor, in equal measure, is obliged to refuse it.
This exhibition is part of a KADIST initiative dedicated to commissioning exhibitions, artworks, and events that deepen the organization's engagement in the Middle East and augment its proximity to artists from Iran.
INFORMATION
Opening Reception on Wednesday, June 21, 6–9PM.
Composer Shahab Paranj performs at 8PM.
Film screening curated by Antonella Bonfanti at Canyon Cinema on Saturday, August 12. Limited space available, rsvp here.
From July 31 to August 6, Nazgol Ansarinia presents her research as a contributor to KADIST's Instagram residency, Artist not at the Studio, Curator not at the Office.
Selection of exhibition-inspired publications by booksellers Vee and Brian Moran at Owl Cave Books located 3150 18th Street, #105, San Francisco, CA 94110.


+
-
Press
"What We Know that We Don't Know" at Kadist
Contemporary Art Daily, English, 2017
Related Artists and Artworks