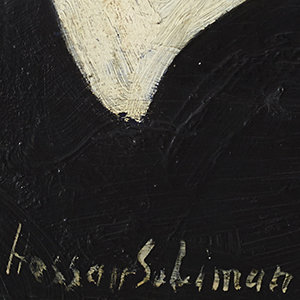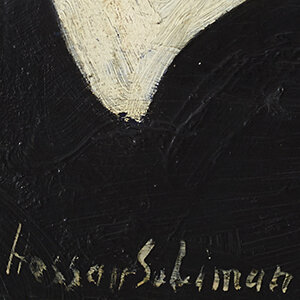 HASSAN SOLIMAN, Egypt (1928 - 2008)
+
-
Bio
Born in 1928, in Cairo, Egypt, Hassan Soliman was a painter, writer, illustrator, and a gifted draughtsman. He obtained his graduate degree from the Cairo School of Fine Arts in 1951. The following year Soliman moved to Luxor in upper Egypt, where he worked as a painter in residence at the Luxor Atelier until 1953. The artist later traveled to Italy to study at the Accademia di Belle Arti di Brera, in Milan graduating in 1966. During that period, he toured Europe visiting museums and art galleries. Upon his return to Egypt, he taught at the Egyptian Open University and the Cinema Institute. He worked as a layout editor and art critic at the monthly cultural magazine al-Majjala. Soliman was an esteemed painter amongst Egypt's art circle. Still, he was an introvert who enjoyed the solitude. He was particularly inspired by Leonardo Da Vinci's dramatic themes, Goya's romanticism and Picasso's artistic genius following a tragedy such as in Guernica.

Soliman's paintings included reduced photographic depictions into semi-silhouettes painted with various degrees of shade. His work is intensified with layers of black and white in rich mixtures of reserved pink, blue, or green tints that accentuate the melancholic look typical to most of his characters. Soliman disregarded minute details. Instead, he depicted figures that allude to his subject, focusing on the composition as a whole. He favored still-life depictions, ones that reflect the exposure of light against shade and shadow. Also, Soliman produced several austere, full-size portraits featuring Egyptian women with a numb gaze. One of his earliest works entitled The Nuns, 1957, pervades a sense of serenity. It draws the viewer into the self-effacing and spiritual lifestyle of nuns. It is effortless for Soliman to reflect emotions of virtue and devotion onto the bowed faces of the nuns, which are painted against an ornamental background of crosses.
Although Soliman, at times, drew from the Western history of art, his figurative depictions maintained an Egyptian identity. In his notorious painting The Last Supper, 1967, which reflects distress in reaction to Egypt's defeat in the 1967 Arab-Israeli war, Soliman replaces the figure of Christ with that of an Egyptian man of North African features.
Soliman wrote profusely on art and literature. His books included The Artist's Freedom, Motion in Art and Life, How to Read a Picture, and The Psychology of Calligraphy, amongst others. Hassan Soliman passed away in 2008 in Cairo.
This is a short biography. The full version , along with research, CV and sources will be posted soon. Stay tuned and visit us often or become a member to be notified of our updates.