From Mokhtar to Gazbia
Published on Tue 3 December, 2019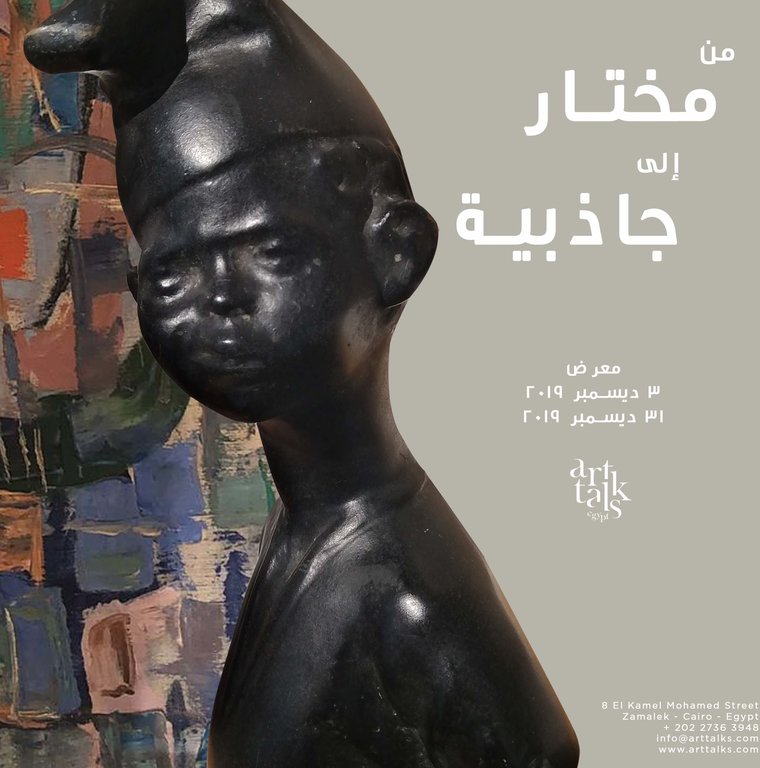 FROM MOKHTAR TO GAZBIA
December 3 - December 31 2019
Arttalks
In 1911, the 20-year-old Mahmoud Mokhtar (1891-1934) exhibited a small gypsum sculpture titled Ibn al-Balad. It was part of the first exhibition of the first graduating class of the first Egyptian School of Fine Arts [École Égyptienne des Beaux-Arts] in Cairo. Ever since, it is said that Mokhtar proudly and rightly claimed to be the first Egyptian sculptor in Egypt in over 1700 years.
By the late 1960s / early 1970s, the figurative world of Gazbia Sirry (1925) began to fade away, and a world of abstraction slowly took over. With the same power, love for her homeland and mastery of color, Gazbia spoke about and to the people of Egypt to craft a certain non-figurative spontaneity at the forefront of modernism to aptly express the complexities of the country and the dire conditions of its people.
In-between the two artists and all those years is a fascinating story of Egyptian modernism, whose artist-heroes are either still celebrated or forgotten and lost in the gaps of history.
From Mokhtar to Gazbia looks at how some of these artists engaged with issues of nation-state, nostalgia, and tradition, while others faded the borders between narration and the human condition; how some chose to remain loyal to the traditional Western school of classicism, while others vouched to create an authentic and distinct visual language based on a variety of styles and aesthetics.
From Mokhtar to Gazbia features over fifty artworks handpicked and sourced from different private Egyptian collections as they seek a new home.
Whether you are a serious collector, a Fine Arts student, a historian, an artist, or simply an art lover, do take the time to visit the one-month exhibition, and do not forget to put on your twentieth-century hat.
+
-
Press
ART EXHIBITION: FROM MOKHTAR TO GAZBIA
Cairo Pulse, English, 2019
NEW EXHIBITION AT ARTTALKS GALLERY TELLS STORY OF 20TH CENTURY EGYPTIAN ART
Amr Kamel Zoheir
Ahram Online , English, 2019
"ARTTALKS"من مختار إلى جاذبية" معرض لـ رواد الفن التشكيلى فى
Al-Youm7, Arabic, 2019
Related Artists and Artworks