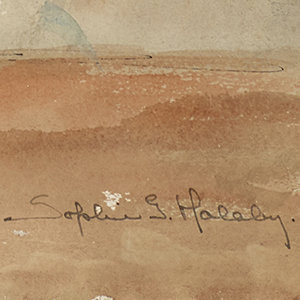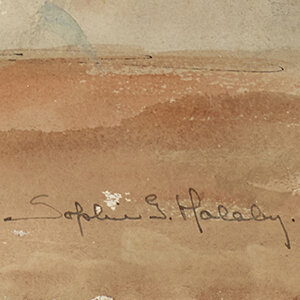 SOPHIE HALABY, Palestine (1905 - 1998)
+
-
Bio
Written by Alessandra Amin
Sophie Halaby, widely known as one of Palestine's pioneering female artists, was born in Jerusalem in 1905 to a Palestinian father and a Russian mother. Halaby, who came from a bourgeois family, was one of three children who would all make their mark on the cultural landscape; her younger sister, Asia (Anastasia), established an embroidery workshop that employed impoverished women after the Nakba, and her Oxford-educated older brother, Nicola, became a well-known architect. It has been assumed that Sophie was the niece of Khalil Halaby, the celebrated icon painter, and muralist, but this is an exaggeration, as the two were only very distantly related.
Sophie's artistic talents emerged early on when she excelled at drawing flowers as a student at the British College for Girls in Jerusalem. Following secondary school, Halaby worked for the British Mandate government, but after four years grew restless and decided to pursue an arts education abroad. She studied in private Parisian studios between 1928 and 1933, and again in 1948-49 while avoiding the violence at home. She also studied in Italy during the 1956 Suez Crisis. From 1933 until her death in 1998, Halaby was based in the Palestinian capital, where she was born, though the Nakba forced her to relocate from West Jerusalem to East Jerusalem. Sophie was active in Jerusalem's cultural scene and exhibited her work at every opportunity, including at the YWCA and in Asia's workshop, which attracted a good number of tourists. In 1950, this workshop relocated from the basement of their home to a storefront on Zahra Street, where the sisters sold handicrafts as well as Sophie's watercolors.
Although she also worked with oil paints, Halaby is best remembered for her watercolors, which treat the subjects of figures, portraits, still lives, and landscapes exclusively. These are conservative, European academic genres, traditionally understood to prepare painters for larger religious or historical compositions, but, as abstract painter Samia Halaby has noted, Sophie Halaby did not show any interest in pursuing more complex subject matters, preferring instead to work in these "lesser" categories throughout her career. Samia Halaby attributes this penchant to Sophie's bourgeois upbringing, suggesting that paintings of landscapes and flowers were what appealed to the tastes of her class. To her social background we might add the fact that, by the 1920s, the hierarchy of genre that formerly reigned supreme in the French academy had started to disintegrate, with large scale historical paintings falling out of fashion; furthermore, as an Arab woman training in Paris during this time, it is unlikely that Halaby would have been encouraged to pursue more prestigious modes of artistic production. The sampling of Halaby's work in the Ramzi & Saeda Dalloul Collection is indicative of her wider oeuvre, attesting to her sustained engagement with floral and fruit motifs.
Among Halaby's landscapes, the area surrounding Jerusalem holds pride of place. Painted en plein air, often from a window or balcony view, her scenes of the city's environs are usually devoid of human presence and even architecture; with some exceptions, they focus primarily on the natural features of the Palestinian countryside. While Halaby often used ink to render certain elements of her compositions more precise, many of her watercolor landscapes lack defined lines altogether, taking on an atmospheric, dreamlike quality one might even consider melancholic. This tendency is clear in several examples from the Ramzi & Saeda Dalloul Collection, where we see the hills of Palestine depicted in soft, oneiric greens, golds, blues, and browns that bleed seamlessly into one another.
Unlike European Orientalist painters of the Holy Land, Halaby did not paint sweeping panoramic views of Jerusalem, nor did she focus on religious sites or subject matter. In fact, the Ramzi & Saeda Dalloul foundation's seemingly unfinished study of Christ on the cross is a rare example of religious iconography in Halaby's work; although nominally Christian, Halaby was not known to be religious in the least, and along with her sister Asia remained aloof from the Russian Orthodox church to which her family kept close ties. Despite the cultural ties nurtured by her Russian mother, and the vivid tradition alive in contemporary Jerusalem, the artist never expressed an interest in icon painting.
Sophie Halaby's life and work shed light on the visual culture of twentieth-century Jerusalem, where traditional artisanship like that of Asia Halaby and Jamal Badran coexisted and intermixed with Western traditions of painting that had only recently been embraced by the local intelligentsia. It also bears witness to a disappearing Palestinian landscape, memorialized and mythologized in the national imaginary.
Sources and further reading
Boullata, Kamal. Palestinian Art from 1850 to the Present.London: Saqi, 2009.
Halaby, Samia. "Sophie Halaby, Palestinian Artist of the Twentieth Century." Jerusalem Quarterlyno. 61 (2015): pp. 84-100.
Schor, Laura S. Sophie Halaby in Jerusalem: An Artist's Life.Syracuse: Syracuse University Press, 2019.
Sherwell, Tina. "Halaby, Sophie (1906-1998)." Routledge Encyclopedia of Modernism online, https://www.rem.routledge.com/articles/halaby-sophie-1906-1998.
+
-
CV
Selected Group Exhibitions
2019
Intimate Terrains: Representations of a Disappearing Landscape, the Palestinian Museum, Birzeit, Occupied Palestine
2015
Contemplations, Al Hoash Gallery, Jerusalem, Occupied Palestine
1986
Tallat: Women's Art in Palestine, National Theater of Jerusalem, Occupied Palestine
Collections
Yvette & Mazen Qupty Art Collection, Jerusalem, Occupied Palestine
Ramzi & Saeda Dalloul Art Foundation, Beirut, Lebanon
Birzeit University Museum, Birzeit, Occupied Palestine
The Nusseibeh Family Collection, Occupied Palestine