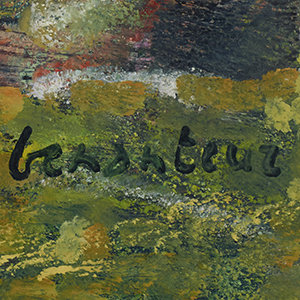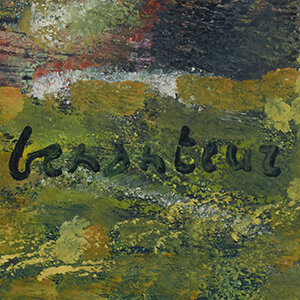 ABDALLAH BENANTEUR, Algeria (1931 - 2017)
+
-
Bio
Written by L'Or Iman Puymartin
Abdallah Benanteur was born in Mostaganem, Algeria, in 1931. He began painting flowers and still life scenes at age 11 and later attended sculpture workshops before enrolling at the School of Fine Arts in Oran, where he studied for four years. Benanteur settled permanently in Paris in 1953 and taught at the École Nationale Supérieure des Beaux-Arts and the École Nationale Supérieure des Arts Décoratifs from 1971 to 1974.
Benanteur's style developed under the guidance of Robert Martin at the School of Fine Arts in Oran. Martin also introduced him to Abdelkader Guermaz and Mohammed Khadda, who were integral players in the first wave of significant modern Algerian artists. He became particularly close to Khadda, and the two shared a fascination for the poets Al-Hallaj, Omar Khayyam, Ibn Arabi, and Saadi. In the early 1950s, Benanteur and Khadda moved to Paris to attend the Académie de la Grande Chaumière, an untraditional art school in the city's Montparnasse district. Benanteur was involved in a circle of writers, poets, filmmakers, and painters with whom he often collaborated. He illustrated much of the poet Jean Sénac's work, in particular, in homage to their native Algeria. During his time in Paris, Benanteur practiced illustration, typography, sculpture, and etching, though painting remained his primary medium.
Benanteur's brother, Charef, disappeared during the Algerian War of Independence (1954-1962). In 1965, the artist chose to commemorate his beloved sibling with the foundation of the Charef Collection, which ultimately amassed 1,500 works over 40 years.
In keeping with the untraditional training he received in Montparnasse, Benanteur strayed from academic methods of painting. His unique style mainly developed outside the classroom, through diligent visits to the Louvre and other museums as well as travels throughout Europe. His choice to make nonfigurative art mirrored his struggles far from home. Wanting to visualize every emotion, he layered quick and precise gestures to create mosaic-like images of landscapes and people that reminded him of his homeland. His palette varied considerably throughout his oeuvre, ranging from heavy to bright tones and often employing earthy green, blue and brown pigments. In the early '90s, Benanteur began creating diptychs and triptychs to track events through their evolutionary stages, seeking merely to define two or more states side by side instead of creating severe juxtapositions.
Benanteur passed away in Ivry-sur-Seine, France in 2017.
Sources
"Abdallah Benanteur." Algeriades. Accessed January 30, 2018. https://www.algeriades.com/abdallah-benanteur-عبداله/article/abdallah-benanteur-1931-2017.
"Abdallah Benanteur." Wikipedia. Accessed January 30, 2018. https://fr.wikipedia.org/wiki/Abdallah_Benanteur.
Hérissé, Marc, Raoul-Jean Moulin, and Bernard Fabre. Benanteur Peintures. Paris: EDITIONS CLEA, 2002.
+
-
CV
Selected Solo Exhibitions
2019
Abdallah Benanteur, Works Of Light. Paintings, 1953-2003, Le Grarage, Amboise, France
2018
Le Chant de la Terre, Retrospective and Homage, City of Issoudun Museum, France
2017
Le Testament, peintures ultimes, 2003-2011, galerie Claude Lemand, Paris
2016
Une Passion à partager, peintures, 1955-2011, galerie Claude Lemand, Paris
2015
Art Dubai Modern, galerie Claude Lemand, Paris
2014
Le Chant de la Terre, peintures, 1982-1999, galerie Claude Lemand, Paris
2013
Du Désert au Jardin, peintures de 1959-1989, galerie Claude Lemand, Paris
2012
Un itinéraire, 1957-2011, galerie Claude Lemand, Paris
2011
Benanteur, peintures récentes, 2001-2011, galerie Claude Lemand, Paris
2010
Benanteur, peintures des années 80, galleries Claude Lemand, Paris
2008
Art Paris, galerie Protée, Paris
2003
Abdallah Benanteur, le peintre des poètes, retrospective, Institut du monde arabe, Paris, France
2000
Claude Lemand Gallery, Paris, France
1999
Claude Lemand Gallery, Paris, France
1998
Claude Lemand Gallery, Paris, France
1997
Claude Lemand Gallery, Paris, France
1996
Le triomphe de la Peinture, Claude Lemand Gallery, Paris, France
1995
Lumière et mémoire, Claude Lemand Gallery, Paris, France
1994
Work from the 80s, Claude Lemand Gallery, Paris, France
1993
Work on paper, National Museum of Fine Arts, Alger, Algeria
1992
Claude Lemand Gallery, Paris, France
1991
Claude Lemand Gallery, Paris, France
1990
Claude Lemand Gallery, Paris, France
1989
Galerie ISMA, Alger, Algeria
1988
Étienne Dinet Gallery, Paris, France
1987
Centre culturel algérien, Paris, France
Palais des congrés, Brussels, Belgium
1986
Galerie Protée, Paris
1982
Les illuminations de Al-Hallaj, polyptyque, Lyon, France
1980
32 ouvrages composes, Illustrations by Benanteur, Nicaise Library, Paris, France
1977
Peintures et oeuvres graphiques, Palais des Arts et de la Culture, Brest, France
1971
L'Air pauvre, poems by Monique Boucher, etchings by Benanteur, Aliscans Library, Paris, France
1970
Galerie Bernier, Paris, France
1967
Association France-Algérie, Paris, France
1965
Six poems d'Emily Dickinson, etchings by Benanteur, Le Fanal library, Paris, France
1964
Galerie Herbinet, Paris, France
1963
Espoire et parole, poems by Jean Sénac, etchings by Benanteur, Beaune Press, Paris, France
1962
Diwan du mole, poems by Jean Sénac, etchings by Benanteur, Dominique Library, Paris, France
1961
Matinales de mon people, poems by Jean Sénac, illustrations by Benanteur, Le Fanal library, Paris, France
1960
Aquarelles, Philadelphia, USA
Aquarelles, Hamburg, Germany
Aquarelles, Lausanne, France
1959
Peintures, Worpswede Kunstalle, Hamburg, Copenhagen, Stuttgart
1958
Peintures et aquarelles, Club des Quatre-Vents, Paris
1957
Galerie Cimaise, Paris
Selected Group Exhibitions
2019
A la Plume, Au Pinceau, Au Crayon, Dessins du Monde Arabe, World, Institut du monde, Paris, France
2018
A Century in Flux, Highlights from the Barjeel Art Foundation, Sharjah Art Museum,
Sharjah, UAE
Donation Claude & France Lemand, Museum, Institut du monde arabe, Paris, France
Paris from East and West, Galerie Claude Lemand, Art Paris, Grand Palais, Paris, France
Portrait de l'Oiseau-Qui-N'Existe-Pas, Maison des Arts, ANTONY, France
2017
Chefs-D'oeuvre De L'art Moderne Et Contemporain Arabe , organized by Barjeel Art Foundation at the Institut du monde arabe, Paris, France
Tour du Monde en Tondo, Musée de l'Hospice Saint Roch, Issoudun, France
Tondo from East and West, Espace Claude Lemand, Paris, France
From East, Afrika and West, Art Paris Art Fair 2017, Grand Palais, Paris, France
2016
The sea suspended, organized by Barjeel Art Foundation at the Tehran Museum of Contemporary Art (TMoCA), Teheran, Iran
Arab Modern Artists, Espace Claude Lemand, Paris, France
2015
Modern Arab Masterpieces, Espace Claude Lemand, Paris, France
Small is beautiful. Gouaches on paper, 1973, Galerie Claude Lemand, Paris, France
2014
Portrait of The-Non-Existent-Bird. Collection of Claude and France Lemand, Museum of Issoudun, France
Landscape and Arab Modernity, Espace Claude Lemand, Paris, France
Arab Modernities, Espace Claude Lemand, Paris, France
The Black and the Blue. A Mediterranean Dream, MUCEM, Marseille, France
Summary, Part 1, Mathaf Collection, Mathaf: Arab Museum of Modern Art, Doha, Qatar
2013
Festival of Small Size Works, Galerie Claude Lemand, Paris, France
The Black and the Blue. A Mediterranean Dream, MUCEM, Marseille, France
Tajreed (Arab Abstract Art), Contemporary Art Platform (CAP), Kuwait City, Kuwait
D'Orient et d'Occident, Galerie Claude Lemand, Paris, France
Arab Masterpieces, Espace Claude Lemand, Paris, France
2012
Maîtres du Tondo, Galerie Claude Lemand, Paris, France
Les Arts de l'Exil. Œuvres de dix artistes du Monde arabe, émigrés ou exilés en Europe et aux USA, Espace Claude Lemand, Paris, France
2011
D'Orient et d'Occident, CAP Kuwait, Kuwait
D'Orient et d'Occident, Galerie Claude Lemand, Paris, France
2010
Sajjil: A Century of Modern Art, Mathaf: Arab Museum of Modern Art, Doha, Qatar
Claude Lemand Editeur d'Art. Sculptures, estampes et livres de 7 artistes édités par la galerie, Espace Claude Lemand, Paris, France

2009
Maîtres du Tondo, Galerie Claude Lemand, Paris, France
Arab Graphic Arts, Galerie Claude Lemand, Paris, France
2008
Word into Art, British Museum, Dubai, UAE
Oeuvres majeures, Espace Claude Lemand, Paris, France
2007
VIe Biennale Internationale de la Gravure d'Ile-de-France, Versailles, France
2006
Maîtres du Tondo, Galerie Claude Lemand, Paris, France
2005
Mille Portraits de l'Oiseau-Qui-N'Existes-Pas, Galerie Claude Lemand, Paris, France
Hommage à Shafic Abboud, Galerie Claude Lemand, Paris, France
2002
Maîtres du Tondo, Galerie Claude Lemand, Paris, France
2001
D'Orient et d'Occident, Galerie Claude Lemand, Paris, France
1999
Maîtres du Tondo, Galerie Claude Lemand, Paris, France
1997
Les Papiers du Cœur, Galerie Claude Lemand, Paris, France
Maîtres du Tondo, Galerie Claude Lemand, Paris, France
1996
Portrait de l'Oiseau-Qui-N'Existes-Pas, Galerie Claude Lemand, Paris, France
1995
Les effets du voyage: 25 Artistes Algériens, Palais des Congrès et de la Culture de Mans, France
Maîtres du Tondo, Galerie Claude Lemand, Paris, France
Itinéraire d'une galerie, Grenoble, France
1993
Maîtres du Tondo, Galerie Claude Lemand, Paris, France
1992
Une collection privée, Huiles sur toile, Naha City, Japan
1984
Arab Heritage, Alkhobar, Saudi Arabia
1983
Palais des Beaux-Arts, Marseille, France
Awards and Honors
Member of the Committee for Young Engraving (Comité de la Jeune Gravure), Paris, France
Member of the National Committee for the Illustrated French Book (Comité National du Livre Illustré Français) Paris, France
Member of the National Library and the Arsenal Library, Paris, France
1983
Biella International Prize, Italy
Publications
2017
Tour Du Monde en Tondo
2014
Portraits de l'Oiseau-Qui-N'Existe-Pas
2005
Benanteur, Graphic Works
2002
Benanteur, Paintings
2001
Poetry and Exile
Collections
National Museum of Fine Arts, Algiers, Algeria
National Museum of Modern and Contemporary Art, Algiers, Algeria
Institut du Monde Arabe, Paris, France
Barjeel Art Foundation, Sharjah, UAE
Ramzi and Saeda Dalloul Art Foundation, Beirut, Lebanon
Mathaf: Arab Museum of Modern Art, Doha, Qatar
Barjeel Art Foundation, Sharjah, UAE