ARTISTS OF THE ALGERIAN FRATERNITY 1963-2020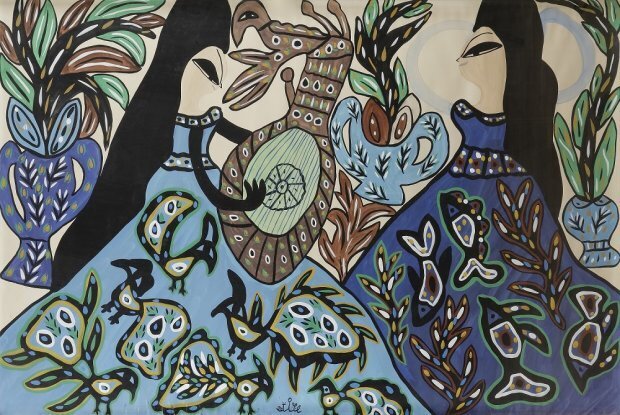 ARTISTS OF THE ALGERIAN FRATERNITY 1963-2020.
From 13 January to 14 March 2020 - Algerian Cultural Center, Paris.

Under Passions Algeri-ennes 2020, the Algerian Cultural Center in Paris, the Fund Claude & France Lemand-IMA and the Museum of the Institute of the Arab world have paid tribute to the poet and art critic Jean Senac (Algeria, 1926 -1973), Algerian Christian, socialist and libertarian, fervent supporter of the independence of Algeria and passionate promoter of the young Algerian literary and artistic creation, died assassinated in Algiers in August 1973.
To celebrate the independence of Algeria, Jean Sénac organized a first exhibition, for which he wrote the preface to the catalog. It brought together 18 artists, all painters, first at the Museum of Fine Arts in Algiers in 1963, then at the Museum of Decorative Arts in Paris in 1964. Jean Sénac had called it Algerian Painters , a title that sounded like the manifesto of the birth and existence of Algerian artists, without distinction of origin.
We called this new exhibition Artists of the Algerian Brotherhood 1963-2020 , to again testify to the fraternal spirit that reigned after the independence of Algeria between artists from different generations, regions and communities and to pay tribute to the passion and action of Jean Sénac, who had written and published texts on all these artists who became his friends ... without ignoring the sometimes paternalistic attitude of these "black foot" elders towards Arab writers and artists of the generation of 1930s.
___
Artists of the Algerian Brotherhood 1963-2020:

Azouaou MAMMERI (Algeria, 1886-1954)

Angel DIAZ-OJEDA (Spain, 1886-Algeria, 1968)

Mohammed RACIM (Algeria, 1896-1975)

Hacène BENABOURA (Algeria, 1898-1960)

Jean de MAISONSEUL (Algeria, 1912-France, 1999)

Louis NALLARD (Algeria, 1918-France, 2016)

Abdelkader GUERMAZ (Algeria, 1919-France, 1996)

Bachir YELLES (Algeria, 1921-)

M'hamed ISSIAKHEM (Algeria, 1928-1985)

Mohamed BOUZID (Algeria, 1929- France, 2014)

Mohammed KHADDA (Algeria, 1930-1991)

BAYA (Algeria, 1931-1998)

Choukri MESLI (Algeria, 1931-France, 2017)

Abdallah BENANTEUR (Algeria, 1931-France, 2017)

René SINTES (Algeria, 1933- 1962)

Mohamed AKSOUH (Algeria, 1934-France)

Rezki ZERARTI (Algeria, 1938)

Denis MARTINEZ (Algeria, 1941-France-Algeria)
+
-
Press
Exposition « Artistes de la Fraternité algérienne 1963-2020 »
Amb Algerie, French, 2020