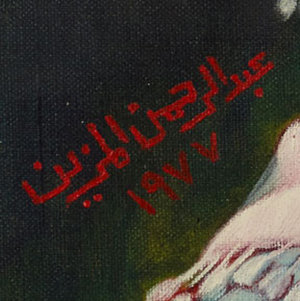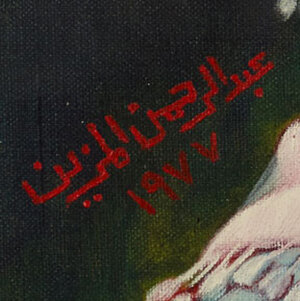 ABDELRAHMAN AL MUZAYEN, Palestine (1943)
+
-
Bio
Written by Wafa Roz
Abdelrahman Al Muzayen was born in 1943 in Qubayba, a village in the Ramle subdistrict of Palestine. After the 1948 Nakba, his family was forced to relocate to Khan Younis Refugee camp in Gaza, where, in 1961, he completed his secondary schooling at Khan Younis School for Boys. Al Muzayen pursued his arts education in Egypt, earning a BA in 1966 from the College of Fine Arts at Helwan University, Alexandria, and an MA in 1975 from the same institution. He co-founded the General Union of Palestinian Plastic Artists in 1970 and the General Union of Arab Plastic Artists in the following year. In 1980, he established Al-Ard Artists' Group and later formed the Studio of Revolutionary Artists of Damascus with Mustafa El Hallaj. A visual artist, writer, and researcher, Al Muzayen completed his Ph.D. in Archaeology and History from Khartoum University, Sudan, in 1993. He wrote books on Palestinian cultural heritage and taught at Al-Aqsa University. Al Muzayen served as a colonel in the Palestinian Civil Police Force from 1996 until 2005.
Early in his life, Abdulrahman Al Muzayen realized that the Zionist project stretched beyond territorial occupation and could conceivably lead to the cultural devastation of Palestine. This awareness inspired the artist's political activism and the emphasis on Palestinian culture and history in his work. While in college, he created murals expressing dramatic historical events such as The Massacre of Deir Yassine (1966), which condemned Zionists' brutal slaughter of Palestinians in the village of Deir Yassine during the Nakba of 1948. In 1967, Al Muzayen joined the Palestine Liberation Organization (PLO) in Beirut. He worked closely with Abu Jihad, Yasser Arafat's deputy and head of the PLO's media and civic organizations. Al Muzayen gave guidance to the Palestinian National Liberation Army through cultural events, and lectures to fighters on Palestinian cultural heritage and history.
Instead of portraying Palestinians as victims, Al Muzayen's paintings and posters exemplify what artist and art writer Samia Halaby has termed the "liberation art" of Palestine. While most of his early works celebrate militancy and martyrdom, his later ones focus on steadfastness or sumud. Al Muzayen used nationalistic iconography to depict Palestinians as strong and resilient moreover to glorify their history: Al-Karama (1968) commemorates the battle of the same name, in which PLO and Jordanian forces claimed a narrow victory over the Israelis. Rich in symbolism, the poster includes the colors of the Palestinian flag and features the image of three resistance fighters in keffiyehs: the traditional headdress that became an icon of the Palestinian liberation movement.
Al Muzayen's posters can be considered a form of propaganda, but his work is also deeply invested in the survival of Palestinian cultural heritage. His characters frequently harken back to the pre-Nakba period through their traditional clothing and peaceful activities, such as a village boy dressed in a galabia with a keffiyeh on his shoulders holding a basket of oranges. Influenced by his mother, a trained embroiderer, Al Muzayen mastered the depiction of traditional Palestinian embroidery, or tatreez, which had also become a symbol of Palestinian resistance by the 1970s. This is seen in a 1977 half-length portrait of a Palestinian village woman wearing a thobe, or traditional embroidered dress. Her brown skin and barely visible black hair stand in contrast to her white headscarf, which itself serves to highlight the intricate geometric patterns on the chest panel, or qabba, and the floral motifs on the shoulder piece, or radda, of the thobe. The detail-oriented artist uses his oil paints to breathe new life into the craft of tatreez, his careful brushwork suggesting the tactile qualities of stitching and couching laid across the surface of the white linen fabric. In keeping with Al Muzayen's investment in history and heritage, his subject shows attention to historical detail, featuring a design used by women before the Nakba and inspired by the flora of their land. The choice of fabric, patterns, and vibrant colors identifies the woman's home region as well as her socioeconomic status. Furthermore, Al Muzayen compliments the woman's folkloric costume with symbolic jewelry, such as the snake bracelet and a pair of eight-pointed star earrings that signify the star of Bethlehem.
Like many of his Palestinian contemporaries, Al Muzayen made the Palestinian woman a central subject of his work, using her to allegorize the Palestinian motherland itself through her freedom, beauty, and maternal qualities. In Palestine (1978), a monumental female figure appears in an embroidered thobe, holding workers on her shoulders. Drawn from the figurines of the Canaanite goddess Ishtar, her conical headpiece is altered into the golden Dome of the Rock. Here, Al Muzayen asserts that his people are the descendants of the ancient inhabitants of the region, contesting Israel's nationalist claims to the land. This painting is an example of a broader trend of socialist realism that took root among Palestinian artists in the 1960s, 70s, and 80s; in fact, the artist printed it as a poster on Labor Day, May 1st, 1979, with a slogan in Arabic reading "the revolution is a rifle and a worker's fist".
After the expulsion of the PLO from Beirut and its subsequent move to Tunisia in 1982, Al Muzayen supervised the Palestinian Cultural and Artistic Program in North Africa until 1994. During this time, he created a series of portraits that imagine Yemeni workers and actors assuming the role of soldiers (1987). Meticulously crafted with colored pastel on black Canson paper, the drawings featured head and shoulder accessories distinctive of each character. Al Muzayen continued delivering educational lectures to PLO fighters living in diaspora in Africa and organized exhibitions to promote Palestinian art and cultural heritage.
On April 9,1992, during one of his appointed lectures in a training camp at As-Sarra in southern Libya, Al Muzayen was informed that Yasser Arafat's private airplane had crash-landed in a sandstorm. He led a military in search of the Palestinian leader by following swallows, which usually feed on flies and hence dead bodies; he and his soldiers were thus able to identify the location of the plane and rescue Arafat, who had miraculously escaped death. That same year, Yasser Arafat awarded Al Muzayen a badge of honor for rescuing him.
Following the Oslo I accord, Al Muzayen returned to his homeland with the PLO, which later morphed into the Palestinian Authority (PA). He was disappointed to see women replace the traditional embroidered dress with western clothing. Merging embroidery, mythology, and popular culture, then started a series of large-scale visual narratives, each comprising several drawings executed in black India ink on white Canson paper. He created eighty drawings depicting the first intifada under the title Anat and the Intifada (2000-2003), inspired by the ancient Semitic goddess of war and fertility. Within linear forms and patterns, this series illustrates children and women fighting with slingshots and stones. The fourteen drawings in The Jar Holders (2006) narrate the long-lived tradition of girls filling water from wells. Reminiscent of Egyptian art, this series features stylized female figures, fashioned in traditional costumes, holding jars on their heads, walking in groups toward the wells, a place to socialize, and perhaps meet their future spouses.
Targeting an international audience, Al Muzayen deployed a contemporized symbolic style. Onto his stylized costumes, he applied abstracted motifs of birds, arches, palm trees, and wheat kernels. He accessorized his female figures with earrings and bracelets that bear simplified symbols of keys, doves, palm trees, or roses. Calligraphic texts along with grids and zigzag patterns, drawn from the keffiyeh, complimented his figures.
Still, Al Muzayen preaches for peace and freedom. Despite the horrific events faced by his country every day, he prefers to document those of victory and steadfastness, as in the mural Beit Hanoun (2007). Here, he proudly depicts the events of November 2nd, 2006, when women rescued fighters trapped in al-Nasir mosque during an Israeli raid on the town of Beit Hanoun. Illustrated with raised hands, the women hold farming tools, keys, and roses. His latest works (2012-2014) include vibrant paintings with stylized figures similar to those in the murals, executed with acrylic on canvas. They reflect maturity both in style and content, demonstrating mastery of composition and elegant color.
Al Muzayen retired from the police force in 2006 and currently resides in Ramallah.
Sources
Ankori, Gannit. Palestinian Art. London: Reaktion Books, 2006.
"[Original Palestinian Nationalist Poster from Battle of Karameh]." [Original Palestinian Nationalist Poster from Battle of Karameh] , [Propaganda]: [Middle East]: [PLO] - Brian Cassidy, Bookseller - Intrinsically Interesting, Important or Unusual Books Bought and Sold. Accessed May 21, 2019. https://store.briancassidy.net/shop/cassidy/16804.html.
Allenby, Jeni. "Re-inventing Cultural Heritage : Palestinian Traditional Costume and Embroidery since 1948." Semantic Scholar. January 01, 1970. Accessed May 21, 2019. https://www.semanticscholar.org/paper/Re-inventing-cultural-heritage-:-Palestinian-and-Allenby/fc9d11849f3167eb8c4a4fb75a53756d5460cb53.
Bakri, Muath, Muath Bakri, and Muath Bakri. "Liberation Art of Palestine." MIFTAH. Accessed May 21, 2019. http://www.miftah.org/Display....
"Liberation Art of Palestine." Workers.org. Accessed May 21, 2019. https://www.workers.org/ww/2004/palbook0930.php.
Murphy, Maureen Clare. "Gaza's Artists under Fire." The Electronic Intifada. February 12, 2017. Accessed May 21, 2019. https://electronicintifada.net...
"Palestine Posters: Symbols of Resistance." The Palestine Poster Project Archives. April 21, 2018. Accessed May 21, 2019. https://www.palestineposterpro...
"The Oriental Institute of the University of Chicago." OIMP 25. Embroidering Identities: A Century of Palestinian Clothing | The Oriental Institute of the University of Chicago. Accessed May 21, 2019. https://oi.uchicago.edu/research/publications/oimp/oimp-25-embroidering-identities-century-palestinian-clothing.
Zoghi, Neda, Mohd Roslan Mohd Nor, and Ahmad Faisal Abdul Hamid. "Art Under The Gun: The Role of Symbols Especially the Key in Contemporary Palestinian Art." AL. Accessed May 21, 2019. https://ejournal.um.edu.my/index.php/MUQADDIMAH/article/view/15706.
"الواقعية والرمزية في أعمال الفنان التشكيلي الفلسطيني عبد الرحمان المزين." مقالات صحفية الكاتبة بشرى بن فاطمة لأعمال مجموعة فرحات الفن من أجل الانسانية. Accessed May 21, 2019. http://benfatmabochra.blogspot.com/2017/07/blog-post_3.html.
زيدان, أ.كمال. "الرمز في الفن الفلسطيني التقليدي والمعاصر." DSpace Home. October 13, 2010. Accessed May 21, 2019. https://repository.najah.edu/handle/20.500.11888/9391.
"ﺮﺻﺎﻌﻤﻟﺍﻭ ﻱﺪﻴﻠﻘﺘﻟﺍ ﻲﻨﻴﻄﺴﻠﻔﻟﺍ ﻦﻔﻟﺍ ﻲﻓ ﺰﻣﺮﻟﺍ." Accessed May 21, 2019. https://scholar.najah.edu/sites/default/files/conference-paper/lrmz-fy-lfn-lflstyny-ltqlydy-wlmsr.pdf.
من أعلام القبيبة :- الفنان د.عبد الرحمن المزين- فلسطين في الذاكرة. Accessed May 21, 2019. https://www.palestineremembered.com/al-Ramla/al-Qubayba/Story30593.html.
مؤسسة القدس للثقافة والتراث. Accessed May 21, 2019. http://alqudslana.com/index.php?action=individual_details&id=116.
المزين، عبد الرحمن. حوار باللون الأسود جداريات فلسطينية. عمان: دار فضاءات للنشر والتوزيع، 2012.
+
-
CV
Selected Solo Exhibitions
2011
Solo Exhibition, Muscat, Oman
Selected Group Exhibitions
2018
Labour of Love, Palestinian Museum, Birzeit, Occupied Palestine
2017
Jerusalem Lives, Inaugural Exhibition, Palestinian Museum, Birzeit, Occupied Palestine
2003
Made in Palestine, Station Museum, Huston, USA
Awards
1992
Awarded by President of the PLO, Yasser Arafat, the Military duty badge of honor, first degree, for his participation with the Al-Quds patrol in rescuing the president from the Libyan desert
1985
Diploma of honor from Germany, for his publications in the Palestinian Heritage Encyclopedia about the Palestinian traditional dress
1983
Diploma of honor for his posters, Awarded by the international press organization in Paris
Publications
1979-
2010
12 research papers on history (heritage, mythology, Palestinian plastic art).
14 books about history, heritage, Palestinian, and African plastic art.
1968-
2010
His works were printed into hundreds of posters, postcards and calendars.
Public & Private Collections
Ramzi and Saeda Dalloul Art Foundation (DAF), Beirut, Lebanon
Souha Xochitl Shayota, New York, USA
Accomplishments
2006
Retired from the Palestinian Police as Major General.
1996-
2005
Political representative of the Palestinian Police as Colonel.
1996
Founder and editor-in chief of a Magazine related to the Palestinian Police.
Secretary general of the National Union of Palestinian plastic artists.
Director of the Palestinian historians and archeologist's society.
Member of the Palestinian national council.
Member of the Palestinian central council and the high council for the art and literacy in the PLO
1986-
1994
Head of Intellectual mobilization - Department of Media and Political Orientation in the PLO
1984-
1994
Head of the PLO art and cultural program in Africa
1984
Co-founded the National Union of the Palestinian Plastic Artists, in Tunisia
1980
Founded and headed 'Artists of the Earth Group'. They organized more than 30 international exhibitions
1979-
1987
Deputy to Secretary general of the National union of Arab plastic artists
Deputy to director of National Union of the Palestinian Plastic Artists
1971
Co-founded the National Union of Arab Plastic Artists
1970
Co-founded the National Union of the Palestinian Plastic Artists
+
-
Documents
Art Under The Gun: The Role of Symbols Especially the Key in Contemporary Palestinian Art
Neda Zoghi, Mohd Roslan, Mohd Nor, Faisal Ahmad, Faisal Abdul Hamid
English, 2018
Part of Journal al-Muqaddimah (vol. 6(1), Jan-Jun 2018, 16-27) p.8 p.9
Symbols in Traditional and Contemporary Palestinian Art/ الرمز في الفن الفلسطيني التقليدي والمعاصر
Kamal Zeidan
English
Essay p.16 p.25