Made in Palestine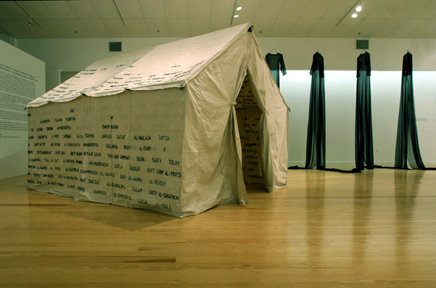 Made in Palestine
May 3 - October 23 2003
Traveling exhibition
Houston, TX May 3rd 2003 to October 3rd 2003

San Francisco, CA April 7th to April 22nd 2005

Montpelier, VT October 18th to November 20th 2005


T.W. Wood Gallery and Arts Center
Made in Palestine is the first museum exhibition in the United States devoted to the contemporary art of Palestine. It is a survey of work by artists living in the West Bank, Gaza, and parts of Israel. Also included in the exhibition are a smaller number of Palestinian artists living in Syria, Jordan, Germany, and the United States.

This exhibition follows the modern history of the Palestinian people from the Naqba of 1948 to their dream for a homeland. There are evocations of the forced dispossession of the Palestinian people and testaments to the day-to-day brutality of the current Israeli occupation. It winds up with a dream for the future of Palestine. Throughout, Diaspora and occupation complicate the telling.

Palestinian artists, under the most egregious circumstances, create works of art that are a contribution to world art. Specifically, they create symbols and visual configurations that define their national liberation struggle for a free Palestine. Being an artist for Palestine is an act of courage.

Twenty-three artists were selected during a month long stay in the Near East by members of the museum staff. Others were chosen during frequent trips to New York. These artists, representing two generations of modernists and postmodernists, work in a multiplicity of techniques and mediums, including painting, sculpture, video, textiles, ceramics, and photography. In style the work ranges from realism to abstraction and conceptual art. Its influences range from the art of ancient Near East and Egypt to Dada, Surrealism, Social Realism, Abstract Expressionism, Arte Povera, and Installation Art. In other words, Palestinian artists, like their peers in Europe, the United States, and the international community, are thoroughly modern, but with a significant difference. The Palestinian artist is deeply concerned with the historical fate of the Palestinian people and with life and death issues of freedom and justice.

Most of the artists represented in this exhibition live under military occupation or in exile. Through their art, they communicate Palestinian aspirations for a better future, respect for their martyrs and their love of their land and people. They also express the pain of imprisonment and death, the innocence and the righteous exultation of their struggle. Nevertheless, this exhibition is not primarily a political exhibit. Nor is it a simple survey of contemporary art. Rather, it is an expression of cultural identity and resistance by important, courageous, and profoundly committed artists.

Gabriel Delgado
James Harithas
Tex Kerschen