CALIGRAFFITTI: 1984-2013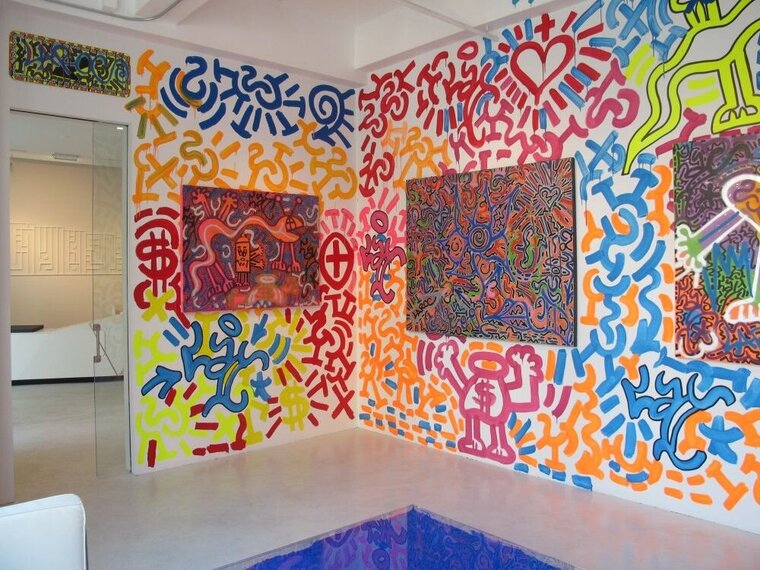 CALIGRAFFITTI: 1984-2013
September 5 – October 5, 2013
Leila Heller Gallery
"A calligraphic impulse has been behind some of the greatest works of Modern Art." -- Jeffrey Deitch
"This show makes connections between pivotal artistic movements across cultures that have informed each other's creative processes. Just as the graffiti movement emerged from the economic and social turmoil of the 1970s in New York, it is now no surprise that some of the most groundbreaking street art is burgeoning all across the Middle East. Calligraphy as an art form is part of a Middle Eastern collective memory and as it continues to evolve, we are now witnessing a kinetic dialogue between these movements that will no doubt leave their mark on history." -- Leila Heller
Leila Heller is pleased to announce Calligraffiti 1984/2013, on view from September 5 – October 5, 2013. Originally curated in 1984 by Jeffrey Deitch (Director, Museum of Contemporary Art, Los Angeles) at Leila Heller's former uptown gallery, Calligraffiti explored a myriad of possible connections shared between the seemingly disparate styles of select mid-century abstract, U.S. graffiti, and calligraphic artists from the Middle East and its diaspora.
By presenting an expanded and updated roster of artists including site-specific installations by emerging and established artists 30 years later, Calligraffiti 1984/2013 re-examines the global impact of street art and calligraphy as converging modes of personal expression, popular culture, and political dissent mutually grounded in arrogating the systems of language. Featuring more than 50 works by artists ranging from Jackson Pollock and Lee Krasner; Hans Hartung and Cy Twombly; Keith Haring and Jean-Michel Basquiat; and Hossein Zenderoudi and Pouran Jinchi, the exhibition will also include site-specific installations by emerging and established artists. LA2 will be creating an installation in Leila Heller Gallery's front room visible from 25th street, while Tunisian/French artist eL Seed will be painting a mural in the 11th Avenue windows. An illustrated catalogue with an introductory text by Jeffrey Deitch will accompany the exhibition.
Brief Background
For centuries, calligraphers from the Middle East have visually transcribed verses from the Ayah and concepts surrounding Divine Infinity on public buildings and mosques by presenting the written word as art. In modern times, movements ranging from Dada, Surrealism, Tachism, and Abstract Expressionism have all incorporated elements of writing and language into their abstractions. Most recently, contemporary artists such as Hossein Zenderoudi, Parviz Tanavoli, Hadieh Shafie, and Pouran Jinchi, whose work will be on view, have transformed traditional Arabic script in order to create new abstract shapes and gestural marks, augmented by color, poetry, or rhyme which bridge distinctions between nationalities, generations, and beliefs.
As a means of political and social commentary and through name bombing, graffiti and street art exploded in the 1960s throughout North American cities. During the early 1970s in New York, the arrival of aerosol spray paint solidified graffiti's impact on the urban landscape with words and tags accompanied by elaborate cartooninspired images seen throughout the city and particularly on subway trains. By the 1980s, elimination efforts by local city councils and transit authorities proved futile as graffiti writers began actively working in London, Berlin, Paris, and beyond. During the early 1980s, the development of a definitive graffiti style by New York artists such as Keith Haring led to its rapid acceptance within the art world via exhibitions at galleries and museums. Closely tied to hip hop's popularity, graffiti continued its global expansion throughout the 1990s, though more as a commercial phenomenon. From December 2010 onwards, graffiti has swept across North Africa and the Middle East as a highly visible means of political protest, attracting a new wave of interest and reclaiming its importance as an unconventional, revolutionary art form.
Featured Artists:
Carla Accardi
Etel Adnan
Yasmina Alaoui
Ayad Alkadhi
Massoud Arabshahi
L'ATLAS
Assurbanipal Babilla
Ben
Zigi Ben-Haim
Jean-Michael Basquiat
Julien Breton & David Gallard
Jean Degottex
Jean Dubuffet
Mohammed Ehsai
eL Seed
Keith Haring
Keith Haring and LA2
Hans Hartung
Nir Hod
Shirazeh Houshiary
Isidore Isou
Bill Jensen
Pouran Jinchi
Franz Kline
Rachid Koraichi
Lee Krasner
LA2 (Angel Ortiz)
Farideh Lashai
Maurice Lemaitre
Eugene Lemay
Reza Mafi
Hassan Massoudy
Farhad Moshiri
Shirin Neshat
Alfonso Ossorio
Faramarz Pilaram
Leila Pazooki
Jackson Pollock
Mehdi Qotbi
ROSTARR
Hadieh Shafie
Niels "Shoe" Meulman
Ramellzee
Retna
Roland Sabatier
Alain Satie
Behjat Sadr
Nasser Al-Salem
Esrafil Shirchi
Pierre Soulages
Pat Steir
Parviz Tanavoli
Tee Bee
Mark Tobey
Cy Twombly
Rob Wynne
Hossein Zenderoudi
+
-
Documents
CALIGRAFFITTI: 1984-2013
Leila Heller Gallery
English, 2013
Exhibition Catalog