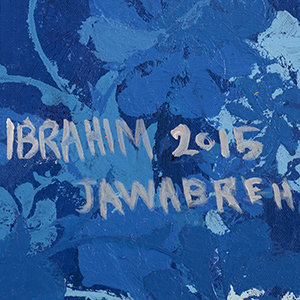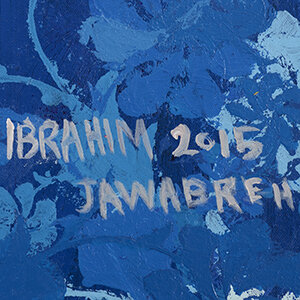 IBRAHIM JAWABREH, Palestine (1985)
+
-
Bio
Born in 1985, in Aroub refugee camp, Ibrahim Jawabreh is a Palestinian contemporary visual artist. He graduated from Al Quds University with a BA in Fine Arts. Jawabreh is a painter and a performance artist whose work often engages public spaces. Lately, he has developed an interest in body-based performance art, drawing inspiration from land art. He presents his body in different artistic interventions as part of an urban landscape. Instead of sculpting the land itself into earthworks or using natural materials from the earth, as familiar to land art, the artist uses his own body in conceptual depictions as part of the setting.
Jawabreh brings people into the open in his naïve paintings. Clustered groups of subtle archetypal human figures face the viewer in his colorful acrylic on canvas depictions. Their still faces mimic that of archaeological figurines. It is only for the semiotic representation of the decorated costumes that one can guess if the figure is that of a boy or a girl, a male or a female.
His work investigates the relationship of figure to space. In his reductive style, the artist sheds light on the essence of being. For Jawabreh, people are not passers-by, nor are they merely shadows owned by their leaders. They are certainly not a memory captured in space and time. Rather than focusing on detailed facial features, he stresses on the symbolic, paving the way into the inner soul of his group. Seemingly, Jawabreh highlights the undermined existence of his people - the Palestinians. In his art, Jawabreh goes further, hinting to a universal humanitarian concern regarding abandonment and displacement.
Ibrahim Jawabreh lives in Ramallah, Palestine, and works between Ramallah and Amman, Jordan.
This is a short biography. The full version , along with research, CV and sources will be posted soon. Stay tuned and visit us often or become a member to be notified of our updates.