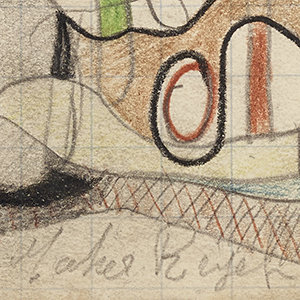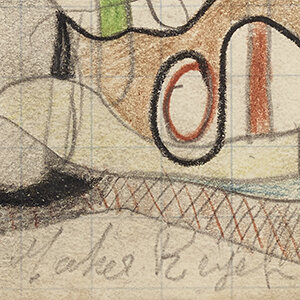 MAHER RAIEF, Egypt (1926 - 1999)
+
-
Bio
Born in 1926, in Cairo, Maher Raief was an Egyptian painter who contributed to the development of modern Egyptian art. His father, a painter of his own right, encouraged Raief to follow the same path. In 1950, Raief graduated from the Fine Arts School of Cairo, and in 1954 he obtained a diploma in philosophy at Cairo University. During the years 1946 until 1952, Raief became an active member of the Contemporary Art Group. The group advocated art that expressed Egypt's present reality and maintained its authentic identity. In the 1960s, Raief moved to Düsseldorf, Germany, to learn printmaking, after which he completed a Ph.D. in the Philosophy of Art at the University of Cologne, Germany.
In his early expressive paintings, Raief mirrored the deprivation and distress that hit the people of Egypt in the aftermath of the second world war. Raief depicted poor people paralyzed by the effect of poverty and ignorance; they were left in the dreadful darkness of interior spaces. He painted human figures with bulky extremities in rounded volumetric forms. His subjects, toned in artificial green, were at times intertwined together and at others confusingly caught in a fisherman's net.
In the 1970s, his art took onto a different direction, especially after he had completed his studies in art philosophy. Raief became a faithful Sufi, abandoning all types of figurative painting and focusing instead on abstraction and calligraphy. He focused on reviving Islamic art traditions through practical and theoretical teachings that he offered at the Faculty of Fine Arts in Alexandria. Raief himself produced a series of prints within which he included abstracted linear forms inspired by Arabic calligraphy. He encouraged his artist students to depict the world they encounter in abstracted shapes and scripts. Although Raief was the first and oldest of the printmakers at the time, his creations were novel and far more modern than the younger artists who adopted an abstract style.
Raief experimented in different mediums; he worked with oil on paper or canvas as well as pastel and pencil on paper. In one of his pastel and pencil illustrations, Raief shows three horses in an architectural landscape. The shapes are deconstructed into geometrical shapes. They are perfectly interrelated to attain the horses' morphology and to express the state of siege in which they are caught. With a sense of resignation, the horses have no means of escape. In his work, Raeif invites the viewer to interpret his structural expressionist style.
Maher Raief passed away in 1999 in Cairo.
This is a short biography. The full version , along with research, CV and sources will be posted soon. Stay tuned and visit us often or become a member to be notified of our updates.