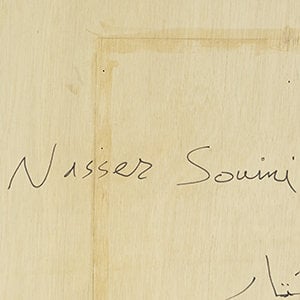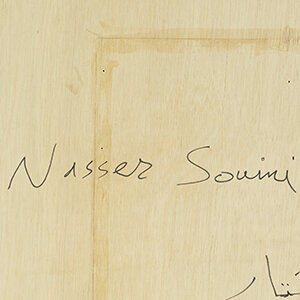 NASSER SOUMI, Palestine (1948)
+
-
Bio
Born in 1948, in Palestine, Nasser Soumi is a painter and installation artist based in Paris. In 1977 he graduated from the National School of Fine Arts in Damascus, Syria. In 1980 he pursued his studies at the National School of Fine Arts in Paris, France, graduating in 1982. Soumi co-founded the Artist Association of Palestine with filmmaker Samir Abdallah. He depicts Palestine from the perspective of a native Palestinian living in exile. The place is central to his work; he addresses it in its physical and conceptual form. His themes revolve around displacement and loss. Soumi's artistic practice took a turning point in 1993 when he was invited by Anadeil Gallery in Jerusalem in collaboration with the French Cultural Center, to show at their space. During his one month stay in Palestine, Soumi had the chance to experience his homeland at first hand. He investigated its geographical, architectural, and social landscape. Subsequently, Soumi began a series of conceptual works created as an homage to towns and villages in Palestine, inclusive of Akka, Jaffa, Nablus, Tiberius, and Jerusalem.

His body of work is there to voice a Palestinian narrative. It comprises of paintings, archival photographs, printed fabric, ready-made objects, and installations. To revive the memory of the blue shores of Jaffa, Soumi created paintings saturated with indigo blue hues framed within memorable wooden windows of the city. Onto his paintings, he added dried orange peels as a symbol of Jaffa's fertile orchards. As a tribute to Nablus, known for its production of olive oil-based soap, Soumi used several square soap blocks and had them lit as candles in an installation he entitled Jabal el-Nar in Arabic, meaning bonfire.
Soumi is known for his signature pigment - Indigo blue - which is symbolic of the Mediterranean coastal area of Palestine. Besides, he produced paintings using vivid colors applied with gestural brushstrokes in an abstract expressionist style. His most adopted regional symbol is that of the Dome of the Rock. It appears reductive and washed away within his splashing layers of paint, where its architectural structure is often depicted in a graphical representation. Soumi has participated in public and participation art. His latest work includes the intervention of the public to stamp the palm of their hand onto a massive sheet of fabric that eventually cover and rid away from the apartheid wall of Palestine.
Nasser Soumi still lives and works in Paris, France.
This is a short biography. The full version , along with research, CV and sources will be posted soon. Stay tuned and visit us often or become a member to be notified of our updates.