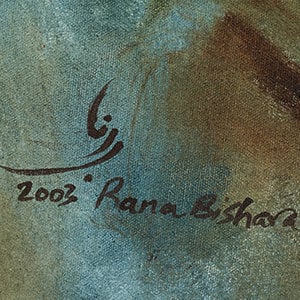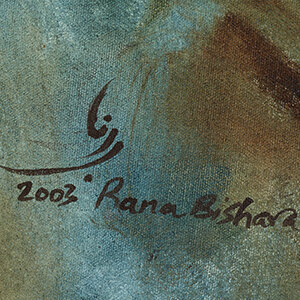 RANA BISHARA, Palestine (1971)
+
-
Bio
Born in 1971, in the village of Tarshiha in the Galilee, Palestine, Rana Bishara is a Palestinian interdisciplinary artist. Her body of work spans across painting, photography, graphic design, sculpture, installation art, and performance. She received a BA degree in Fine Arts, Women's Studies and Philosophy, from Haifa University in 1993. In 2003 she completed her MA in Fine Arts on a Fulbright Scholarship at the Savannah College of Art and Design in Savannah, Georgia, USA.

Bishara's art revolves around the ongoing occupation of Palestine and the consequent political conflict. She sheds light on the cultural annihilation and human rights abuse exercised in the occupied territories of Palestine, yet, overlooked in the mainstream media. Based on collective memory and storytelling, she explores notions of identity, displacement, and loss. Symbolic materials and imagery are central in Bishara's body of work. Though highly political, her art is provoking and poetic. It reflects the irreversible trauma, distress, and emotions common to the Palestinian experience.

One of her most important themes is the cactus plant. Known as Sabra in Arabic, which means patience, cacti are symbolic of resilience; they also mark the locations of villages and serve as fences. The artist collects them from the fields outside the villages, dries them, paints on them, and uses them in her installations. She even dips them in chocolate. Inspired by the shape of the prickly pear cactus leaf, she produces paintings with colorful abstracted depictions. Bishara, not only tests the environmental resilience of cacti but exploits their artistic potential.

In her sculptural production and installation art, the artist's choice of material ranges from wood, glass, steel, to ephemeral products such as zaatar – thyme, bread, and chocolate. Bishara shows photographs silk screened on glass in the unusual medium of chocolate in a series of political and historical photographs knowns as Blindfolded History. To revive the notion of home, Bishara produced symbolic 'homeless' pillows using traditional folkloric fabric and others that promote resistance such as the kufiyah. Bishara's art, in both its applied and conceptual manifestations, defines the Palestinians identity.


This is a short biography. The full version , along with research, CV and sources will be posted soon. Stay tuned and visit us often or become a member to be notified of our updates.