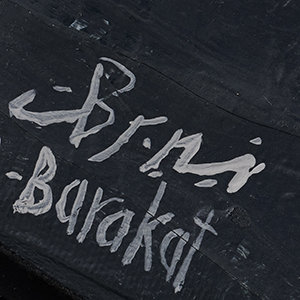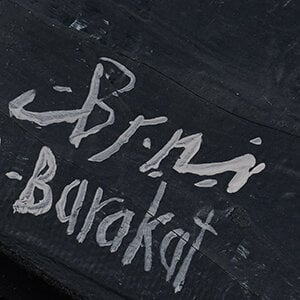 TAYSEER BARAKAT, Palestine (1959)
+
-
Bio
Written by Wafa Roz
Born in 1959 in Gaza's Jabaliya refugee camp, Tayseer Barakat belongs to a family originally from Al-Majdal, a village in the Lower Galilee that was bulldozed by Zionist forces in 1948. He completed his early education at Abu Hussein School for Boys in the camp and later pursued his graduate studies at the College of Fine Arts of Helwan University in Alexandria, Egypt. After earning his BA in painting in 1983, he returned to his homeland to teach art at the UNWRA-run women's teacher training center in Ramallah. Barakat became a founding member of Al-Wasiti Art Center in Jerusalem, Al-Hallaj Hall in Ramallah, the Palestinian Association for Contemporary Art (PACA), and the International Academy of Arts in Palestine in Ramallah. To date, Barakat runs the Ziryab café and art space in Ramallah, which he also founded as a meeting place for artists and intellectuals of the West Bank.
Since birth, Barakat has lived in times of war, conflict, and displacement. Following the 1967 Naksa, at the age of eight, Barakat witnessed the Israeli occupation of Gaza and the subsequent deterioration of living conditions for Palestinians there. Growing up amid the squalor and hardship of a clustered and highly populated refugee camp, Barakat felt imprisoned within his homeland. During the long intervals of curfew, he vented his frustration through his art production. Nevertheless, the fertile agricultural lands of Gaza inspired the young Barakat, who first discovered his artistic inclinations while enjoying the natural landscape.
In 1981, Barakat toured the West Bank for forty days on foot, sleeping in the open air amidst trees and mountainous terrain. He discovered villages and towns he had only heard about, inspired by the stories of his parents and grandparents to explore the places he'd grown up close to but hadn't been able to access. At Deir Ghassaneh, a village he chose to make his new home in 1984, Barakat committed himself more deeply to the ancient history of his land, retracing the lives of his ancestors in an attempt to defy the Zionist erasure of Palestinian existence. His work is based on extensive research into the ancient arts of the region as a whole, drawing from Canaanite, Phoenician, Mesopotamian and Ancient Egyptian cultures. However, Barakat does not adhere strictly to any one style. His practice instead relies on intuition, imagination, and the dynamics of the work itself as it takes shape.
Much of Barakat's work investigates the notion of flight, depicting human beings flying or stretching their bodies out of open windows as an outlet for escape. In his oil on canvas painting entitled Childhood (1984), he portrayed children standing on the rooftops of hut-like houses, reaching out for a kite that was drifting across an endless sky.
This preoccupation with flight has been with Barakat since his childhood in the refugee camp when he launched his experiment with aerodynamics. He designed a box with lateral wings to look like an airplane and placed his neighbor's three-year-old boy in it; convinced it would fly, he was about to throw the box from a rooftop when the boy's mother saw them and, luckily, intervened.
During the 1980s, Barakat produced figurative drawings in pencil or ink with natural dyes and watercolor on paper. The artist introduced human figures and subtle images reminiscent of Phoenician sailing boats, Sumerian ziggurats, and Canaanite goddesses. He also created collages of cut out paper and documents stained with watercolor. In 1987, he established along with Suleiman Mansour, Nabil Anani, and Vera Tamari 'The New Vision movement,' inspired by the first intifada to reassess the role of art in Palestinian resistance. They boycotted imported art supplies from Israel and used natural materials from their land instead. Harkening back to the very beginning of human civilization, Barakat chose natural wood as a surface and fire as a medium, creating monochromatic imprints on wooden panels and objects he recovered from the trash. Utilizing a blowtorch, a hot brass stamp, or an electric pen, Barakat imprinted this wood with silhouettes of birds, faces, and primitive figurines with androgynous features, as well as signs similar to cuneiform script and hieroglyphs. With careful attention to the intensity and pressure of heat, he was able to vary the color of the wood.
In the 1990s, Barakat began producing installations that incorporated ready-made objects. Father (1997), for example, features an old chest of drawers discarded by the Israeli army. Onto the surface of each of its seven drawers, which had previously contained records of the first European Jewish settlers, Barakat imprinted images depicting his father's life journey: his early days in Al-Majdal, the expulsion, life in Jabaliya camp, his illness, and finally his death as a refugee.
As in Father, Barakat's later work finds ways of addressing injustices against Palestinians in deeply personal ways. For instance, the 2002 installation Prisoners' Letters displayed the correspondence of Palestinian prisoners in Israel with their loved ones, exhibiting the letters in glass display cases with the reverence generally reserved for art objects. Reading these letters brought tears to Barakat's eyes and to the eyes of his then-ten-year-old son, Ward, who assisted him on this project. During the Arab uprisings in 2011, he created mosaic-like paintings depicting the fragmentation of the Arab nations. In mixed media and acrylic on canvas, he applied delicate washes of ochre and smoky grey paint to tiny, eerie human figures seemingly rising from under the ashes. His work has also addressed social justice issues outside of the Arab world, including the plight of indigenous Americans in the acrylic painting The Last American Indian (2012).
From 2000 to 2016, Tayseer Barakat was barred from entering the Gaza Strip, but his work frequently touched upon the place he grew up. In 2014, for example, the exhibition Distant Voices denounced the incredible loss of life and destruction that took place due to the Israeli assault on Gaza earlier that year. His latest solo exhibition, Lightness of Being (2017), presents a more hopeful outlook. To create the large-scale paintings in this series, Barakat splatters colorful acrylic paint on canvas, creating a bright field he then covers with a layer of black paint. He later scrapes off parts of the upper layer to reveal the cheerful colors below, alluding to the significance of hope in dark times.
A father to four boys, all of whom are passionately involved in his artistic production, Barakat lives and works in Ramallah, Palestine.

Sources
Boullata, Kamal. Palestinian Art, 2005-1850. London: Saqi, 2009.
Samar Faruqi, Art Palestine Exhibition Catalogue, Dubai: Publications Department of Meem Gallery,2011.
The Power of Place and the Representation of Landscape in the Work of Palestinian Artists. Accessed January 21, 2019. http://virtualgallery.birzeit.edu/p/ps?url=exhibitions/unesco/essay.
الحياة الجديدة. Accessed January 21, 2019. http://www.alhaya.ps/arch_page.php?nid=245872.
محلية | أخبار | أَثَر التَّنْقِيب عَن آثارِ النَّفْسِ البَشَرِيَّة بِالفُرشَاة : تيسير بركات ينحت الموت والحياة من أعماقه | سبيل موقع اخباري ثقافي. Accessed January 21, 2019. http://www.sabeel.co.il/news-172,N-12197.html.
Halaby, Samia A. History Of Cities And City Planning. Accessed January 21, 2019. http://www.art.net/~samia/pal/palart/tayseer/tayseer.html.
"Palestinian Artists Working under Siege by Salwa Mikdadi-Nashashibi – Station Museum of Contemporary Art." Station Museum of Contemporary Art. Accessed January 21, 2019. http://stationmuseum.com/?page_id=2428.
"Tayseer Barakat تيسير بركات." Tayseer Barakat تيسير بركات. Accessed January 21, 2019. https://tayseerbarakat.wordpress.com/.
"الفنان الفلسطيني تيسير بركات: لوحاتي تحكي جراح الإنسان." جريدة الجريدة الكويتية. Accessed January 21, 2019. http://www.aljarida.com/ext/articles/print/1461837725168092200/.
مجلة رمان الثقافية. "تيسير بركات: من حضارتنا الشرقية جاءت مفردات لغتي البصرية." مجلة رمان الثقافية. Accessed January 21, 2019. https://www.rommanmag.com/view/posts/postDetails?id=5027.
ALSAHLY, Ayham. "الفنان الفلسطيني تيسير بركات." YouTube, YouTube, 26 Oct. 2016, www.youtube.com/watch?v=A5HP6D...
"Excerpts from Episode 6 (Tayseer Barakat) of the Documentary Series 'Salt of the Land.'" Vimeo, 3 Dec. 2018, vimeo.com/206754217.
Monitor, Palestine. "Tayseer Barakat Inspired by the Refugee Crisis." YouTube, YouTube, 12 Nov. 2018, www.youtube.com/watch?v=Yx1zyE...
"Tayseer Barakat." AlHoush House of Arab Art and Design, alhoush.com/en/video/13/.
Interview with artist: can be retrieved from DAF Foundation, Beirut, Lebanon.
+
-
CV
Selected Solo Exhibitions
2020
Shoreless Sea, Zawyeh Gallery, Ramallah, Palestine
2017
Lightness of Being, Zawyeh Gallery, Ramallah, Palestine
2014
Distant Voices, Zawyeh Gallery, Ramallah, Palestine
2013
Al Bareh Gallery, Adliya ,Kingdom of Bahrain
2012
Al Markhiya Gallery, Doha, Qatar
2011
Dar Al-Anda Gallery, Amman, Jordan
Dust, Dialogue and Iron, Kfar Yassin, Palestine
2010
Dust, Dialogue and Iron, Alexandria Biennial, Alexandria, Egypt
2009
Dust, Dialogue and Iron, Al-Mahatta Art Gallery, Ramallah, Palestine
2006
The Number That Turned Into a Name, Al-Hallaj Hall, Ramallah, Palestine
Dar Al-Anda Gallery, Amman, Jordan
Rafia Gallery, Damascus, Syria
1999
Arts & Crafts Village, Gaza, Palestine
1997
Cultural Centre Hall, Vienna Austria
1996
Al-Wasiti Art Center, Jerusalem, Palestine
Sao Paulo International Biennale, Sao Paulo
1993
Gallery Anadeil, Jerusalem, Palestine
1992
Gallery Anadeil, Jerusalem, Palestine
1986
Al-Hakawati Theatre, Jerusalem, Palestine
1984
Deir Ghassaneh, West Bank, Palestine
Selected Group Exhibitions
2020
Palestinian Art: Resilience and Inspiration, Zawyeh Gallery, at Alserkal Avenue, Warehouse #44, Alqouz, Dubai, UAE

2019

Objects of imagination, Jordan National Gallery, Jordan
A la Plume, Au Pinceau, Au Crayon, Dessins du Monde Arabe, Institut du monde, Paris, France
Challenges of Identity, Dar El Nimr, Beirut, Lebanon
Intimate Terrains: Representations of a Disappearing Landscape, The Palestinian Museum, Birzeit, Occupied Palestine
2018
Baalbek International Symposium, Baalbek, Lebanon
Jerusalem: 51 Years of Occupation, Zawyeh Gallery, Ramallah, Occupied Palestine
Subcontracted Nations,A. M. Qattan Foundation, Ramallah, Occupied Palestine
There Is A Light That Never Goes Out, Darat Al Funun, Amman, Jordan
2017
Inaugural exhibition of the Palestinian Museum, the Palestinian Museum Birzeit, Occupied Palestine
2016
The Gift Art Fair 2016, Al Ma'mal Foundation for Contemporary Art, Jerusalem, Occupied Palestine
Rendezvous, Zawyeh Gallery, Ramallah, Occupied Palestine
Our Homeland is Our Homeland, Yaser Arafat Museum, Ramallah, Occupied Palestine
Unlike other springs, Birzeit University museum, Birzeit, Occupied Palestine
Masters of Palestinian Art, season I, International Art Colony, Budapest, Hungary
2015
Narratives, Zawyeh Gallery, Ramallah, Occupied Palestine
2014
In Memory, Zawyeh Gallery, Ramallah, Occupied Palestine
Colors of life, Zawyeh Gallery, Ramallah, Occupied Palestine
2013
Triangle,Mojo Gallery, Dubai, UAE
Refraction: Moving Images On Palestine, P21 Gallery, London, UK
2011
Art Palestine: Nabil Anani, Sliman Mansour, Tayseer Barakat, Meem Gallery, Dubai, UAE
2010
Tayseer Barakat and Sleiman Mansour, Rafia Gallery, Damascus, Syria
Creative Palestinian Art, Artsawa, Alquoz, Dubai, UAE
2008
Three Stories, Um Al-Fahem Gallery, Um Al Fahem, Palestine
2007
حاضر غائب, Municipality hall, Tamra, Occupied Palestine
2005
Virtual Book, Library of Alexandria, Alexandria, Egypt
Three Cities against the Wall, Ramallah, Tel-Aviv, New York, at: ABC No Rio and 6th Street Community Center, New York, USA, Al-Hallaj Gallery, Ramallah, and Beit Ha'omanim, Tel Aviv, Occupied Palestine
2004
The Shadow of The Book, Alexandria Library, Alexandria, Egypt
2003
Made in Palestine, Station Museum of Contemporary Art, Houston, Texas, USA
2000
Journey through the Contemporary Arts of the Arab World, Darat al Funun, Amman, Jordan
Sharjah Biennial, Sharjah, UAE
1997
Artistes Palestiniens Contemporains, as a part of Palestinian Spring, Institut du Monde Arabe, Paris, France and various locations in France
1996
Sao Paulo International Biennale, Sao Paulo, Brazil
1993
Palestinian Art Exhibition, Museum of Modern Art, Stockholm, Sweden
1992
Seven Palestinian artists: Suleiman Mansour, Tayseer Barakat, Nabil Anani, Khalil Rabah, Jawad al Mahli, Yacoub al Kurd, and Vera Tamari, Darat al Funun, Amman, Jordan
Awards and Honors
2018
A. M. Qattan Foundation (AMQF) honoured the New Vision Collective, Ramallah, Occupied Palestine

2010
Alexandria Biennial Prize, Alexandria, Egypt.
Collections
The Birzeit University collection, Ramallah, Occupied Palestine
The collection of Bank of Palestine, Occupied Palestine
Jordan National Gallery of Fine Arts, Amman, Jordan
Barjeel Art Foundation, Sharjah, UAE
Ramzi and Saeda Dalloul Art Foundation (DAF), Beirut, Lebanon
Dar El Nimr, Beirut, Lebanon
Guggenheim, New York, USA