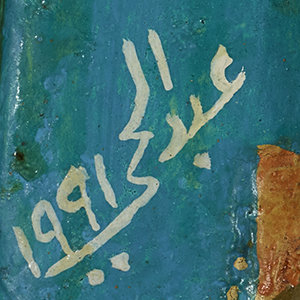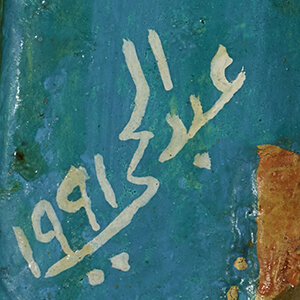 ABDULHAY MUSALLAM ZARARA, Palestine (1933 - 2020)
+
-
Bio
Written by Zeid El Amine
Abdulhay Musallam Zarara was born in the village of Al Duwayma, west of Hebron, Palestine, in 1933. A self-taught artist, he began painting and sculpting at the age of 39, but was prolific in his later years and participated in many exhibitions throughout the Middle East and Europe. His technique utilizes sawdust and glue to create sculptural paintings that portray the historical struggles and traditions of the Palestinian people.
Zarara was five years old when his father passed away, so he and his five sisters were brought up by their mother. Growing up, the artist split his time between school and working the land; his childhood in rural Palestine would later serve as inspiration for his work. During the Nakba of 1948, he escaped a Zionist massacre in Al Duwayma and became a refugee at the age of 15. He fled with his family to Syria, then Amman, where he worked as an electrician for the Jordanian Air Force. In 1967 he returned to Syria and joined the Palestinian Liberation Organization (PLO). When the PLO reorganized its operations following the Black September conflict in 1971, it sent Zarara to Libya, where he joined the Libyan air force.
During his time in Libya, Zarara saw a magazine cover with the face of an old Palestinian woman and the words "We will not forgive" below it. Recalling how, as a child, he once observed a carpenter mixing sawdust and glue to fill holes in wood, Zarara stuck the image onto a wooden slab and prepared a paste out of sawdust and glue. Lacking any drawing, painting, or sculpting skills, he then laid the paste upon the image and used it to mold the face of the woman. He then applied acrylic and oil paint onto the dry paste to produce distinctive reliefs. Zarara considers this moment the inception of his art practice.
After leaving Libya in the late 1970s, Zarara lived between Lebanon and Syria. Beirut became an essential place for the artist, who, in 1979, met Mustafa El Hallaj during a gathering of Palestinian artists there. This meeting sparked a lifelong friendship, and the artists shared a studio in the Yarmouk refugee camp of Damascus before Zarara settled in his Amman atelier in 1992. During the siege in 1982, Zarara staged an exhibition in the central ruins of downtown Beirut as an act of resistance against Israeli brutality. In 1987, he and Hallaj co-founded The Naji Al Ali Fine Arts Gallery in Damascus.
Zarara's works recreate scenes of everyday village life from his childhood and accentuate the features of Palestinian costume and embroidery. As the only son in a large family, he was allowed to join in otherwise gendered wedding celebrations where women dressed in traditional garb and chanted folklore songs. These events are visibly entrenched in works such as The Young Women's Dance (1986), where Zarara cheerfully depicts an ensemble of Palestinian women during a wedding celebration. Their simple faces counter their detailed patterned costumes, which are brought to life with varied shades of red, yellow and, green. The relief is inscribed with a handwritten verse from a popular Palestinian song in the upper background.
Zarara also draws from his years in exile to make works depicting Israeli slaughters and Palestinian resistance in creative, metaphorical terms. In his 2008 solo exhibition Fannan Wa Kaddiya (An Artist and a Cause), for example, the artist exhibited 23 reliefs in which Israelis are portrayed as monsters and Palestinians as heroes. Women are also exalted in Zarara's work, often shown morphing into various natural forms, as though part of the Palestinian landscape itself, or as physically larger than men as a challenge to gender inequality. In Al Hayat (Life) (2004),women are likened to trees with branches and leaves instead of hair.
Since 1971, Zarara has produced more than 600 artworks representing the Palestinian cause. In 2014 he was awarded the Mahmoud Darwish Award at Darat Al Funun in Amman, where the artist lived and dreamt of creating a museum to feature artworks symbolizing Palestine and its people until he passed away on August 1st, 2020.
Sources
التشكيلي الفلسطيني عبد الحي مسلم: من الفلكلور إلى الأسطورة يسحضر بيوت فلسطين. One Fine Art. https://www.onefineart.com/articles/palestinian-folklore/en
إسماعيل، سامر." عبد الحي مسلم ذاكرة القرية الفلسطينية". Al Araby(2017). https://www.alaraby.co.uk/diffah/arts/2017/1/27/%D8%B9%D8%A8%D8%AF-%D8%A7%D9%84%D8%AD%D9%8A-%D9%85%D8%B3%D9%84%D9%85-%D8%B0%D8%A7%D9%83%D8%B1%D8%A9-%D8%A7%D9%84%D9%82%D8%B1%D9%8A%D8%A9-%D8%A7%D9%84%D9%81%D9%84%D8%B3%D8%B7%D9%8A%D9%86%D9%8A%D8%A9
Makhoul, Bashir & Hon, Gordon. The Origins of Palestinian Art. London: Liverpool University Press, 2013.
"Abdul Hay Mosallam, Winner of the Mahmoud Darwish Award 2014- Darat al Funun". Darat Al Funun(2014). http://daratalfunun.org/?event=abdul-hay-musallam-winner-of-the-mahmoud-darwish-award-2014
نعيم، غازي." عبد الحي مسلم: شهادة الفنان إلى جانب الإنسان".الدستور.(2008). https://www.addustour.com/articles/458550-%D8%B9%D8%A8%D9%80%D8%AF-%D8%A7%D9%84%D8%AD%D9%8A-%D9%85%D8%B3%D9%80%D9%84%D9%85-%D8%B4%D9%87%D8%A7%D8%AF%D8%A9-%D8%A7%D9%84%D9%81%D9%86%D8%A7%D9%86-%D8%A5%D9%84%D9%89-%D8%AC%D8%A7%D9%86%D8%A8-%D8%A7%D9%84%D8%A5%D9%86%D8%B3%D8%A7%D9%86
العامري، علي. "عبدالحي مسلم... من الطيران إلى الفن التشكيلي" Emaratalyoum(2014). https://www.emaratalyoum.com/life/culture/2014-10-08-1.716056

+
-
CV
Selected Solo Exhibitions
2014
ريشة و بندقية, Bir Zeit University, Ramallah, occupied Palestine
Tales of Exile, Sharjah Art Foundation, UAE
Retrospective Exhibition, Sharjah Art Foundation, UAE
2011
Dar al-Anda, Amman, Jordan
2010
ذاكرة الأمل, مركز رؤى للفنون, Jordan
2008
فنان و قضية, Amman
2006
Mahfouza's Olive, Dar Al Anda, Amman,Jordan
2004
Resistance Art, Philadelphia University, Amman, Jordan
2003
Abdul Hay Mosallam, Zara Gallery, Amman, Jordan
1990
Zurich
Bern
Tehran, Iran
1984
Arhus, Denmark
1983
Goteborg, Sweden
Helsinki, Finland
1982
Beirut, Lebanon
1981
Oslo, Norway
1980
Beirut, Lebanon
1978
Tripoli, Libya
Selected Group Exhibitions
2014
Here and Elsewhere, New Museum, New York, USA
2011
Jean Genet- Act 2 Prisoners of Love, Nottingham Contemporary, England
Retrospective Exhibition, Jordan National Art Gallery, Amman, Jordan
2010
Sentences on the banks and other activities, Darat Al Funun, Amman, Jordan
2006
Jordanian Artists Association Exhibition, Amman, Jordan
2005
A Salute to Amman, Orfali Gallery, Jordan
Zara Gallery, Amman, Jordan
2003
Made in Palestine, Station Museum, USA
1972
Wings of Palestine, Tripoli, Libya
Collections
Barjeel Art Foundation, Sharjah, UAE
Sharjah Art Foundation, Sharjah, UAE
Dar Al Nimr, Beirut, Lebanon
Ramzi and Saeda Dalloul Art Foundation, Beirut, Lebanon
Jordan National Galleries of Fine arts, Amman, Jordan
The Khalid Shoman Foundation, Darat Al Funun, Amman, Jordan