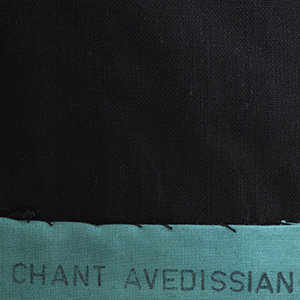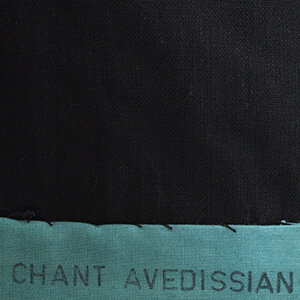 CHANT AVEDISSIAN, Egypt (1951 - 2018)
+
-
Bio
Written by Mysa Kafil-Hussain

"I do not do art... I have to do what I do, as an Armenian born in Egypt and against all Western influences. I don't do art. I do fighting against influences. I paint, it's not political art, but it's an attitude."
Chant Avedissian[1]
Chant Avedissian, a son of Armenian refugees who fled war and genocide in 1915-1916, was born in 1951 in Cairo, Egypt. The Christian-Armenian traditions he was raised with, mixed with Egyptian education, increasing Arab nationalism and the Islamic culture, which dominated Cairo, ensured that a young Avedissian was exposed to a range of identities and influences. Despite being born and raised in Egypt, the artist did not feel limited by his nationality or the culture surrounding him: "I carry an Egyptian passport and therefore, I'm an Egyptian, period. Of course, holding a passport of a country does not mean you fully embrace or are fully aware of the culture of that people... You pick and choose what you want. It is not a matter of pre-packaged culture that you just carry with you."[2] The cross-cultural context of his upbringing resulted in vibrant, hybrid artworks which cemented his position as one of Egypt's most recognizable artists, using photography, textiles, painted stencils, Pharaonic hieroglyphs, Ottoman, Bedouin and other Islamic design, all mixed with images of pop culture icons of the past.[3]
Avedissian left Egypt in the 1970s to study at Montreal's School of Art and Design in Canada, and Paris' École Nationale Supérieure des Arts Décoratifs in France.[4] Studying fine art and printmaking respectively, Avedissian received a solid grounding in formal artistic training and learnt a range of techniques. He graduated in 1980, left Paris for home and arrived back in Egypt that same year. Throughout the 1980s, Avedissian worked with the Aga Khan Foundation with the renowned architect, Hassan Fathy, known by many as "Egypt's architect of the poor"[5] and "the Middle East's father of sustainable architecture."[6] Fathy had a profound impact on the development of Avedissian's work in the ten years he assisted the architect, inspiring him to look further into the traditions of local artisanship, crafts and traditional materials. A friend of Fathy's who also happened to be an art collector and historian – Shahira Mehrez – also took great interest in Avedissian's work, encouraging him to use her art book, costume, and local craft collections for inspiration and research.[7]
Avedissian's venture into the world of textiles and crafts in the 1980s was directly influenced by his observance of Fathy's architectural world and almost an homage to the late architect, who passed away in 1989. Elements of regional brickwork, patterns, structures and a range of motifs crept into his work, and especially in his textile hangings, which formed the core of his first exhibition of textiles in 1985, organized by Mehrez and curated by Fathy.[8] It is entirely possible that the untitled textile hanging, dated 1985, in the Dalloul Collection was exhibited in this landmark exhibition, and is a clear example of Avedissian's architectural approach to textile design, resembling an amalgamation of a geometric window structure with layered, colourful brickwork, and echoing much of the lessons Avedissian would have learnt from Fathy's architectural oeuvre.[9]
Although he was becoming better known as an artist, his reputation gained significant traction from the 1990s onwards with his stencil works, often – but not always – referencing cultural icons and moments from the Arab world and wider Middle East. The 1991 Gulf War was reportedly a watershed moment for Avedissian, despite his fears of it spreading to Egypt not coming true. This moment pushed him to make works which focused on local history and memory, beginning his well-known masterpiece Icons of the Nile, a large-scale installation containing 120 drawings showing recognizable Egyptian cultural and political figures, which he worked on from 1991-2004.[10] In his own words, his Cairo Stencil series was his effort to "invent an identity".[11]
The Cairo Stencils drew inspiration from magazines, newspapers and billboards from the 1950s and 1960s, Egypt's golden age in movies and media. Fueled by a desire to provide a comedic and thought-provoking commentary on Egyptian cultural nostalgia and also a fear that local history would one day disappear, Avedissian also wanted to highlight an era of cosmopolitanism, and according to writer and curator Rose Issa, a country which was full of "spies and tradesmen, Greeks, Italians, Muslims, Copts, Jews, Armenians, Palestinian refugees, Europeans and a great number of Middle Eastern intellectuals."[12] The art of stenciling, for Avedissian, gave him the freedom of variation within his work, focusing on color, backgrounds and patterns. His use of corrugated cardboard as a canvas for his stencils, already awash with ribbed pattern, was inspired by the nomadic culture of the Arab Bedouins, with their ease of moving homes and possessions. The cardboard scrolls, easily found in Cairo's markets, were not only easy to produce, pack and transport, but could also be rearranged again and again, telling multiple stories.[13]
His artwork entitled Sawt Al Arab (2008) in the Dalloul Collection is one of the many artworks he created on corrugated cardboard panels, and also displaying popular icons from history. Meaning 'the voice of the Arabs', Avedissian repeatedly stencils an eclectic range of figures – flanked by a energetic background of militia men – including the popular Arab singer, Um Kulthoum (1898-1975) and President Gamal Abdel Nasser (1918-1970), both of whom featured regularly on a Cairo radio broadcast from the early 1950s, also entitled 'Sawt al-Arab'.[14] Avedissian grew up during the peak of Nasserist pan-Arabism, and it informed much of the cultural and political output for many decades to come, as did Um Kulthoum's music, which transcended Egypt and became synonymous with Arab musical culture for much of mid-20th Century. The third figure, Sayed Jamaleddine al-Afghani (1838-1897) is a more obscure addition, as a religious modernizer and political adventurer,[15] but his position as an anti-imperial campaigner may have put him in the same category of decolonial imagery, reclaiming Arab – and Middle Eastern – identity.
Avedissian's success and popularity continued in more recent years. In 2013, he broke auction records for the sale of his work Icons of the Nile, selling for $1,565,000 at Sotheby's. This also positioned him as the highest selling Arab living artist at the time.[16] He continued to produce new work, including a range of artistic fans heavily influenced by East Asian culture, and also continued to exhibit across the world until his death in 2018, passing away in Cairo at the age of 67 after several years battling lung cancer.[17] His legacy remains as one of Egypt's most successful artists, having carefully established meaningful connections between modern and ancient art, and reclaimed the often-exploited concept of nostalgia. Additionally, although clearly influenced by aspects of Western art over the years, he stood strongly against the tendency to measure non-Western art by Western standards, and, in his words, against the "Western, colonial and imperialistic influence on Eastern art,"[18] pushing local artists and art lovers to feel pride and a desire to learn more about their art, culture and heritage.

[1] Katerina Gregos, "Chant Avedissian", Sabrina Amrani Gallery: Chant Avedissian – Texts, 2017, https://www.sabrinaamrani.com/the-gallery/artists/Chant-Avedissian/texts/chant-avedissian-katerina-gregos
[2] Gregos, "Chant Avedissian"
[3] HyeTert, "Egyptian-Armenian artist Chant Avedissian dies at 67", HyeTert, October 28, 2018, https://hyetert.org/2018/10/28/egyptian-armenian-artist-chant-avedissian-dies-at-67/
[4] Smithsonian National Museum of African Art, "Chant Avedissian", Smithsonian National Museum of African Art: Exhibits, 2000, https://africa.si.edu/exhibits/avedissian/rightartist.htm
[5] HyeTert, "Egyptian-Armenian artist Chant Avedissian dies at 67"
[6] Gregos, "Chant Avedissian"
[7] Gregos, "Chant Avedissian"
[8] Ibid
[9] Nigel Ryan, "Algebraic formulations: The work of Chant Avedissian", Sabrina Amrani Gallery: Chant Avedissian – Texts, 2017, https://www.sabrinaamrani.com/the-gallery/artists/Chant-Avedissian/texts/chant-avedissian-algebraic-formulations
[10] HyeTert, "Egyptian-Armenian artist Chant Avedissian dies at 67"
[11] Gregos, "Chant Avedissian"
[12] Ryan, "Algebraic formulations: The work of Chant Avedissian"
[13] Gregos, "Chant Avedissian"
[14] Laura James, "Whose Voice? Nasser, the Arabs, and 'Sawt Al-Arab' Radio", Arab Media & Society, June 1, 2006, https://www.arabmediasociety.com/whose-voice-nasser-the-arabs-and-sawt-al-arab-radio/
[15] Nigel Ryan, "Redressing identity: The work of Chant Avedissian", Masress, November 01, 2018, https://www.masress.com/en/ahramweekly/125758
[16] Ahram Online, "Egyptian Chant Avedissian sets contemporary art auction record in Doha", Ahram Online: Arts & Culture, April 23, 2013, http://english.ahram.org.eg/NewsContent/5/25/69986/Arts--Culture/Visual-Art/Egyptian-Chant-Avedissian-sets-contemporary-art-au.aspx
[17] Ahram Online, "Egyptian visual artist Chant Avedissian dead at 67", Ahram Online: Arts & Culture, October 24, 2018, http://english.ahram.org.eg/NewsContent/5/25/315042/Arts--Culture/Visual-Art/Egyptian-visual-artist-Chant-Avedissian-dead-at-.aspx
[18] Gregos, "Chant Avedissian"
Sources
Ahram Online: "Egyptian visual artist Chant Avedissian dead at 67". Ahram Online: Arts & Culture. October 24, 2018. Accessed September 2020. http://english.ahram.org.eg/NewsContent/5/25/315042/Arts--Culture/Visual-Art/Egyptian-visual-artist-Chant-Avedissian-dead-at-.aspx
Ahram Online: "Egyptian Chant Avedissian sets contemporary art auction record in Doha". Ahram Online: Arts & Culture. April 23, 2013. Accessed September 2020. http://english.ahram.org.eg/NewsContent/5/25/69986/Arts--Culture/Visual-Art/Egyptian-Chant-Avedissian-sets-contemporary-art-au.aspx
Gregos, Katerina. "Chant Avedissian". Sabrina Amrani Gallery: Chant Avedissian – Texts. 2017. Accessed September 2020. https://www.sabrinaamrani.com/the-gallery/artists/Chant-Avedissian/texts/chant-avedissian-katerina-gregos
HyeTert: "Egyptian-Armenian artist Chant Avedissian dies at 67". HyeTert. October 28, 2018. Accessed September 2020. https://hyetert.org/2018/10/28/egyptian-armenian-artist-chant-avedissian-dies-at-67/
James, Laura. "Whose Voice? Nasser, the Arabs, and 'Sawt Al-Arab' Radio". Arab Media & Society. June 1, 2006. Accessed September 2020. https://www.arabmediasociety.com/whose-voice-nasser-the-arabs-and-sawt-al-arab-radio/
Ryan, Nigel. "Algebraic formulations: The work of Chant Avedissian". Sabrina Amrani Gallery: Chant Avedissian – Texts. 2017. Accessed September 2020. https://www.sabrinaamrani.com/the-gallery/artists/Chant-Avedissian/texts/chant-avedissian-algebraic-formulations
Ryan, Nigel. "Redressing identity: The work of Chant Avedissian". Masress (Originally published in Al-Ahram Weekly). November 01, 2018. Accessed September 2020. https://www.masress.com/en/ahramweekly/125758
Smithsonian National Museum of African Art: "Chant Avedissian". Smithsonian National Museum of African Art: Exhibits. 2000. Accessed September 2020. https://africa.si.edu/exhibits/avedissian/rightartist.htm
+
-
CV
Selected Solo Exhibitions
2018
Al Musiqa, voix et musiques du monde arabe, Paris Philharmonie, Paris, France
A Levantine Heading East, Casa Arabe, Cordoba, Spain
Art Basel in Miami (with Sabrina Amrani Gallery), Miami, United States of America
Art Basel in Hong Kong (with Sabrina Amrani Gallery), Hong Kong, China
2017
Transfer, Transport, Transit, Sabrina Amrani Gallery, Madrid, Spain
Abu Dhabi Art (with Sabrina Amrani Gallery), Abu Dhabi, United Arab Emirates
2006
Gallery Janine Rubeiz, Beirut, Lebanon
2000
National Museum of African Art: Smithsonian Institute, Washington D.C., United States of America
1998
New Stencils on Arab Women, British Council, Cairo, Egypt
1996
Panels and Stencils, Tropenmuseum, Amsterdam, Holland
1995
Icons of the Nile, Leighton House Museum, London, United Kingdom
1994
Icons of the Nile, Galerie 50x70, Beirut, London
1992
British Council, Cairo, Egypt
1991
Private Residence Exhibition, Cairo, Egypt
1990
Institut du Monde Arabe, Paris, France
1988
Manial Palace, Golden Hall, Cairo, Egypt
1985
Cairo, Egypt
1979
Armenian General Benevolent Union (AGBU) Centre Art Gallery, Los Angeles, California, United States of America
Carzou Hall, Kalousdian Armenian School, Cairo, Egypt
1978
Atelier of Alexandria, Alexandria, Egypt
1976
Carzou Hall, Kalousdian Armenian School, Cairo, Egypt
1974
Carzou Hall, Kalousdian Armenian School, Cairo, Egypt
1973
Carzou Hall, Kalousdian Armenian School, Cairo, Egypt
1971
Tekeyan Armenian Cultural Association, Montreal, Canada
Tekeyan Armenian Cultural Association, Boston, United States of America
1970
Carzou Hall, Kalousdian Armenian School, Cairo, Egypt
1969
Kalousdian Armenian School Parents' Council, Cairo, Egypt
Selected Group Exhibitions
2017
From Sound to Silence, Galerie Tanit, Beirut, Lebanon
2015
Adventures of the Black Square: Abstract Art and Society 1915-2015, Whitechapel Gallery, London, United Kingdom
2014
What Remains Part I, Rose Issa Projects, London, United Kingdom
2012
Re-Orientations II, Rose Issa Projects, London, United Kingdom
Green: A Spring Hanging, Rose Issa Projects, London, United Kingdom
2010
Arabicity, Beirut Exhibition Centre, Beirut, Lebanon
2009
Taswir-Pictorial Mappings of Islam and Modernity, Martin-Gropius Bau Museum, Berlin, Germany
2008
Re-Orientations: Contemporary Arab Representations, European Parliament, Brussels, Belgium
2003
Love Affairs, IFA Galleries, Stuttgart, Bonn & Berlin, Germany
1998
The Shape of Memories, Berchem Cultural Centre, Antwerp, Belgium
1995
The Art of African Textiles, Barbican Centre, London, United Kingdom
Gwangju Biennale, South Korea
1984
Fotografia Mediterrania, Centre Cultural de la Caixa de Pensions, Barcelona, Spain
Public Exhibitions
2019
ARCOmadrid (with Sabrina Amrani Gallery), Madrid, Spain
2018
Artissima (with Sabrina Amrani Gallery), Turin, Italy
ARCOmadrid (with Sabrina Amrani Gallery), Madrid, Spain
2017
Artissima (with Sabrina Amrani Gallery), Turin, Italy
Art Brussels (with Sabrina Amrani Gallery), Brussels, Belgium
Collections
National Museum of African Art - Smithsonian Institution, Washington, US
British Airways Collection, London, United Kingdom
The British Museum, London, United Kingdom
British Council, Cairo, Egypt
Jordan National Gallery of Fine Arts, Jordan
National Museums of Scotland, Edinburgh, Scotland, UK Tropenmuseum, Amsterdam, The Netherlands.
Ramzi & Saeda Dalloul Art Foundation, Beirut, Lebanon