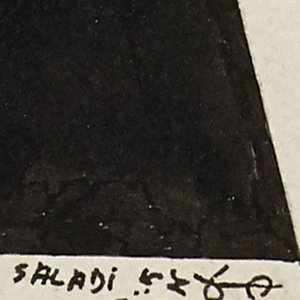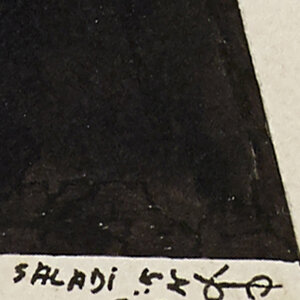 ABBES SALADI, Morocco (1950 - 1992)
+
-
Bio
Abbes Saladi was born in Marrakech, Morocco, in 1950. He interrupted his Philosophy studies in Rabat in 1977 due to health reasons and returned to his hometown, where he used to paint and sell his works at the square of Jama EL Fnaa. In his works, Saladi mostly depicted scenes of his native country while borrowing his patterns from the Arab-Muslim imagination. The artist's stylized paintings are figurative and surrealist: he used hybrid bodies, distorted people, and unreal characters, combining plants, animals, and humans to create a strange world.
His colors are luminous but subtle, and his stokes are transparent. He drew his lines with extreme precision. For Saladi, the act of creating contained in itself a healing process: it is a way for his inner world to resurface. Through art, he combated his depression, freed himself from taboos and grief.
Saladi passed away in Marrakech in 1992.
This is a short biography. The full version , along with research, CV and sources will be posted soon. Stay tuned and visit us often or become a member to be notified of our updates.