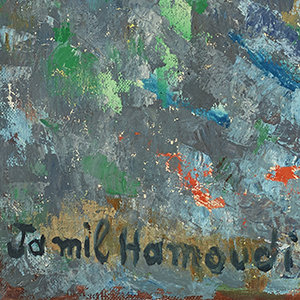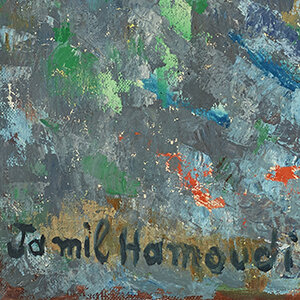 JAMIL HAMMOUDI, Iraq (1924 - 2003)
+
-
Bio
Born in 1924 in Iraq, Jamil Hammoudi is an Iraqi sculptor and painter. He commenced his artistic journey as a self-taught sculptor creating statues in a naturalistic style. In 1944, he studied at the Baghdad College of Fine Arts in Iraq, while teaching drawing and art history at local schools in Baghdad. He graduated in 1945, after which he left for Paris in 1947 to study at École Nationale Supérieure des Beaux-Arts, Académie Julian, and École du Louvre, based on government-granted scholarships. Bedsides, the artist underwent excessive research on Assyrian-Babylonian art and language. In 1971, he co-founded the One Dimension Group, started by artist Shaker Hassan Al Said, who strived to introduce Sufi traditions into contemporary abstract art. In 1973, Hammoudi became Director of Fine Arts at the Ministry of Culture in Baghdad.

Hammoudi is mostly known for his innovative calligraphic depictions and abstracted figurations. He took traditional Arabic calligraphy to a higher level. A member of the Hurufiyya movement, he presented traditional calligraphy as a modern phenomenon. Through its impregnated aesthetic impulse, Hammoudi associated calligraphy with spirituality. The artist merged western abstraction, mainly cubism, with his own cultural traditions to produce a new visual lexicon in modern Iraq.

His paintings are brightly colored and amass repetitive geometrical patterns and angular formations which resonate with Islamic ornamental Arabesque. Initially, a sculptor, Hammoudi, adopted different materials in his sculptural creations, including stone, wood, metal, copper, glass, marble, and Plexiglas. Aside from being an instrumental visual artist in modern Iraq, Hammoudi was also a critic who had published extensively on art.
The artist passed away in 2003 in Cairo.
This is a short biography. The full version , along with research, CV and sources will be posted soon. Stay tuned and visit us often or become a member to be notified of our updates.