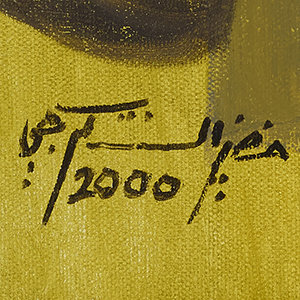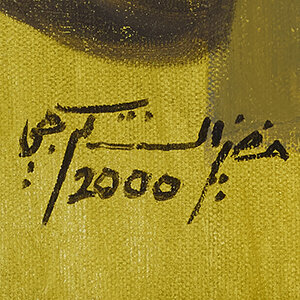 KHADEIR AL SHAKARJI, Iraq (1937 - 2006)
+
-
Bio
Written by Mysa Kafil-Hussain
Khadeir Al Shakarji was born in 1937 in Baqouba, a city to the northeast of the capital Baghdad, and belongs to the 1960s generation of Iraqi artists - the decade his career as a painter began to flourish. Al Shakarji studied painting at the Academy of Fine Arts in Baghdad, where he would later teach for many years. After graduating, he joined the Baghdad Modern Art Group, where he became greatly influenced by prominent members of the group including Shakir Hassan Al Said and Jabra Ibrahim Jabra. Joining the Baghdad Modern Art Group was a "natural" choice for the artist according to fellow artist Nizar Selim.[1] Their notion of 'istilham al-turath' (seeking inspiration from tradition) resonated with Al Shakarji, whose artwork was characterized by folkloric motifs, objects and local scenes, often with a cubist approach.
By the 1970s, he had moved on to a more experimental and formative phase, whilst still exploring similar local themes.[2] His untitled painting from 1976, which is in the Dalloul Art Foundation Collection, shows his continued inclination towards these traditional images. Women, most likely from rural communities in the south of Iraq, huddle together with a child, almost as though they are hiding either under their tent or under a black cloak. The artist was known for his focus on women and their lived environments in Iraq, seeing them as a symbol of fertility and humanity, featuring them heavily in his work over his entire career.[3] Here, their facial tattoos, as well as their attire, are the clearest signs in identifying that these women are not from urban areas and could be Bedouins from the marshlands. Al Shakarji's desire to depict these communities and the inclusion of their specific regional and cultural markers show his interest in exploring aspects of his heritage but in an experimental manner, like many of his colleagues in the Baghdad Modern Art Group and many other artists of that period. Al Shakarji explores the possibilities of simple shapes (here very rounded and fluid) and an intentional purity of color, using the same colors again and again but varying the tones accordingly, creating an image, which is simultaneously muted but also awash with darkness and drama. The artist's work had gradually become darker and more figurative over this stage of his career, moving further into the direction of social commentary,[4] although he progressed into works with more color and energy in later decades.
Throughout the 1980s and 1990s, Al Shakarji continued to paint and exhibit his work across the region, winning prizes in both Qatar and Kuwait in the early 1980s, all whilst teaching at the Academy of Fine Arts in Baghdad. His 1996 painting, Imra't fi-Harb al-Rih (meaning 'woman in a war of the wind'), which is also in the Dalloul Art Foundation Collection, is a much more colorful composition, and one which continues his themes of local and traditional representations, and could be considered similar to Faik Hassan's style of popular realism.[5] Both artists had an academic understanding of art as a foundation, fused delicately with aspects of Iraqi heritage, although in Al Shakarji's case we can sometimes see this develop into what the writer Mady Hassan Neama considers a somewhat tokenistic or forced use of orientalist tropes in his attempts to emphasize culture and heritage.[6] Regardless, Al Shakarji was painting the world around him and was also deeply influenced by the pioneering artists who came before him, such as the Baghdad Modern Art Group's founder, Jewad Selim. Selim's techniques for drawing and painting faces and bodies, especially evident in his 1956 artwork Baghdadiyat and other figural depictions, show wide eyes, small mouths and a heavily linear quality mixed with the use of circles and crescent shapes to form the body as a whole. This combination was used by artists to visualize and express popular folklore, and Al Shakarji uses these influences in his own way, as can be seen clearly in his abstract rendering of faces and bodies.
His third artwork in the collection, an untitled painting from 2000, continues these themes but this time bursting with energy and color embodied by Al Shakarji's musician and onlookers. Despite the artist's formal distribution of units, and his simplistic formation of the crowded figures, as above, the image does not remain static, and instead moves with a musical dynamism created by the strong, expressive and colorful lines dancing around the canvas, as if the melodies have taken on a rhythmic, physical form. This work is evidently cubist and somewhat traditional in nature, however he adds modern, expressionist techniques to breathe new life into the scene.
"His original cubism has remained as a foundation for his superimposed compositions, thus balancing the aesthetic abstract against the emotional significant"
Jabra Ibrahim Jabra on Khadeir Al Shakarji[7]
Khadeir Al Shakarji passed away in 2006 at the age of 69. His work, whilst often rooted in the traditions of both formal, academic art and local folkloric imagery, was also concurrently an exploration of modernism in its many forms. By marrying abstraction with cubism and often with expressionism and sometimes minimalism, Al Shakarji was able to experiment with aspects of popular, social realities, local heritage and the role of women, in compositions, which were rooted in the desire for a renewed Iraqi visualisation of modern art which related to and was grounded in its environment.

[1] Nizar Selim (1977), Iraq Contemporary Art, p. 146
[2] Mohammed Ta'ban (1979), "الفنان خضير الشكرجي", p.98
[3] Ta'ban (1979), p.99
[4] Jabra Ibrahim Jabra (1983), Grass Roots of Iraqi Art, p. 54
[5] Mady Hassan Neama (n.d.), "تجربة خضير الشكرجي التشكيلية واقعية شعبية مستعدة من النسغ الأنساني", n.pag
[6] Ibid
[7] Jabra (1983), p.54
Sources
Jabra, Jabra Ibrahim (1983). The Grass Roots of Iraqi Art, Wasit Graphic and Publishing Limited: Baghdad, Iraq
Neama, Mady Hassan (N.D.). "تجربة خضير الشكرجي التشكيلية واقعية شعبية مستعدة من النسغ الأنساني", In Elsada.net. Accessed July 2020. http://elsada.net/79567/
Selim, Nizar (1977). Iraq Contemporary Art: Volume 1 – Painting. Sartec: Lausanne, Switzerland
Ta'ban, Mohammed (1979). "الفنان خضير الشكرجي", In الطليعة الأدبية, No. 3. Publisher Unknown: Iraq, pp.97-101
+
-
CV
Selected Solo Exhibitions
2000
Khudayer al-Shakarchi, Dijla Art Gallery, Baghdad, Iraq
1996
Orfali Gallery, Baghdad, Iraq
1983
Orfali Gallery, Baghdad, Iraq
Selected Group Exhibitions
2014
Sky over the East, Emirates Palace, Abu Dhabi, United Arab Emirates
2013
Art from Iraq, Al Mashreq Gallery, Kuwait
2008
Oil on Landscape: Art from Wartime Contemporaries of Baghdad, Pomegranate Gallery, New York, United States of America
2002
Rhythms of Heritage (with Sattar Loqman, Sahib al-Rikabi & Mehdi al-Asadi), Al-Rewaq Gallery, Baghdad, Iraq
1990
Khadeir al-Shakarji & Khudher Gergis, Saddam Arts Center, Baghdad, Iraq
Seventh Annual Summer Exhibition, Orfali Gallery, Baghdad, Iraq
1985
Orfali Gallery, Baghdad, Iraq
1983
Kuwait Biennal, Kuwait
1980
Exhibition of The Seventh Group, Baghdad, Iraq
Qatar Exhibition for Gulf Countries, Qatar
1975
Iraqi Plastic Artists Society Exhibition, Damascus, Syria
1974
Iraqi Artists Society: 16th Annual Exhibition, Baghdad, Iraq
First Arab Biennale, Baghdad, Iraq
1972
Al Wasiti Festival, Baghdad, Iraq
Awards
1983
Honorary Award, Kuwait Biennal, Kuwait
1980
Honorary Award, Qatar Exhibition for Gulf Countries, Qatar
Collections
Barjeel Art Foundation, Sharjah, United Arab Emirates
Jordan National Gallery of Fine Arts, Amman, Jordan