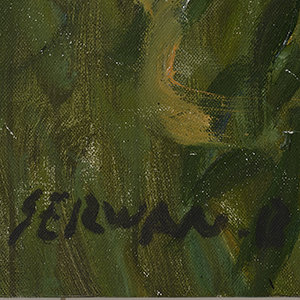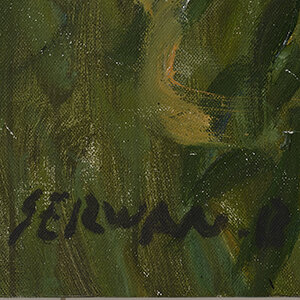 SERWAN BARAN, Iraq (1968)
+
-
Bio
Written by Wafa Roz
Serwan Baran is an Iraqi Kurdish artist born in 1968 in Baghdad. He studied at the University of Babylon, College of Fine Arts, and graduated in 1992. Following his graduation, the artist taught at The Baghdad University, College of Fine Arts, for seven years. Baran participated at the Summer Academy at Darat Al Funun in Amman, Jordan, in 2000, during which he benefited from the mentorship of Syrian master modernist Marwan Kassab-Bachi. He later became a member of the International Association of Art, the Iraqi Fine Artists' Association, and the International Network for Contemporary Iraqi Artists.
Throughout his post-secondary education, Baran drew inspiration from the environment surrounding the University of Babylon. The institution situated amidst the ruins of the ancient city, the artist was immersed in the legacy of one of the richest civilizations of the ancient world, absorbing the mythology and visual culture of the Babylonians.
Baran's interest in the histories of the distant past led him to Nimrud, an ancient Assyrian city just south of Mosul, in a quest to find the remains of the legendary tower of Babel. Though evidence of the great tower never emerged, the artist was thrilled when he found an impressive mud structure that stood 400 meters tall. This place became an almost sacred site for the artist, who visited and painted it many times.
After college, the artist attended classes at the University of Baghdad taught by Faik Hassan, by that point, a well-established and influential figure in the region. Though his training had not bound him to the constraints of the techniques that dominated Hassan's curriculum, Baran still learned a great deal from the prominent artist. Under his tutelage, he discovered the aesthetic power of reductive forms and free lines and further explored the expressive language of color. Baran's exposure to the clay-rich soil and ancient ruins of Iraq is reflected in his preferred color palette, which draws primarily from earthy browns, reds, and ochres.
During the 1990s, Baran produced works depicting the diverse popular culture of Iraq, incorporating elements of both realism and expressionism into his paintings in varying degrees. Fusing folkloric scenes with daily social happenings, he painted Bedouins in colorful outfits, rural celebrations, aged working men in old souks, and shepherds in natural landscapes. He created pictures that integrated the bitter and the blessed in the Iraqi social panorama, exploring the human condition across all strata of society. Throughout his career, Baran would reflect on political themes as well, conveying his cynical views in strident iconography. Numbers appear in his paintings as symbols of dehumanization, alluding to the reduction of citizens to statistics by careless governments, and distorted portraits of military generals suggest the ethical corruption and hypocrisy of war.
Nearing 2000, Baran had quenched his thirst for social and cultural exploration. He focused more on illustrating horses in motion, accentuating the movement of his gestural brushstrokes and fluidity of his lines. His style began to stray from the semi-realistic, dense compositions, adopting more playful, expressive elements that drifted into figurative abstraction. Though he had painted primarily in oil up until this point, the artist began to experiment with acrylic paint, drawn to the medium by its sensual fluidity.
Since 2003, Baran's approach has become one of dialogue, juxtaposition, and, above all, experimentation. He has strayed further into abstraction and delved into more vulnerable subject matters, exploring tension, anxiety, and eroticism in recent work. Baran's latest solo exhibitions have illustrated developments in style as well as the content of his work. In 2013's Living on the Edge, held by Nabad Gallery in Amman, the artist commented on the contemporary state of the region in a series of emotionally-charged composite portraits, characterized by the high contrast between vibrantly-colored figures and somber, monochromatic backgrounds. These paintings convey existential angst through the artist's dry humor, populated by exaggerated, distorted characters that variously fuse into one another and pull apart. The sense of disorientation fostered by these paintings is at once personal and social, evoking themes of romance and isolation as well as frustration with contemporary politics. In Canines, hosted by the Agial Gallery in Beirut in 2018, the artist also presented canvases replete with the fusion of bodies; this time, however, the bodies belonged to dogs. Painted in tones simultaneously brilliant and earthy, in brush strokes simultaneously fluid and rough, the paintings explore the capacity of acrylic paint for varying levels of transparency in frenzied images of hounds scrambling as well as sober, skeletal portraits.
The artist currently resides in Beirut.
Sources
سيروان باران: استثمرنا محليتنا العراقية وقدمناها كتجربة إلى العالم،- اسكندر حبش Accessed December 12,2017.http://www.jehat.com/ar/Tashkeel/hawart/Pages/1-11-10.aspx
AlDoha Magazine. Accessed December 12, 2017. http://www.aldohamagazine.com/Print.aspx?n=27596925-1526-45C5-88C1-A1E5C80E4427&d=20130701.
الجديد, الصباح. ""موجو".. سيروان باران يختزل صراع البشر مع الحياة والموت." جريدة الصباح الجديد. October 04, 2015. Accessed December 12, 2017. http://newsabah.com/newspaper/62418.
"التشكيلي العراقي سيروان باران: المغامرة تؤسس لإنجازاتي الإبداعية." الرئيسية. Accessed December 12, 2017. https://aawsat.com/home/article/377901/
داوود, سامي. "أشكال منزوعة الإطار في أعمال سيروان باران." Almodon. Accessed December 12, 2017. http://www.almodon.com/culture/2017/1/19
Zayni, Ali. IraqiArt.com -: Accessed December 12, 2017. http://www.iraqiart.com/inp/view.asp?ID=1135
Nader, Suheil Sami. Press. Serwan Baran.com.Accessed December 12, 2017. http://www.serwan.com/Press.htm
Buland al-Haidari, "Jawad Salim and Faiq Hassan and the Birth of Modern Art in Iraq," in Modern Art Iraq Archive, Item #170, https://artiraq.org/maia/items... (accessed December 12, 2017).
YouTube Sources
Interview with the Artist
Uploaded by: Ghassan Art
https://www.youtube.com/watch?v=yNxb6gShvXE&t=9s
Description of the Artist's Profile:
Uploaded and Presented by: Marwan Alduleme Yassin
https://www.youtube.com/watch?v=lIqzNHq1qro&t=305s

+
-
CV
Selected Solo Exhibitions
2020
Indelible Memory, Galerie Misr, Cairo, Egypt
Harsh Beauty, Saleh Barakat Gallery, Beirut, Lebanon

2019
Fatherland, Solo exhibition at the Iraq pavilion, Venice Biennale, Italy
2018
Canines, Agial, Beirut, Lebanon
2013
Livingon the Edge, Nabad Art Gallery, Amman, Jordan
Elected, Matisse Art Gallery, Morocco
2012
Whispers, Orfali Art Gallery, Amman, Jordan
2011
Duhok Gallery, Duhok, Iraq
2010
Saradam Gallery, Sulaymania, Iraq
2007
Art House Gallery, Damascus, Syria
Tche Wa Gallery, Tokyo, Japan
2006
Orfali Art Gallery, Amman, Jordan
2003
Dominican Republic
2000
Dar Al Anda gallery, Amman, Jordan
1991
Al Riwaq Gallery, Baghdad, Iraq
Selected Group Exhibitions
2019
Objects of imagination, Contemporary Arab Ceramics exhibition, The Jordan National Galleries of Fine Arts, Amman, Jordan
Speaking Across Mountains: Kurdish Artists in Dialogue,the Middle East Institute (MEI Art Gallery), Washington DC, USA
13th. Cairo Biennale, Cairo, Egypt
2018
Face Value: a brief history of portraiture in Lebanon, Saleh Barakat Gallery, Beirut, Lebanon
2017
Ourouba: The Eye Of Lebanon, Group exhibition at the Beirut Art Fair, curated by Rose Issa, Beirut, Lebanon
2015
Codes, Serwan Baran and Cheikhou Ba, Mojo Gallery, Al Serkal Avenue, Dubai, UAE
2013
Group Exhibition For : " Muhanna Al-Dura , Abdel Raouf Chamoun , Mohammad Al-Ameri And Serwan Baran, Orient Gallery, Amman, Jordan
Al Markhiya Gallery, Doha, Qatar
2012
Albareh Art Gallery, Bahrain
Dar Al-Anda Gallery, Amman, Jordan
Marrakech Biennale, Morocco
2011
Al Kharafi Biennale, Kuwait
Al Riwaq Art Space, Bahrain
2008
10x10, Orfali Art Gallery, Amman, Jordan
2006
Modern Iraqi Art Exhibition, Iraq
2003
Khanji Gallery, Aleppo, Syria
2002
Baghdad, Iraq International Biennale, Baghdad, Iraq
1999
Cairo Biennale, Egypt
1994
Hewar Gallery, Baghdad, Iraq
1991, 1992, 1993, 1994, 1995

Iraqi Modern Art exhibition, Amman - Cyprus - Qatar

Awards
2002
Honorary Medal, Cairo 7th Biennial, Egypt
Discretionary award of Baghdad Biennial, Iraq
1995
Golden Prize, Iraqi Contemporary Art Exhibition, Iraq
1994
Second Prize, Iraqi Contemporary Art Exhibition, Iraq
1990
First Prize for youth, Baghdad, Iraq
Collections
Ramzi and Saeda Dalloul Art Foundation, Beirut, Lebanon
Ibrahimi Collection, Jordan, Amman
+
-
Documents
Canines
Natasha Gasparian
Agial Art Gallery, English/Arabic, 2018
Exhibition catalogue
فنان الجمال والقسوة  فاروق يوسف  صحيفة العرب.pdf