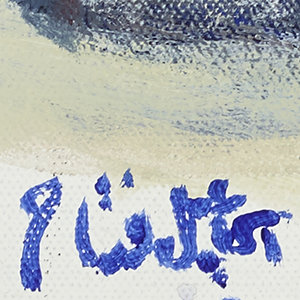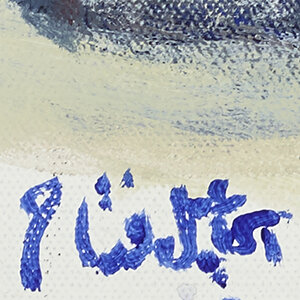 ISMAEL FATTAH, Iraq (1934 - 2004)
+
-
Bio
Written by Mysa Kafil-Hussain

Born in 1934 in Basra, Iraq, Ismael Fattah Al Turk began his studies at the Institute of Fine Arts in Baghdad in 1952. Prior to his graduation in 1958, when he earned degrees in both painting and sculpture, the young artist was a student of pioneering Iraqi modernist Jewad Selim. From 1961 to 1964, Fattah pursued further studies in Rome's Accademia di Belle Arti, where he focused on sculpture, and then at the Accademia San Giacomo, also in Rome, where he studied ceramics. Upon his return to Iraq in the mid-1960s, he began his tenure at the Academy of Fine Arts, where he taught ceramics and sculpture until the 1990s.
Throughout his career, Ismael Fattah was an active participant in a number of artists' groups and organizations, working to promote the art of Iraq and the Arab world both within the Middle East and globally. He became President of the Society of Iraqi Artists in 1971, overseeing the al-Mirbid Poetry Festival in Basra (1971) and the al-Wasiti Festival in Baghdad (1972) before the end of his term in 1978. Fattah was also a member of the Baghdad Group for Modern Art and became a founding member of the New Vision group in 1969. Created by Fattah and several fellow Iraqi artists, including Dia al-Azzawi and Rafa al-Nasiri, New Visions arose in response to the crushing defeat of Arab forces by Israel during the 1967 Six-Day War. The shocking outcome of the conflict dealt a heavy blow to Arab society writ large, and to the dreams of pan-Arabism in particular. The artists of New Visions sought to combat this sense of devastation by portraying their people and their region in a new, revolutionary light, focusing on the promises of Pan-Arab cultural unity as they looked towards the future rather than dwelling on the past. Fattah, like many artists at the time, was a deeply politically engaged individual, and never shied away from addressing his beliefs in his artwork.
Much like his mentor, Jewad Selim, Fattah experimented with both painting and sculpture. Selim influenced him greatly, and Fattah paid tribute to the artist in multiple dedicated works after his death in 1963. 1989's Homage to Jewad Selim, for example, honors his late teacher through allusion to Selim's 1961 Freedom Monument. Painted in bright, high-contrast oils on cardstock, Fattah's figures ­­–a human and a horse– seem almost jubilant in their movements as if rejoicing in the discovery of freedom. Though rendered in a style distinctly his own, Fattah's work captures the essence of the Baghdad monument's statuesque characters, which had come to represent Iraqi national identity. The 1989 painting was part of a larger project of the same name, which included the work of numerous Iraqi artists. Among the participants in the project was Fattah's wife, Lisa, a German expatriate whose bold, expressive style had a significant influence on her husband's work.
Fattah's oeuvre centers mainly on his perceptions of the human condition, often teeming with unspoken emotion. His work often seems to remove the "outer layers" of his subjects in order to understand their inner cores; he rendered nudity and the human form in a minimalistic, pared-down style as if whittling away all unnecessary detail in search of his subject's essence. Many of his paintings, as well as his sculptures, suggest a fascination with facial features, which he used as a way to play with abstraction, colors, and perspective, upending aesthetic and thematic expectations. In some paintings, a grid of faces wearing muted expressions that stand in sharp contrast with the work's bright, striking color palette. In others, various iterations of masks cover his subject's face, isolating the figure from the world around it. A sculptural example of this tendency is seen in Homage to Picasso (1971), in which a tall figure stands proudly but holds a hefty block that obscures its face and identity. Evoking a range of forms echoed in sources as diverse as Mesopotamian sculpture and the oeuvre of Henry Moore, his artwork was not just an extension of local cultural heritage, but also bore the imprints of international artists and art movements.
Among the artist's best-known works are several government-commissioned public sculptures in Baghdad. In 1972, Fattah created several monuments in honor of prominent figures of Iraqi heritage, including Abu Nuwas, Abu Nasr al-Farabi, and Yahya al-Wasiti. Ten years later, in 1982, he was responsible for public works celebrating ancient Arabic medicine and Iraq's two rivers, the Tigris and the Euphrates. Among many other public sculptures, his most celebrated and recognizable is the Nasb al-Shaheed, or Martyrs' Monument, which was commissioned by Saddam Hussein in 1983 to honor Iraqi soldiers who died in the Iran-Iraq War. Though the Iraqi leader had intended for the monument to serve as propaganda for him and his army, it is now considered a unifying commemorative monument to all Iraqi martyrs. Minimalist in its simple, domed design and striking in its bright blue color, it has become synonymous with modern Iraqi visual culture.
"In the beginning I had several attempts such as an idea of having the martyr bursting from the centre. But I did not like it – it was too theatrical. Then, the idea of life versus death began to form. The two pieces moving together towards martyrdom and fertility and the life stream. I moved the pieces until I got the interplay I wanted."
Ismail Fattah on the origins of the Nasb al-Shaheed, Gilgamesh Magazine, 1987
Living in the aftermath of the Gulf War, Fattah struggled under the weight of his country's economic sanctions, and his work began to reflect Iraq's bleak political and humanitarian state. He replaced his vivid colors with dark and muted tones in many artworks, portraying faces that were devoid of discernible emotion, if not obscured completely. In the late 1990s, Fattah relocated to Qatar, where Sheikh Hassan bin Mohammed bin Ali Al Thani started an initiative to support artists after recent wars and instability. In Doha, Fattah began working on a large public sculpture in 2001, entitled The Guardian of the Fertile Crescent, to be placed outside Mathaf: Arab Museum of Modern Art. However, he was soon diagnosed with cancer, and after traveling to Abu Dhabi to receive treatment, his family chartered a plane so that he could live out his last days in Iraq. Within hours of arriving in Baghdad in 2004, Fattah passed away. To this day, amongst artists and art lovers alike, he remains one of the Arab world's most significant and revered artists. His legacy also lives on in his final sculpture; The Guardian of the Fertile Crescent was completed in 2010, and now stands outside Doha's premier museum of contemporary art.
Sources
Azzawi, Dia. "Ismail Fattah". One Fine Art (Article). Year unknown. https://www.onefineart.com/artists/painters/Ismail-Fattah
Al-Dulaimi, Ali Ibrahim. "إستذكار إسماعيل فتح الترك مصمم نصب الشهيد العراقي". Al Arab (Article). July, 2016. https://alarab.co.uk/استذكار-إسماعيل-فتاح-الترك-مصمم-نصب-الشهيد-العراقي
Eigner, Saeb. Art of The Middle East. London, UK: Merrell, 2010
Lenssen, Anneka; Rogers, Sarah and Shabout, Nada. Modern Art in the Arab World: Primary Documents. USA: Duke University Press Books / MoMA, 2018.
Jassam, Ziad. "إسماعيل الترك حاضراً بأعماله". Al Iraq News (Article). July, 2017. http://aliraqnews.com/اسماعيل-الترك-حاضراً-بأعماله/
Jawad, Fa'ez. "الذكرى 13 لرحيل نحات الشعراء إسماعيل فتاح الترك". Azzaman (Article). August, 2017. https://www.azzaman.com/الذكرى-13-لرحيل-نحات-الشعراء-إسماعيل-فت/
Muhsin, Enas. "إسماعيل الترك .. الحياة تظل خضراء". Emarat al Youm (Article). February, 2010. https://www.emaratalyoum.com/life/culture/2010-02-27-1.60559

Muzaffar, May. تحية إلى الفنانين العراقيين شاكر حسن أل سعيد، إسماعيل فتاح و نهى الراضي . Amman, Jordan: Khalid Shoman Foundation – Darat al-Funun, 2004
Al-Najar, Kareem. "إسماعيل فتاح الترك.. خط إبداعي مغاير للمألوف". New Sabah (Article). July, 2017. https://newsabah.com/newspaper/129229
Ni'mat, Dr Madi Hassan. "الخطاب الفني .. عند النحات إسماعيل فتاح الترك". El Sada (Article). July, 2017. http://elsada.net/52875/
Pocock, Charles. Modern Iraqi Art: A Collection. Dubai, UAE: Meem Editions, 2013
Schroth, Mary Angela, and Sabri, Salam Atta. Longing for Eternity: One Century of Modern and Contemporary Iraqi Art: From the Hussain Ali Harba Family Collection. Milan, Italy: Skira, 2014
"إسماعيل فتح الترك.. مصمم نصب الشهيد العراقي الرائع". Al-Naked al-Iraqi (Article). January, 2011. https://www.alnaked-aliraqi.net/article/49944.php
"سيرة فنان: إسماعيل فتاح الترك". Alaalem.com (Article). January 2019. https://www.alaalem.com/?aa=news&id22=52105
"Ismail Fattah". 'Postwar' Exhibition / Haus der Kunst (Biography Article). Year unknown. https://postwar.hausderkunst.de/en/artworks-artists/artists/ismail-fattah
"Ismail Fattah". ArtScoops: MENA Art Auction and Marketplace (Biography Article). Year unknown. https://artscoops.com/artist-details/fattah-ismail
"Ismail Fattah". Barjeel Art Foundation (Biography Article). Year Unknown. https://www.barjeelartfoundation.org/artist/iraq/ismail-fattah/
"Ismail Fattah". Ibrahimi Collection (Biography and archive material). Year unknown. http://ibrahimicollection.com/node/85
"Ismail Fattah". Dar al-Anda (Biography Article). Year unknown. http://daralanda.com/Artists/ismail-fattah/
"الفنان إسماعيل فتاح الترك". Algardenia.com (Biography Article). August, 2016. https://www.algardenia.com/2014-04-04-19-52-20/menouats-2/25603-2016-08-26-16-26-49.html
"The Martyr's Monument", Gilgamesh: A Journal of Modern Iraqi Art, No. 3. Baghdad, Iraq: Dar al-Ma'mun, 1987. Pages 15-16.
+
-
CV
Selected Solo Exhibitions

2014
Riyaheen al-Turk (The Winds of Al-Turk), Etihad Modern Art Gallery, Abu Dhabi, UAE
2010
Ismail Fattah, National Theatre, Abu Dhabi, UAE
2006
Ismail Fattah, Foresight Gallery, Amman, Jordan
2005
Ismail Fattah, 4 Walls Gallery, Amman, Jordan
Ismail Fattah: On the First Anniversary of his Death, Athar Gallery, Baghdad, Iraq
2004
In Memoriam of Fattah, Cultural Foundation, Abu Dhabi, UAE
1995
Ismail Fattah: Paintings and Sculpture, Darat al Funun, Amman, Jordan
1988
Ismail Fattah, Kufa Gallery, London, United Kingdom
1978
Ismail Fattah, Al-Riwaq Gallery, Baghdad, Iraq
1969
Exhibition of Sculptures, Lamtoor Gallery, Beirut, Lebanon
1968
Exhibition of Sculptures, Baghdad Association, Baghdad, Iraq
1966
Exhibition of Paintings and Sculptures, Gallery One, Beirut, Lebanon
Exhibition of Paintings, National Museum of Modern Art, Baghdad, Iraq
Exhibition of Paintings, Al-Wasiti Gallery, Baghdad, Iraq
1965
Exhibition of Sculptures, Laurina Gallery, Rome, Italy
Exhibition of Sculptures, Al-Wasiti Gallery, Baghdad, Iraq
1964
Exhibition of Sculptures, Galleria degli Artisti Contemporanei a Roma (Gallery of Modern Artists), Rome, Italy
1962
Exhibition of Paintings and Sculptures, Palazzo dell' Esposizione (Exhibition Palace), Rome, Italy
Selected Group Exhibitions
2019
Theater of Operations: The Gulf Wars 1991-2011, MoMA PS1, New York, USA
2018
A Century in Flux, Barjeel Art Foundation, Sharjah Art Museum, Sharjah, UAE
Modern Masters: Iraqi Works from the Modernist Era, Meem Gallery, Dubai, UAE
Revolution Generations, Mathaf: Arab Museum of Modern Art, Doha, Qatar
2017
Beloved Bodies II, Barjeel Art Foundation, Sharjah, UAE
Arab Print: Volume III, Meem Gallery, Dubai, UAE
2016
The Short Century, Sharjah Museum, Sharjah, UAE
2014
Fragrance of Paper: Ismail Fattah, Shakir Hassan Al Said & Faik Hassan (Athar Gallery collection(, Orfali Art Gallery, Amman, Jordan
Sky Over The East, Barjeel Art Foundation, Emirates Palace, Abu Dhabi, UAE
2013
Modern Iraqi Art: A Collection, Meem Gallery, Dubai, UAE
RE: Orient, Barjeel Art Foundation, Sharjah, UAE
2004
Homage to Ismail Fattah, 1934-2004, & Homage to Shakir Hassan Al Said, 1925-2004: Shared Exhibition, Athar Art Gallery, Baghdad, Iraq
2002
Ismail Fattah & Dia Azzawi: Paintings and Sculptures by the Two Artists, Green Art Gallery, Dubai, UAE
1998
Group Exhibition, Youth Creative Arts Centre, Doha, Qatar
1997
5 Visual Interpretations from Modern Iraqi Art: A. Talib & D. Azzawi & I. Fattah & T. Ibrahim & R. Nasiri, Green Art Gallery, Dubai, UAE
Ismail Fattah, Saadi Al-Kaabi & Liza Fattah, Baghdad Gallery, Baghdad, Iraq
1995
Fattah & Obaidi: Exposition Collectives – Encre et Acrylique sur Papier, Galerie des Arts, Tunis, Tunisia
1992
Three Iraqi Artists: Ismail Fattah, Liza Fattah and Mohammad Mohreddin, Darat al Funun, Amman, Jordan
1990
Seven Iraqi Artists: Shaker Hassan al Said, Salem al Dabbagh, Saadi al Ka'bi, Mohammad Mohreddin, Rafa' al Nasiri, Ali Taleb, and Ismail Fattah, Darat al Funun, Amman, Jordan
National Museum of Modern Art, Baghdad, Iraq
1989
Homage to Jawad Salim: Lorna Selim, Mohammed Ghani Hikmet, Dia Azzawi & Ismail Fattah, Kufa Gallery, London, UK
1983
Group Exhibition: Contemporary Arab Artists III, Iraqi Cultural Centre, London, UK
1980
Twelve Arab Artists, Galerie Faris, Paris
1978
Contemporary Arab Artists I, Iraqi Cultural Centre, London, UK
1976
Iraq Pavilion, Venice Biennale '76, Venice, Italy
1969
First New Vision Group Exhibition, National Museum of Modern Art, Baghdad, Iraq
1968
Inaugural Triennale of Contemporary World Art, New Delhi, India
Public Works
2010
The Guardian of the Fertile Crescent, Mathaf: Arab Museum of Modern Art, Doha, Qatar (started in 2001 and completed in 2010)
1983
Nasb al-Shaheed (Martyr's Monument), Palestine Street, Baghdad, Iraq
Conference Palace, Baghdad, Iraq
1982
Ancient Arabic Medicine, Baghdad, Iraq
Tigris and Euphrates, Haifa Street, Baghdad, Iraq
1973
Al-Kadhimi sculpture, Al-Kadhimiya, Baghdad, Iraq
1972
Abu Nuwas sculpture, Abu Nuwas Street, Baghdad, Iraq
Al-Wasiti sculpture, now in College of Fine Arts, University of Baghdad, Baghdad, Iraq
Al-Farabi sculpture, Al-Zawra Park, Baghdad, Iraq
1970
Al-Rasafi sculpture, Al-Rasafi Square, Baghdad, Iraq
1967
Façade of the Lawyer's Union, Ministry of Industry, Baghdad, Iraq
Awards and Honors
1963
First Prize, Sculpture for Foreign Artists, Margeta Annual Exhibition, Rome, Italy
1962
First Prize in Sculpture for Arab Artists, Rome, Italy
First Prize, Exhibition Palace, Rome, Italy
Affiliations & Memberships
1986
Chairman, Iraqi Association of Plastic Arts, Baghdad, Iraq
1971–
1978
President, Society of Iraqi Artists for Abstract Art, Iraq
1969
Founding Member, New Vision Group, Iraq
1967
Member of Al-Zawya Group (The Corner Group), Baghdad, Iraq
1950s–
1960s
Member of Baghdad Modern Art Group, Baghdad, Iraq
Publications
2016
إسماعيل فتاح: من حيث بدأ (Ismail Fattah: min haithu jidan), Various authors, published by Al-Adib
2014
Homage to Jawad Saleem / Tahiyat ila Jawad Saleem, Dia al-Azzawi & Ismail Fattah, published by Kutub Ltd, Beirut
Collections
Barjeel Art Foundation, Sharjah, UAE
Dar al-Anda, Amman, Jordan
Darat al-Funun, Amman, Jordan
Hussain Ali Harba Collection, Italy
Ibrahimi Collection, Amman, Jordan
Jordan National Gallery of Fine Arts, Amman, Jordan
Kinda Foundation, Riyadh, Saudi Arabia
Majida Mouasher Collection, Amman, Jordan
Mathaf: Arab Museum of Modern Art, Doha, Qatar
Nabu Museum, Heri, Lebanon
National Museum of Modern Art, Baghdad, Iraq
Ramzi and Saeda Dalloul Art Foundation, Beirut, Lebanon