UNTITLED ABSTRACTIONS
Visual Analysis Discussion with Dr Rico Franses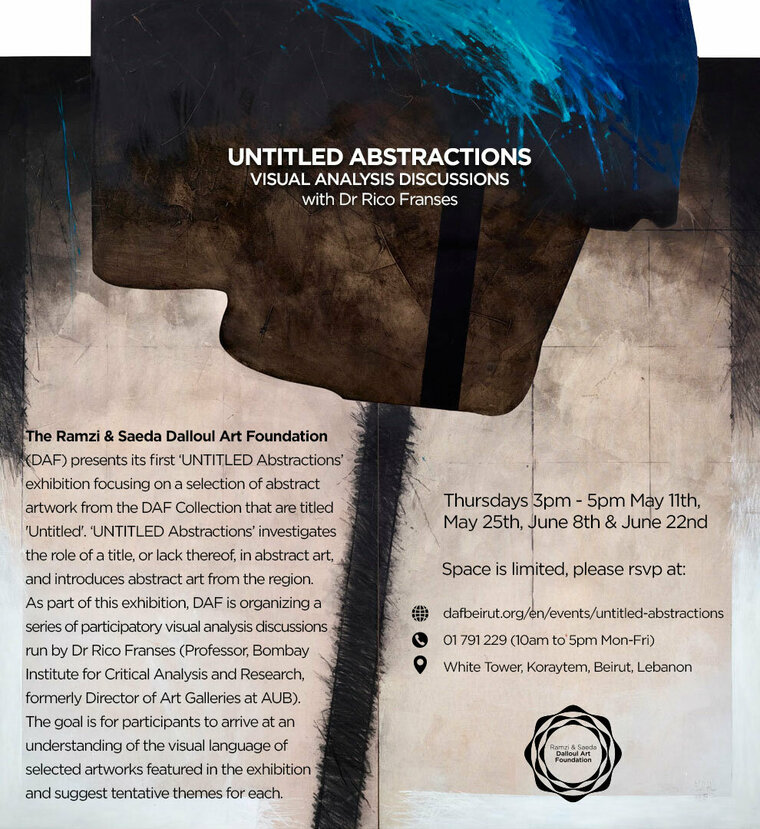 The Ramzi & Saeda Dalloul Art Foundation (DAF) presents its first 'UNTITLED Abstractions' exhibition focusing on a selection of abstract artwork from the DAF Collection that are titled 'Untitled'. 'UNTITLED Abstractions' investigates the role of a title, or lack thereof, in abstract art, and introduces abstract art from the region.
As part of this exhibition, DAF is organizing a series of participatory visual analysis discussions run by Dr Rico Franses (Professor, Bombay Institute for Critical Analysis and Research, formerly Director of Art Galleries at AUB). The goal is for participants to arrive at an understanding of the visual language of selected artworks featured in the exhibition and suggest tentative themes for each.
Thursdays 3pm - 5pm May 11th, May 25th, June 8th & June 22nd
Space is limited, please rsvp to [email protected] or call 01 791229 with the following information:
Name
Cell Phone Number
Occupation
Other relevant information

Keep in mind these are participatory visual analysis discussions. If you would like to receive notifications on future exhibitions follow us on social media or subscribe here.